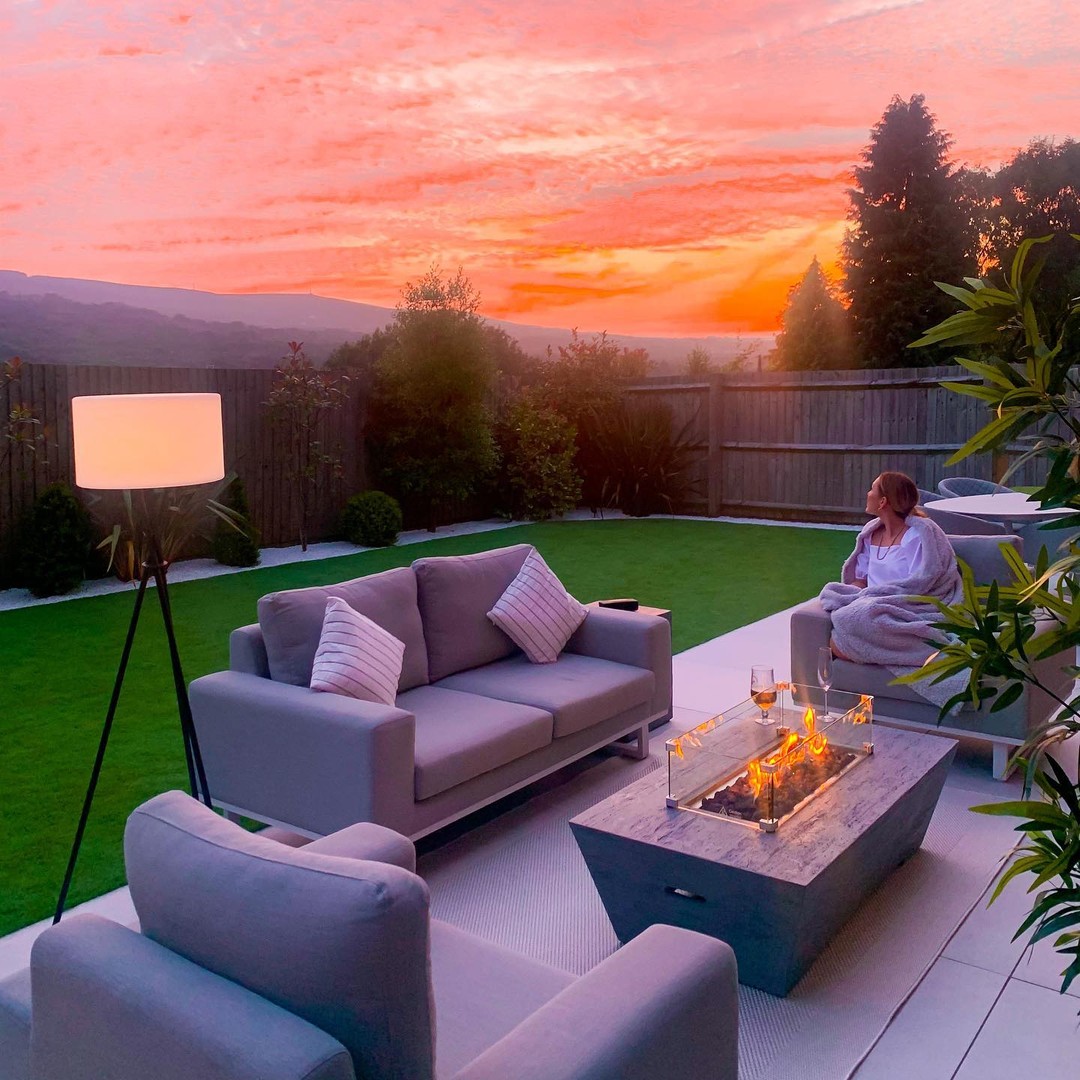 Is your garden in need of some TLC? Make 2021 the year to update your garden, and get on board with some of this year's garden trends! From sustainability to outdoor living, this blog covers 5 of our favourite garden trends that have risen in popularity this year that you won't want to miss!
Outdoor Living 
Grey Gardens
Sustainable Gardens
Zoning 
Sensory
1. Outdoor Living
One garden trend that we have seen a rise in this year is outdoor living. We're not talking about pitching up tents and moving outdoors. But we are talking about adding those little home comforts, styles and furnishings to your outdoor spaces. 
Outdoor rugs, beanbags, outdoor tables and chairs and pillows are a great way to bring the indoors out, creating the perfect place to chill out and relax with your family. 
Considering elements of furniture, these can sometimes pack a lot of weight. Heavy tables and chairs might compromise the finish of your grass. 
Not to worry, all of our Artificial Grass Ranges are highly durable and will keep their stunning appearance regardless of if you put furniture on them. Moving your furniture around every so often and brushing over the pile will prevent it from flattening. 
Adding Artificial Grass will also add an extra layer of comfort. Whilst all of our Artificial Grass Ranges are soft to the touch, those that have a pile height of 40mm+ are extremely soft, and would add a heightened element of comfort to your garden. 
2. Grey Gardens
The next garden trend for 2021 we will look at is grey gardens. Whilst this may sound like doom and gloom, it's actually the opposite! The grey trend has been around for a while, inside the home, but what about outside?
This trend is based on the incorporation of the colour grey. This means you can be very fluid in how you hop on this trend. Painting your fence grey, grey garden furniture, grey garden accessories… the possibilities are endless.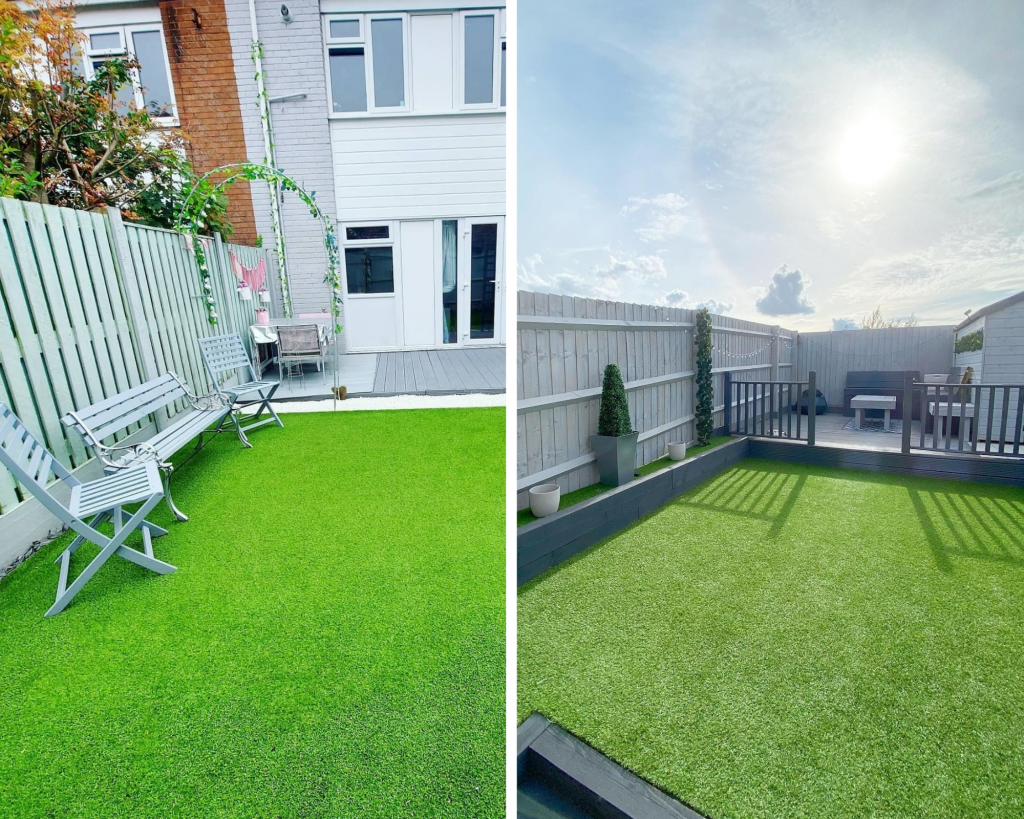 What makes this trend so popular is the contrast in the neutral shade of grey with vibrant greens commonly found in grass and plant life that are common components in gardens. 
One way to heighten this contrast is using Artificial Grass. Artificial Grass looks stunning all year round and is available in a range of shades of green. From rich luxurious tones, to brighter more vivid shades, grey complements all of these beautifully. 
And there we have the grey gardens trend. Think this garden trend is as grey-t as we do? Maybe it's time to start your 2021 garden renovation. 
3. Sustainable Gardens
Next on the list of garden trends for 2021 you won't want to miss, is sustainable gardens. 
Sustainability is becoming something we as humans are becoming more and more conscious of. So it's no surprise that this trend has taken the gardening world by storm. 
From growing your own produce, or using recycled materials to furnish your garden, to ensuring there are non-toxic substances in your garden for animals to safely roam, there are tonnes of possibilities where sustainability is concerned. 
Recycling materials such as pallets to create tables, chairs and planters is a great way to create and incorporate stylish and practical elements in your garden.
Another method of contributing to sustainability is using Artificial Grass. Whilst there is a common misconception that Artificial Grass is bad for the environment, this is in fact a myth. 
Having Artificial Grass in your garden saves reducing the need to use gas fuelled lawn mowers that contribute to emissions that have a negative effect on the environment.  
On top of this, Artificial Lawn takes away the need to use any pesticides that are harmful to wildlife. This means animals can thrive in your garden without risk of harm.
Continuing down the sustainability route, there are some Artificial Grass Ranges that are made from recycled materials as well as ranges that are fully recyclable after use. Our Stockholm, Bahamas and Antigua are all recyclable after use.
There are many ways in which you can achieve the sustainable garden trend this 2021. Hopefully, we have food for thought on tips and ideas on how you can make your garden sustainable and follow this trend!
4. Zoning
Zoning is next up on the list! If you've not heard of zoning, you'll definitely have seen zoning garden designs on your newsfeeds recently.
Multi-purpose living is not just for inside of your home. Open-plan living inside the home has taken the world by storm, having dual purposes for one space. This trend is one for the outside as well as in!
We use our gardens for many things: playing, entertaining, relaxing, growing vegetation. So when it comes to zoning in gardens, this is referring to creating sections in your garden for different purposes. 
Zoning can be done in many different ways. Segmenting using decking to create an entertainment area, using artificial grass or turf to create a playing area for the kids to have a kick about and paving stones to create a patio area, are just some of many ways you can get this desired look.
So if you can't decide what type of garden you want, a place to relax, a place for the kids or a place to grow vegetation, opt for them all with zoning!
4. Sensory Gardens
The final garden trend of 2021 is sensory gardens. Now we're all familiar with phones, laptops and tablets, but sometimes it's nice to bring it back to basics and experience fun in the great outdoors. 
Sensory gardens are great for those with little ones who are in early stages of development or are fascinated by colours, sounds and feelings that provide a positive sensory experience. 
This can be achieved by adding things such as wind chimes, vibrant colours in accessories and plant life and Artificial Grass. Artificial Turf is soft to the touch and is very stimulating and welcomes interaction for the little ones adding to a pleasant experience and tonnes of fun outside. 
Garden Trends Complete!
And there we have some of our favourite garden trends of 2021 so far. Creating you perfect outdoor space whilst being on trend has never been more quirky, from outdoor living, to sensory gardens. 
If you're starting your 2021 garden transformation and have any questions, get in touch with one of our Artificial Grass experts today!