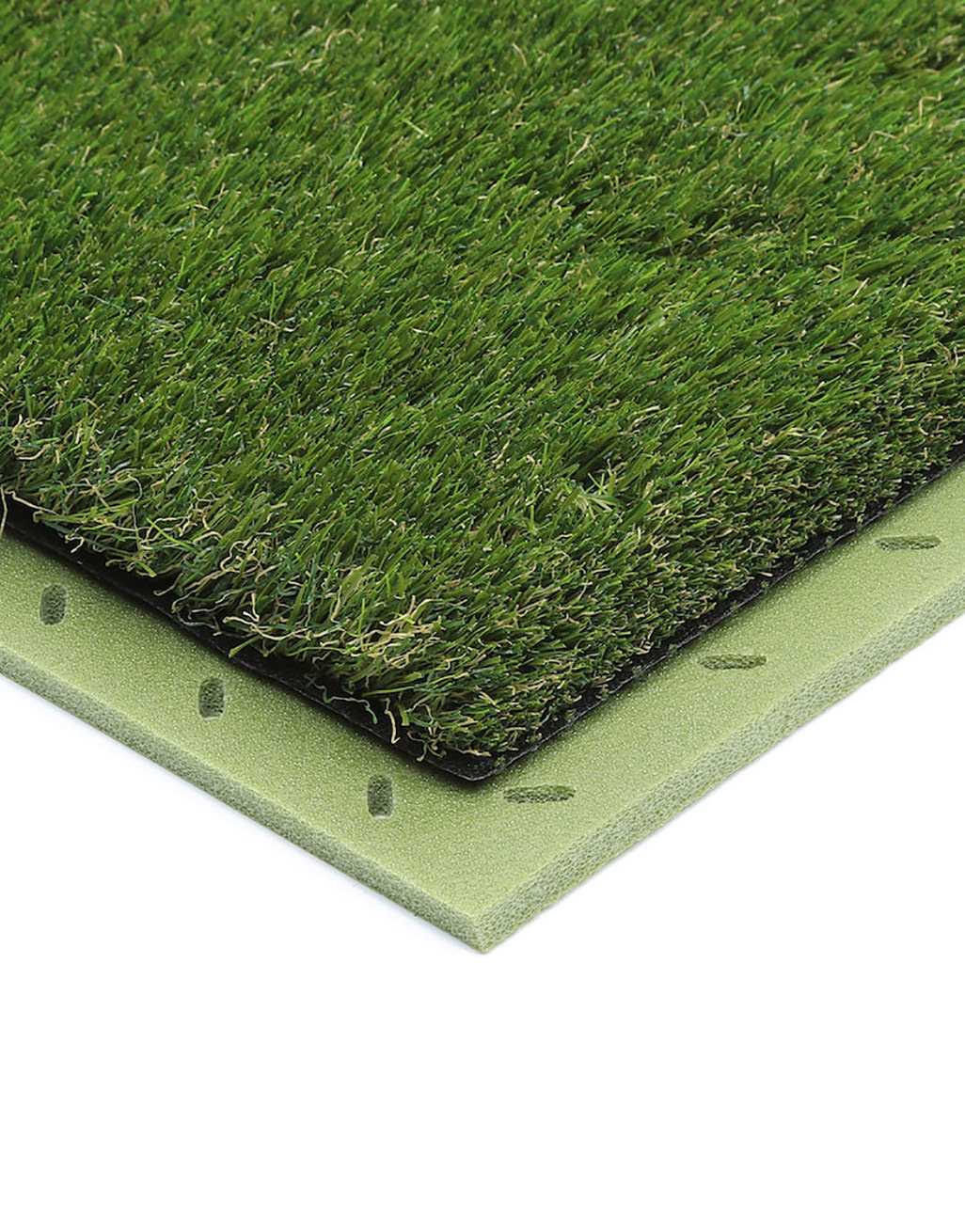 Are you looking to transform your garden with artificial grass? Great! However, one thing that is often overlooked, is artificial grass underlay. 'Do I need it?' Or 'What are the benefits of artificial grass underlay?' are questions that regularly come to mind when making this purchase. Which is why we have all the answers when it comes to the advantages of artificial grass underlay and why you should use it. 
Artificial Grass Underlay can be used on hard surfaces such as patio, decking and concrete. This gives a flawless finish to uneven foundations as well as giving an easier installation removing the need for excavation. When replacing existing lawn, underlay is optional however recommended for the many benefits it brings including: additional comfort, conceals ridges and bumps, saves money - protecting the longevity of your grass, installs are quicker and easier, ideal for decking and concrete, inexpensive to purchase, and perfect for pet owners. 10mm Foam artificial underlay can be used to achieve the best results when it comes to these benefits. 
Does Artificial Grass Need Underlay?
Good question! Much like flooring, some installs require underlay and some do not. With artificial grass, the same principle applies. 
Hard Surfaces
When it comes to hard surfaces such as concrete, patio and decking, these can often have imperfections or uneven foundations. Artificial grass foam underlay can hide these imperfections and mould to the shape of the floor, levelling it off for a flat, flawless finish. 
This can be done without artificial grass underlay, however requires some excavation work in order to level off the foundations and make room for materials that sit below such as limestone or granite. 
Replacing Existing Lawn
When it comes to replacing your existing lawn, around 50mm – 75mm of MOT type 1 of Limestone chippings is needed as the foundations, followed by roughly 15mm of sharp sand or dust granite over the dirt, you will need around 25kg of sand per 1m². 
You will also need to lay weed membrane over the top and secure it with nails around the perimeter. 
Next, whilst it's optional, is where you would add your underlay, followed by your artificial grass. 
For DIY installations, our step-by-step guide is available to talk you through the process, and provide you with great results.
What is the Best Underlay for Artificial Grass?
Artificial grass underlay comes in a variety of thickness'. The most popular being 5mm-10mm. However, when it comes to artificial grass, the crème de la crème of underlay is at the thicker end, making 10mm Artificial Grass Underlay one of the best options.
Top 10 Benefits of Artificial Grass Underlay
The benefits of artificial grass underlay are rife and important factors in the consideration of your artificial grass purchase. We've taken the time to give you some of the best benefits provided by the addition of underlay to help make your decision easier: 
1. Additional Comfort
When laying artificial grass, one thing to consider is comfort. If your grass is being installed in a space where foot traffic is inevitable, then comfort should be a primary attribute to consider. Though this is not an essential, do you really want to transform your garden for it to be uncomfortable when you're lounging in the summer sun? 
Its foam construction provides a soft and cushioned feel, taking the weight of traffic above, making for maximum comfort and a luxurious feel underfoot. 
Not only do you get to enjoy a pleasant surface to walk on, but the kids gain a softer place to play, aiding in a more enjoyable and safer environment to make memories in. 
The added comfort alone is a great reason to enhance your artificial grass with foam underlay, and if you're not sold yet, we have plenty more benefits to share with you. 
2. Conceals Ridges and Bumps 
Another one of the benefits of artificial grass underlay is that it conceals ridges and bumps. 
Wanting to lay artificial grass but worried your patio is uneven? Underlay is your answer!
When installing artificial grass on surfaces such as decking, patio or concrete, using foam underlay is a necessity if you are wanting to achieve an attractive finish, moulding around the imperfections in the foundations. This creates a flat surface for your turf to be laid on. 
Taking shortcuts when it comes to underlay on these surfaces can result in exposing existing ridges and bumps, reducing the quality of the end result.
Sound like a benefit you want to make the most of? 10mm underlay will help you with this, achieving that picture-perfect finish.
3. Saves Money
Next, we'll look at the economical benefit of artificial grass underlay. Whilst underlay isn't always necessary, this can help save money in the long run. 
Underlay can help prolong the lifespan of your artificial turf. If your garden is a prime spot for heavy foot traffic, coupled with exposure to weather conditions, over time this will cause general wear to your grass. Not to worry! For ranges that may not be as durable, underlay is a great option to support your artificial grass, and add to the lifespan.
Whilst the lifespan of artificial grass is relatively long, being around 15 years, this can be prolonged using foam underlay. This is because the underlay takes some of the weight of the foot traffic above working as a shock absorber from those inevitable trips and slips from the kids, or those sun spot lounges taken by the dog. 
Whatever your home lifestyle, underlay can save you money on a premature replacement due to appearance wear. 
4. Makes Installs Quicker 
When it comes to the installation process, artificial lawn fittings require excavating 75-100mm below the surface of the finished result. This is to leave room for foundations such as granite or limestone (also known as MOT Type 1 sub base). 
Using artificial grass underlay prevents the need to excavate when it comes to laying on patio, decking or concrete. All the underlay installation requires is attaching the foam underlay with a Specialist Adhesive, cutting the grass to the size of the chosen area and fitting it.
This not only saves time, but also saves on installation costs. 
5. Ideal for Decking and Concrete Installs
Artificial grass underlay has taken away any difficulty in making over your hard surface areas. Wanting to transform your drab concrete yard into a trendy yarden?
It's as easy as 1,2,3… Cliche, we know. But very true. In just three easy steps, your patio, decking or concrete yard can be your outdoor haven:
Attach your foam underlay to the hard surface using specialist adhesive 

Cut your artificial grass to size

Fit your artificial grass on top
This can be done yourself with the correct tools. All you'll need is a Stanley knife for cutting the grass to shape and Specialist Adhesive for securing the underlay to the hard surface. 
6. A
dditional Peace of Mind for Children
When it comes to the little ones, safety is always front of mind. But there's always going to be those little trips and falls, with excitement and playing being priority for a child. And who can blame them? 
Who wouldn't want to enjoy a spongy feel underfoot whilst captaining a pirate ship, or fighting a dragon? 
Using underlay as the foundations for your artificial lawn not only adds a spring in your step when active on its surface, but it also cushions trips and falls, giving you peace of mind when your children are outback having fun. Those falls won't seem as high and those injuries won't be as harsh. 
7.  Makes Cheaper Ranges Feel More Expensive
Artificial grass is one of those products that attempts to cater for all. In doing so, there is a various selection of artificial turf differentiating in quality. This is to suit a range of budgets and desires.
Like anything, the higher the price, the better the quality. This means that whilst the more inferior selections of artificial grass are still more than adequate, they don't benefit from the luxurious feel and finish naturally achieved by the more expensive types. 
However, this feel can be accomplished with lower cost artificial lawn too. The answer? Underlay. 
Using foam underlay enhances the feel, giving added comfort underfoot, similar to the effect provided by higher end artificial grass, and is an inexpensive way to achieve this. 
8. Acts as a Shock Pad to Minimise the Impact of Sports
Another benefit of artificial grass underlay is that it works as a shock absorber. Whilst this has many benefits such as making it a safer place for the kids to play, and adds comfort when walking on the surface of the artificial turf, this also minimises the impact caused as a result of sports. 
Training your child to play football for England one day? Don't worry, we all are. And it all starts in the garden of your home. 
Using underlay under your artificial grass can reduce the impact of those slide tackles and diving headers, cushioning any falls. One of the many benefits of artificial turf is that it is designed with footfall in mind so it's durability accounts for sports, keeping your lawn intact and removing the trail of muddy footprints through the house. 
Sounds great right?
9. Inexpensive to Purchase and Install
Want all the benefits of underlay but concerned about the extra cost? Don't be!
Artificial grass underlay is an inexpensive accessory to complement your turf, offering many benefits in return for this affordable addition.
Another of those benefits being that it's easy to install too. This makes for reduced installation costs, as you can fit this yourself. You don't even have to be a DIY expert! 
If hiring a professional, their time will be reduced with the elimination of excavation when it comes to hard surfaces. As mentioned earlier in this blog, the underlay can be secured to hard surfaces using specialist adhesive. 
You can have all the benefits of underlay without breaking the bank!
10. Perfect for Pet Owners
Worried about those calls of nature when it comes to your pets? Odours, stains and discolouration are not issues to be concerned with when it comes to artificial grass.
Unlike popular belief that underlay may absorb those messes created by your furry friends, it actually features drainage holes and is permeable, so drainage isn't a problem when it comes to pets.
So, when nature calls, your dog can answer without you having to worry about paddling through a yellow sea. 
Enough Benefits of Artificial Grass for You?
Hopefully we've covered enough benefits provided by artificial grass underlay to make your decision easier when it comes to purchasing this accessory. 
Though an optional accessory, you'd be crazy not to take advantage of these benefits. From added comfort, perfect play surfaces for children and suitability for pets, there's benefits for the whole family. 
Still need more information on artificial grass underlay? Not a problem, get in touch with one of our grass experts now, and they'll be happy to help you with any of your artificial grass needs.