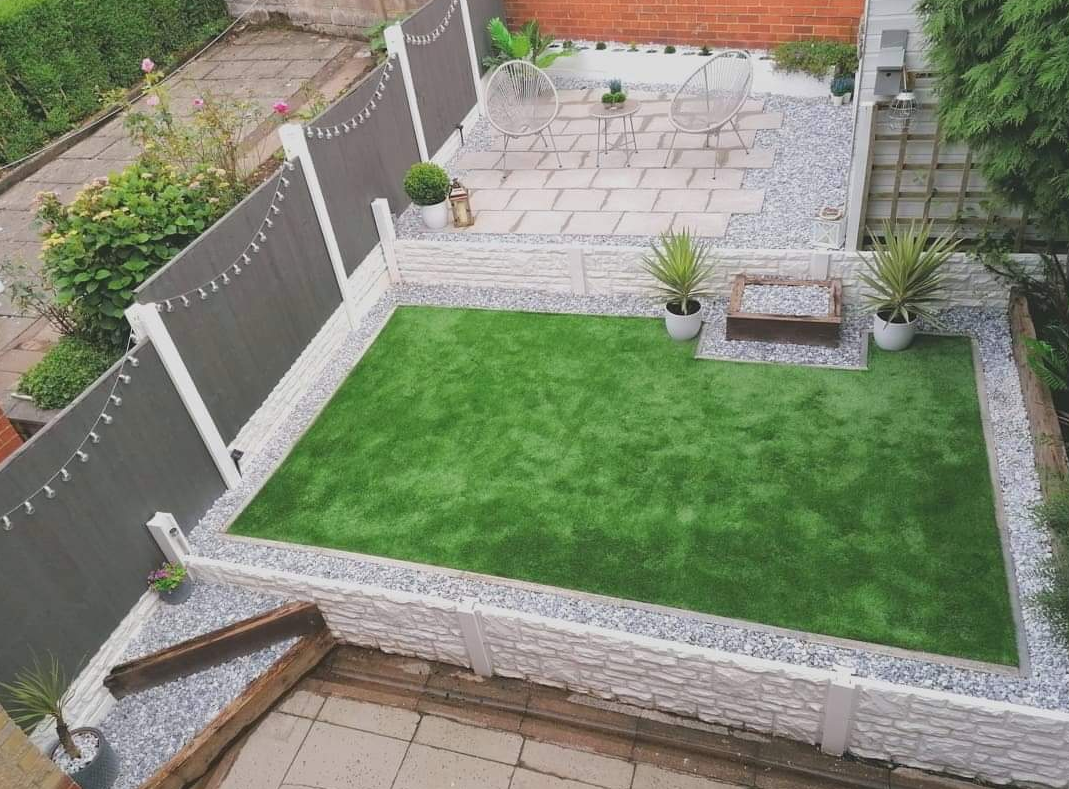 Understanding the difference between Astro Turf, turf and artificial grass will put you in good stead to getting the right grass for your next home project. The three terms are commonly used to describe variations of grass, but which one do you need?
What is the Difference between Astro Turf and Artificial Grass?
Astro Turf is the name of an American brand which started producing artificial turf to be used for sporting surfaces, such as training grounds and pitches. As a synthetic range, Astro Turf was created to conquer the ongoing maintenance needed to preserve natural grass. Domed or partially covered stadiums do not allow the correct amount of sunlight needed for natural grass to remain healthy.
Artificial grass, however, is the generic term used for all variations of artificial turf or fake grass. As a much more realistic form, artificial grass is designed to imitate the look and feel of natural grass. Perfect for residential properties, artificial grass is extremely versatile. From lawn replacements to decking installs, it can be fitted almost anywhere as long as the ground surface is permeable to water.
In recent times, Astro Turf has become a common term used to describe artificial grass. There's more information on this in our "What is AstroTurf?" blog.
What is Turf?
Turf, also known as grass sod, is a natural grass held together by its roots and soil. Commonly grown on specialist farms, turf is harvested and used by landscapers to establish new lawns.
Turf is produced in rolls and needs to be installed within 8 hours of cutting for the grass to root. It cannot be walked on for 2-3 weeks after fitting and requires watering 3 times a day during the install period.
Turf is often used for home projects such as lawn replacements. If you're a keen gardener, then turf could be the right choice for you. However if you're not an aspiring gardener, then you may want to check out artificial grass instead.
Why Choose Artificial Grass?
Industry figures show that out of the 86% of UK homes with a garden area, 3 out of 4 of those have replaced their natural turf with artificial grass. Why is this?
1. As previously mentioned, artificial grass can be fitted in an abundance of places; lawn replacements, decking installs, yard transformations, children's play areas, balconies.. the possibilities are endless.
2. Artificial grass requires little to no ongoing maintenance. A simple sweep every now and then is enough to keep it looking tip-top.
3. Artificial grass eliminates lawn issues; no browning, balding or weeds to contend with. Just the perfect lawn to kick-back and enjoy.
For effortless gardening, artificial grass eliminates ongoing chores and the need for costly maintenance tools. It's also child and pet friendly, making it the perfect choice for busy family homes.
If you're planning a garden project and would like to seek some expert advice from our friendly artificial grass specialists, give us a call on 03308088900.