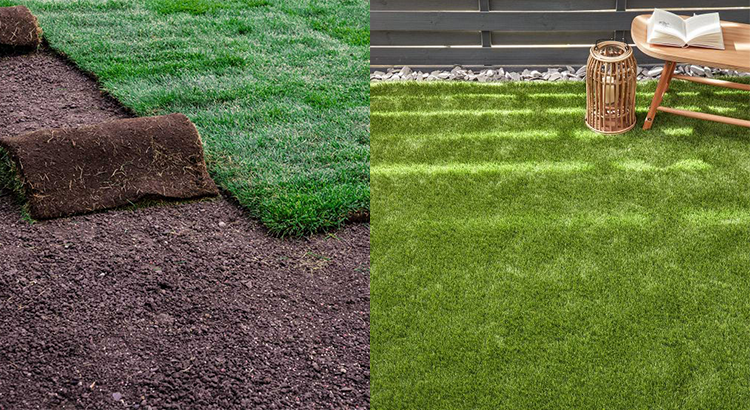 What is Sod? Sod is natural grass and soil held together by the roots. Referred to as turf, sod is used by the agricultural industry to repair or replace damaged grass. Sod is an offensive term used to describe someone who is unpleasant or difficult.
We've all heard the word used in some context. But a lot of us will be more familiar with the later definition of sod, as opposed to its true meaning. Grown on specialist farms, sod is distributed in grass rolls. It is used as a treatment for natural lawns, golf courses and sports stadiums. So now we know what it is, we thought it would be a good idea to see how sod compares to artificial grass.
Installing Sod
It is important to consider moisture levels when fitting sod. Autumn and spring and are the best seasons to install sod in your garden due to the higher levels of rainfall. Summer can be too dry and winter can be too cold for the turf to root. If you are planning on installing in either of these seasons, you will need to install a sprinkler system. This will soak the ground to make sure the turf gets enough water. The full fitting process is explained in this How to Lay a Turf Lawn guide.
Aesthetically sod appears to be an instant solution to a rundown lawn. A simple process of rolling out the turf and fitting in your desired area. But did you know...
Sod must be fitted within 8 hours of cutting.
Sod must be lay early in the morning before the heat of the day sets in otherwise it could dry out.
Sod cannot be walked on for 2-3 weeks after fitting as this will disrupt the rooting process.
Sod requires regular hosing of 3 times a day for the first week. Once a day for the second and 3 times a week thereafter, to maintain the moisture levels.
There's a lot of time and effort that goes into installing and maintaining sod turf before you begin to see the benefits.
Where can Sod be Fitted?
The most popular uses for natural turf are as follows:
Lawn Replacement
Lawn Treatment
Football Stadiums
Golf Courses
Tennis Courts
Bowling Greens
Cricket Pitches
Installing Artificial Grass
Our quick and easy guide explains How to Install Artificial Grass. As long as the surface is flat, permeable and adequate drainage is available - you can fit artificial grass almost anywhere.
Anyone with basic DIY skills can give it a go too. If you're not confident, we advise leaving it to the professionals.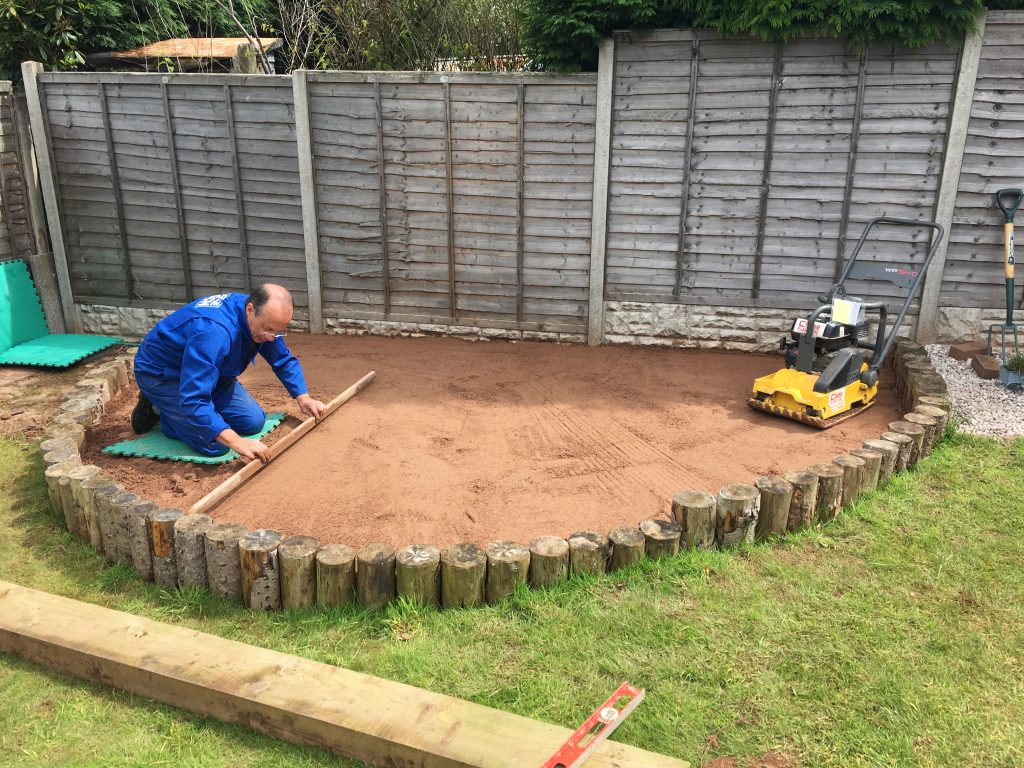 Where can Artificial Grass be Fitted?
Artificial grass is extremely versatile but the most popular areas to fit are:
Lawn
Decking
Patio
Yard
Roof
Terrace
Children's play area
Dog Runs
Putting greens
Pool surrounds
Parks
Events
Decorative garden feature
 Care and Maintenance of Sod
Sod is much like grass seed, in that the care and maintenance routine is very similar. Granular fertiliser is needed during the installation process to encourage growth. Then the standard mowing, weeding and fertilising routine begins. For keen gardeners, the process is seen as therapeutic. For not so keen gardeners this can feel extensive.
Care and Maintenance of Artificial Grass
Caring for artificial grass is easy. A simple brush down is enough to keep it looking fresh. You should treat your artificial grass twice a year with artificial grass cleaner. This will keep on top of any dirt or debris. Pet owners may need to clean more often to control odours from urine.
Tip: In Autumn months, make sure you pick up any fallen leaves to keep your drainage system clear. Check out our How to Maintain your Artificial Grass in Autumn blog for more tips.
Lifespan of Sod
Natural turf has an indefinite lifespan if it is maintained well. To keep a healthy glow it may need resurfacing anywhere between 10 to 20 years.
Lifespan of Artificial Grass
Artificial grass often comes with impressive warranties. Installing faith in the quality manufacturing and durability of the product. The average lifespan of artificial grass is between 20 and 25 years. Proper care and maintenance will only extend this.
Now for the million dollar question… How does artificial grass and sod compare on cost?
 Average Cost of Sod
The average cost to supply, prepare and lay sod is around £650-£750 for a 50 square metre garden. (According to Price Your Job)
Average Cost of Artificial Grass
The cost of artificial grass will vary based on who is completing the fitting; DIY or Professional?
DIY Install
A self-install is a great way to save money, omitting any labour costs. The only additional purchase you would need to make is the raw materials for the sub-base. We've based this price on 50 square metres of our best-selling Adelaide Artificial Grass, at £7.99 per m².
The total cost would be £495.41
Professional Install
Professional fitting costs vary between £60 and £75 per square metre for installation. (According to household quotes) If you're covering an area 50m², it means the cost for grass and installation will be between £3,500 and £5,100.
To Conclude
Depending on which range of artificial grass you go for and your fitting method, both fake grass and sod are very close on pricing. Your decision on which to go for would need to be made based on time and preference. If you have the patience to preserve and nourish a natural lawn then sod would be a strong contender. If you're too busy for garden chores, then artificial grass is the one for you. 
For more information on any of our artificial grass ranges, speak to one of our experts on  
03388 088 900
.