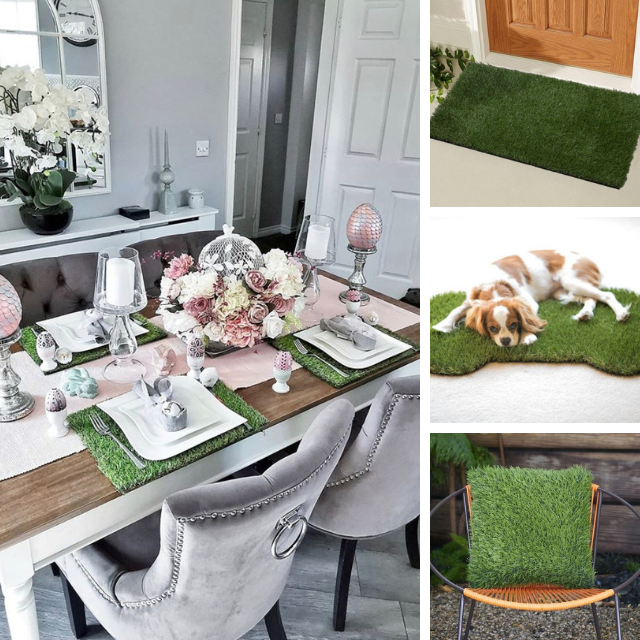 Ever thought about using Artificial Grass somewhere other than your garden? Or are you one of the many that thinks of artificial grass as a seasonal purchase because it's more frequently used outdoors? We're here to tell you that it's not! There are plenty of artificial grass design ideas that don't require you even stepping foot outdoors. 
Artificial grass stays perfectly green all year round. So while your neighbours gardens are just about clinging onto the last few blades of grass thanks to the thawing snow, your garden will look full of life and accommodate the snowfall. 
But we're not here to talk about using artificial grass outdoors. 
We're here to talk about all the ways you can use your artificial grass indoors regardless of the season: 
Feature Walls - Artificial grass walls to enhance a botanical theme

Play Rooms - Add a soft playing surface, replicate the outdoors and add a sensory element to play time

Green Accessories - Make artificial grass accessories such as coasters, placemats and pillows

Putting Greens - Indoor golf greens can be made using putting green artificial grass

Pets - Give your four legged friend an outdoor haven whilst waiting for vaccinations
Feature Walls
One way in which you can introduce artificial grass into your home is by creating a feature wall. The Emerald Green trend is all the rage at the moment. Dark emerald green painted walls, coupled with plant life is making a statement in the homes of many. 
So why not go the full hog and bring in all the vegetation possible to achieve this authentic botanical aesthetic, and make those around you green with envy!
The best results for this interior are achieved when utilising natural earthy tones that replicate those found in great outdoors! 
Green tones contrasted with brown wood furnishings really bring the natural aesthetic to life. And we know this colour scheme works, it does in the great outdoors.
Make your home the-great-indoors, incorporating this design into your living space.  
Play Rooms
If you have children, this is one artificial grass design idea you'll definitely be thanking us for!
You can have lots of fun with this design, the more outrageous, the better. Have your littles ones intrigued and entertained for hours in a playroom lined with artificial grass.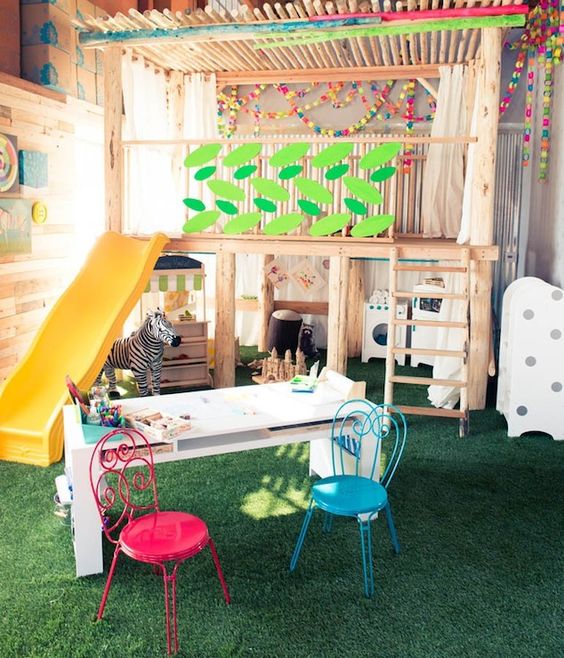 Not only does artificial grass have a quirky vibe to it, adding more entertainment to the fun room of the house, but it also adds a soft surface for your littles ones to play on, is toxin free, and adds another layer to their amusement, offering sensory experience to the mix too! 
Artificial grass is visually stimulating, offering a bright surface to play on, as well as being soft to the touch welcoming interaction. 
This design is particularly handy in those winter months when you can't take your little tikes outdoors to play. Bringing the outdoors in will certainly gain you some parenting points!
Green Accessories
Next on the list to get your creative juices flowing is green accessories.
Accessories can be absolutely anything depending on your taste and desires. This style allows you to bring a tasteful eccentricism, and incorporate unique décor into your home. 
Placemats, coasters, door mats, pet food mats. The list is to the limit of your imagination!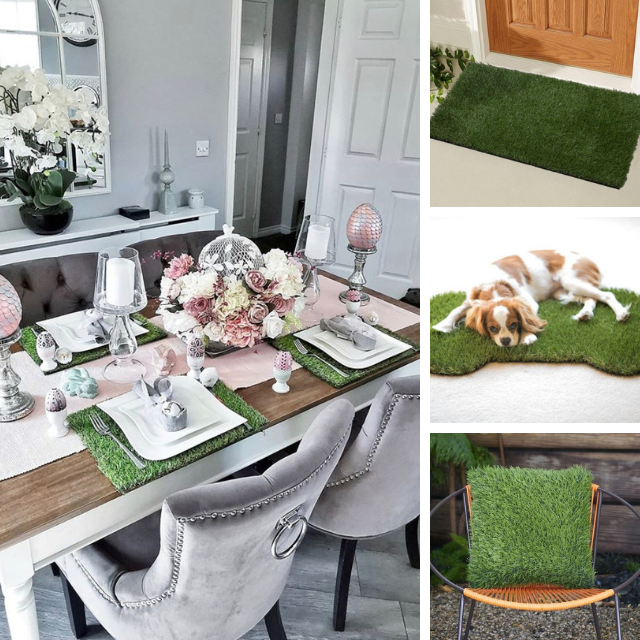 This can all be done at a reasonable cost as usually these decorative items are relatively small in size so you can utilise artificial grass offcuts for your design or if you have spare artificial grass left over from a garden transformation, this can be utilised to make these décor items.
Putting Green
One for the golf lovers! Is your interior up to par? 
Apologies in advance to the partners of those golf enthusiasts. If you haven't already had the relentless questioning of the allowance of a golf room, you certainly will now with our encouragement!
Putting green is a type of artificial grass specifically designed to cater for golfing. 
Add this to an unused room, or incorporate it into a space in your home, making an empty space something for all the family to enjoy!
Isn't that just a tee-riffic idea?
Pets
Got a new pup but awaiting vaccines before you can treat them to a curious walk in the great outdoors?
Why not treat yourself and them to an indoor play area. You get to see their tails wag with excitement and they get to roll around in the greenery, familiarising themselves with the outdoor world. This gives them a taster of the luscious landscapes they'll soon get to embark upon. 
An artificial grass foundation coupled with dog toys and bones will give your four legged friend an indoor creche they will play in for hours whilst they await their vaccinations. 
You may be wondering what to do with this area once their vaccinations have been given. Don't worry! This purchase does not have to be a temporary feature.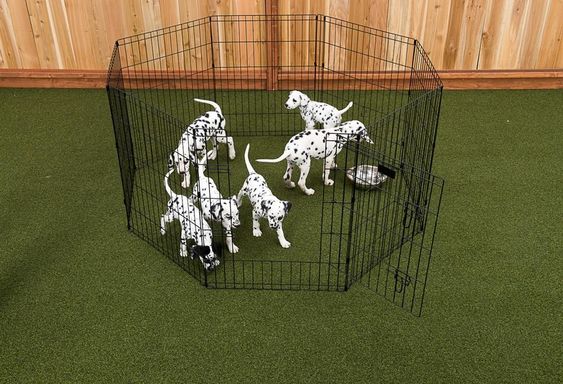 Once Dexter has had his vaccines and is free to roam outside, whilst still in training to not tug at the curtains, add a playpen around the outskirts so you can keep an eye on him and watch him learn to interact with his toys as opposed to your upholstery. 
So as you can see, there is more than meets the eye when it comes to artificial grass. It is actually a rather versatile material to work with and isn't limited to the garden or a season like many have the impression. Whether it's introducing golf into the home, or a wall of grass, there are plenty of things to do with artificial grass!
If you have any more artificial grass related questions, then get in touch with one of our experts now and they will be more than happy to answer them.