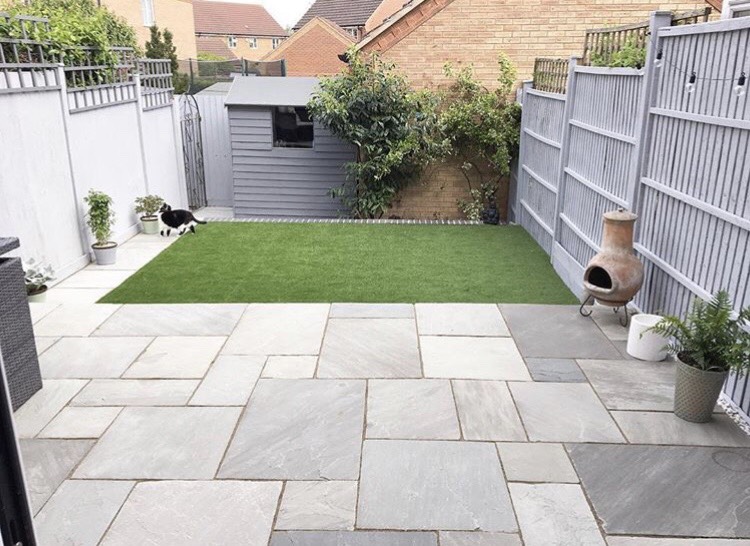 Saving money on artificial grass is the top of many people's agendas. From choosing the right range to negotiating installation costs, there's a lot to think about. In this blog, we will run over the basics of:
The initial cost of artificial grass

Price of installation

Maintenance costs
Different Costs for Different Grass 
Artificial grass cost varies depending on the size of your garden, the installation and the range of grass you choose. Be mindful that cheap artificial grass, can result in poor quality if you don't check out the specification. We all want a bargain but low-quality grass can result in costly replacements. A good way to ensure satisfaction is to order free artificial grass samples. These will allow you to analyse the quality in detail; check the backing, the density and the appearance. If a cheaper range suits your needs - brilliant! 
When ordering your samples, we'd advise ordering a slightly higher spec grass as well as your favoured range to compare. These can help you save money in the long-run on accessories such as Underlay. Depending on where you are installing and the thickness of the grass, underlay may not be needed - saving you a quid or two!
Average Cost of Artificial Grass
To give you an idea of the costs of artificial grass we have created the following table, based on the average cost per metre squared and average garden sizing:
| | | | | |
| --- | --- | --- | --- | --- |
| Type of grass | Average Price per metre squared | 3m x 3m garden | 4m x 4m garden | 5m x 5m garden |
| Basic Grass | £7 | £63 | £112 | £175 |
| Budget Grass | £10 | £90 | £160 | £250 |
| Essential Grass | £15 | £135 | £240 | £375 |
| Premiere Grass | £19 | £171 | £304 | £475 |
| Elite Grass | £30 | £270 | £480 | £750 |
To save money on artificial grass, be sure to check out the remnants or roll ends. These are the exact same quality, just pre-cut rolls. If you sizing matches you could save a small fortune.
Advantages and Disadvantages of Artificial Grass
What's the Advantages?
Minimal maintenance - once it's fitted, a simple brush-back and wash-down are enough to keep it looking perfect. 

Immaculate looking lawn 365 days of the year.

Eliminates the problems of dead grass and weeds.

Huge range of styles to choose from.

Water bills will be significantly reduced as artificial grass does not need regular watering.

More time to relax.

Perfect for children and pets.

Ideal for those who suffer from hay fever.
Now for the Disadvantages:
Some people prefer the look and feel of natural grass.

The process of installation can take a little time.
Installation costs
Hire a Professional Landscaper
On average a professional installation can cost around £60 per square metre, depending on your location and the standard of the installer. It's important to check previous work before deciding on which landscaper to go with. Cheap installation bids can reflect on the quality of the work. If you source landscapers from trusted sites such as My Builder and Rated People, these have been pre-assessed to put your mind at ease. 
Whilst the cost of a professional installation may feel a little steep, you can rest assured that a quality installer will deliver impressive results. Make sure you are happy with the standard and get numerous quotes to ensure you are getting a fair price.
Do It Yourself 
If you're confident in DIY, you could keep costs low by completing a self-install. Our handy Artificial Grass Installation Guide will assist you through the process and our team of professionals are on hand, for any questions or queries you may have.
DIY will be cheaper but it will require physical labour and most likely one or two people to help you along the way. Don't be put off by this though, the challenge can be very rewarding and you will be able to tell people who visit that you have done it yourself!
For a self-install, why not take the effort out of discarding natural grass and excess dirt with waste removal services. 
Maintenance costs
While maintaining artificial grass is significantly cheaper than natural grass, there are some factors to consider. Cleaning agents such as artificial grass cleaner will keep your turf in its best condition possible, especially for those who have children or pets.
A soft-headed brush will deal with any dirt or debris which can surface from time to time. Picking up leaves in Autumn months will keep your drainage system clear. The overall cost of maintaining an artificial lawn is considerably less than the ongoing cost of weeding, seeding and mowing natural turf. 
How to Save Money on Artificial Grass
Order free artificial grass samples to ensure you're choosing the right product for your garden. This will put your mind at ease before making your purchase.

Order artificial grass offcuts - See if your preferred grass and size is available as a remnant on our website, which can save you up to 50% on the cost of your product.

DIY installations can save you a lot of money compared to a specialist landscaper. 

Omits ongoing costs - saving you money on water bills as well as other gardening tools such as lawnmowers, which can easily cost upwards of £200.
Conclusion
Artificial grass cost can vary, depending on what your budget allows. You can make it as affordable or luxurious as you like, with ranges to suit your preference. 
If you're looking for cheap artificial grass then our Budget and Essential ranges will cater to your needs, without jeopardising quality. A DIY installation will keep those costs down and regular maintenance will prevent any future spending. Additionally, be sure to check our websites offcuts to see if you could get your desired artificial grass for a cheaper price.
If you require any further help or assistance, be sure to give us a call on 03308088900.