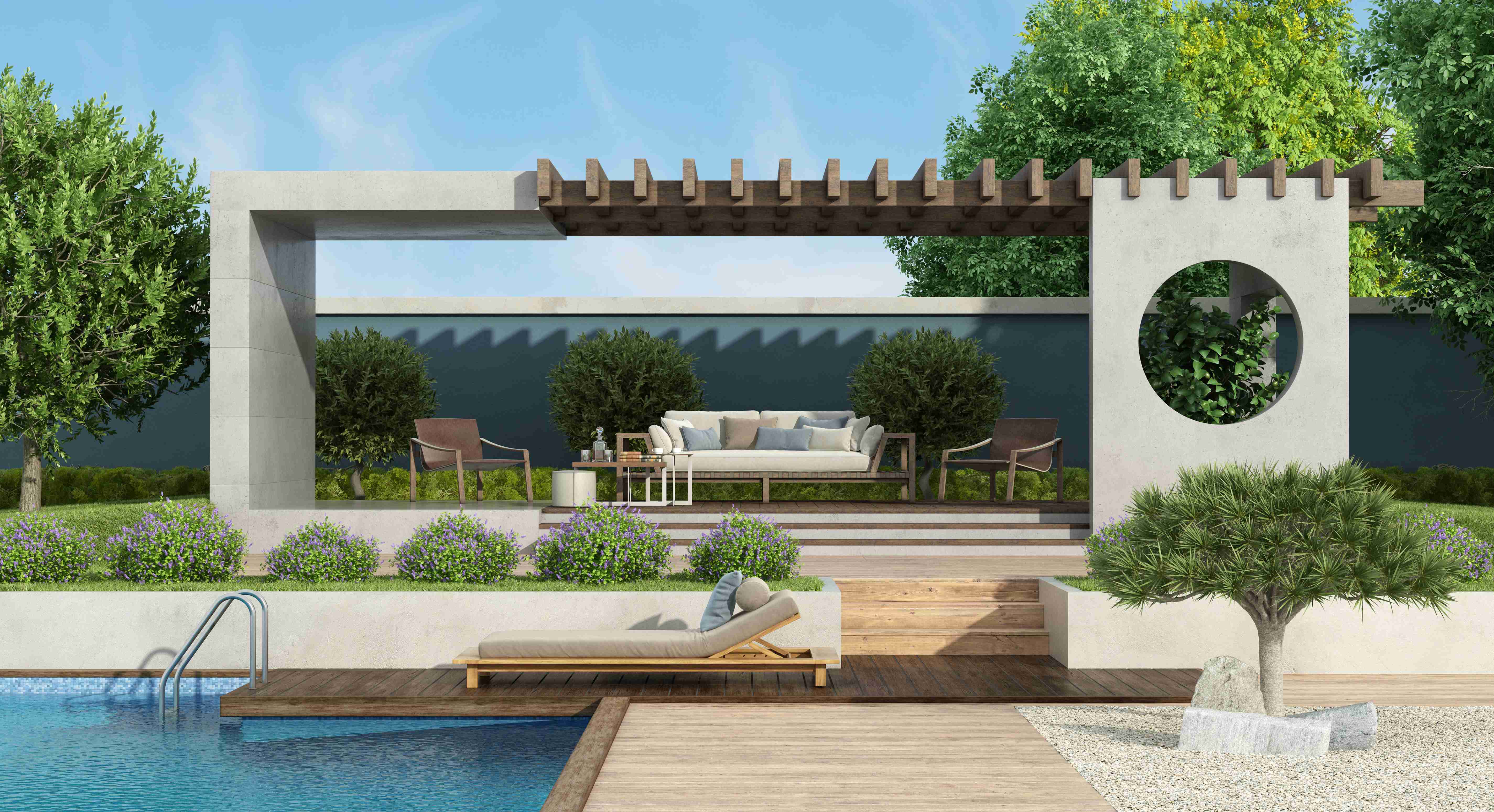 If you like your outdoor spaces to look as beautiful as your home interior, then garden trends are great for finding out the latest ideas to help create your perfect sanctuary. With the pandemic allowing us to spend more time outside than ever before, it gave rise to an increase in popularity for gardening and garden design.
2022 can be expected to be another wonderful year for garden design, as more people embrace their well-being and give more time to their gardens and outdoor spaces. The top 10 garden trends this year also have more focus on sustainability as people try to take some responsibility for the growing climate crisis.
Quick Links
Rewilding

One of the most up and coming trends for 2022 is rewilding. This is simply the process of letting nature take its course and letting your plants become less pruned, weeded, and landscaped.

People are moving away from the heavily manicured and designed flowerbeds and wanting a more natural, flowing feel to their outdoor spaces.

As well as looking beautifully wild and free, rewilding is excellent for wildlife and will allow a safer home for all sorts of species. So why not try letting your garden flourish on its own and reap the benefits of a spectacular space all year round?

Bold colours

Bold colours are in this year, primarily ones on the warmer end of the colour wheel. Fire tones are set to be particularly popular, with reds, oranges and yellows providing a striking display during the summer months.

If you are worried the bold and bright may overwhelm your garden, go for pastel shades instead and add small accents of riotous fire colours. This will keep your flower beds on trend whilst softening the overall appearance. Coral is an excellent colour choice to help balance out those fiery colours this year!

Bug and bee hotels

Making your garden more wildlife friendly has been a trend for the last few years and with a continued heavy focus on the environment and our responsibilities to the natural habitat and the creatures that reside within it, creating an insect safe space in your garden is still a popular trend for 2022.

You don't have to purchase one to create a safe space for bugs in your garden. Make a deadwood pile or build your own hotel with bamboo canes and bits of old wood. Upcycling offcuts from refurbishments is an excellent way of keeping projects more environmentally friendly and encouraging biodiversity in your garden.

Hard and soft landscaping

In a nod to both the traditional mix of soft plants and hard landscaping in garden design and the current trend regarding sustainability, a common garden trend we are expected to see in 2022 is having a structured hard landscape with gravel and pebbles, but planted with perennials and low maintenance grasses to make the overall aesthetic more naturalistic than designed.

Balcony gardens

Making the most of your outdoor space has been a key trend in the past few years, which has led to a rise of balcony gardens. Being creative with your plants is huge this year, with hanging pots, rattan screening covering fences and walls for climbers and stackable planting all offering imaginative ways to turn small outside spaces into your own haven of nature.

Living walls

Following on from balcony gardens, "living walls" are one of the hottest trends expected in 2022. But what are they? Living walls are vertical gardens with plants being planted into a screen which is attached to a wall or fence. Being innovative with space has created the demand, which allows you to have walls of green without taking up precious room.

Grow your own

The rise of organic gardening and growing your own produce has seen a re-introduction of what was once a common practice into the mainstream consciousness.

Food education is still a big priority and with food prices rising, vegetables grown sustainably in your own garden are holding a lot of appeal for gardeners and novices alike.

Growing from seed can be hugely rewarding and we would recommend this garden trend to anyone interested in organically grown food, teaching children, saving money, and becoming more eco-friendly.

Upcycled garden furniture

Upcycling is a current buzzword for both interior and exterior design. Not only is upcycling part of the sustainability movement, but it can save you money and create unique pieces for your home. This principle has been applied to outdoor spaces in recent years and is an expected hot garden trend for 2022.

Luxury commodities

Blurring the lines between outside and in was a big trend during the pandemic, with people using their gardens to extend their living spaces. With holidays almost non-existent for the past two years, adding luxuries not normally seen in British gardens is a continuing garden trend for 2022. Adding composite decking, covered patios and hot tubs to your gardens has become ever more popular, whilst adding comfortable garden furniture under covered gazebos has allowed people to enjoy their gardens and outdoor spaces more than ever before.

Bicolour plants

Rounding off our list of the top ten garden trends for 2022 is bicolour plants or flowers. These have become particularly popular due to the rise of Instagram, where beautiful and unusual coloured flowers have become "instagrammable" with roses and dahlias becoming fast favourites. Combine with dark foliage for contrast and choose either analogous colours, or complementary colours on the colour wheel to really make the most of these beautiful bicoloured plants.
Garden trends with Grass Direct
With people spending more time in their gardens, especially on more sustainable choices, then artificial grass is a fantastic way to keep your outdoor spaces looking beautiful all year round. Low maintenance, artificial lawns can give you the time needed to concentrate your efforts on other areas of your garden without compromising on design, appearance, or space!
If you want to create a stunning garden design using artificial grass, then here at Grass Direct we have everything you need to make your outdoor space look picture perfect – without the hassle.
For all your artificial grass needs and enquiries, please contact us today by using our contact form on our website or call us on 03308 182 500 to speak to one of our friendly expert advisors!