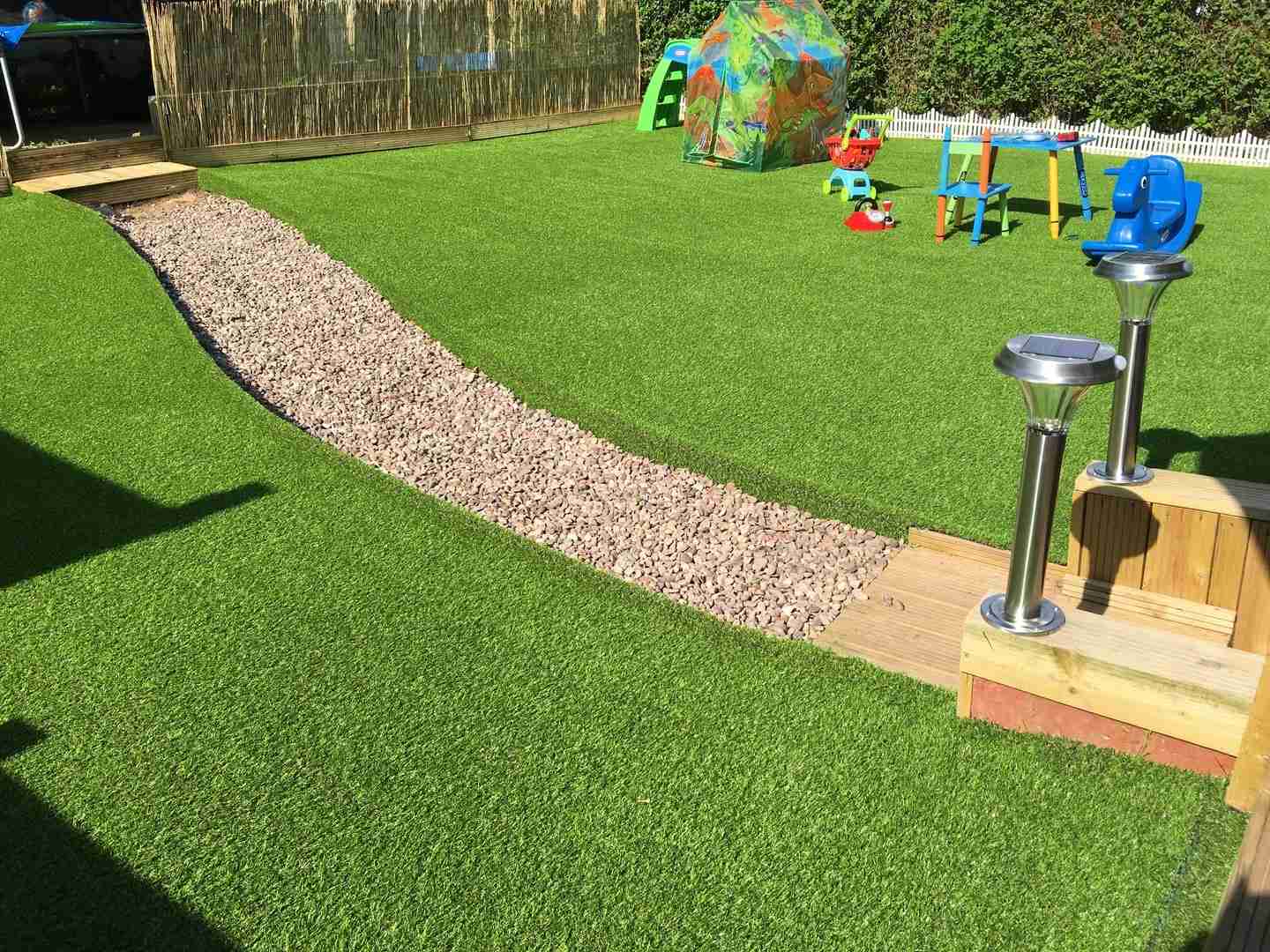 If you are thinking about purchasing artificial grass, then you may have concerns over its suitability and safety if you have children or pets.
Artificial grass is entirely safe to play on, either for small children or your furry friends. In fact, it is so safe that it is extensively used for sports grounds and pet centres and is an ideal alternative to natural turf.
Here at Grass Direct we are so sure that all our artificial grasses are safe for children to play on just as if it were a normal garden, that we even offer artificial grasses for public or commercial use, especially in areas that cater for children, such as play centres. As long as your artificial turf has the correct underlay installed, our grasses provide a safe base for play, whether that is for children, pets, or athletes.
But what makes artificial grass so safe?
Quick Links
It's Non allergenic
If you or a member of your household suffer from hay fever, then playing outdoors during the Summer can be a nightmare. Artificial grass is non-allergenic, which means it doesn't contain any allergenic materials, meaning you can enjoy relaxing and playing in your own garden all year round!
No Chemicals
Thanks to the synthetic nature of artificial grass, it is entirely safe for children, dogs, cats, and any other pets such as rabbits. By installing artificial turf, you avoid the need for harmful chemicals such as weed killer and pesticides, making it a suitable and safe environment for the whole family to enjoy.
Cushioning Effect
Artificial grass is available in a range of lengths and thicknesses, which can affect how the grass feels.
Here at Grass Direct, we have a "softness" rating on all of our products, so you can decide on the correct artificial grass for you. We would recommend a high softness rating if you are installing artificial turf that is going to be regularly used as a play area, as these grasses have been tried and tested to be soft and well cushioning.
Helps with uneven surfaces
Installing artificial grass is an ideal way to stop bumps and tumbles caused by uneven playing surfaces. It also has the added benefit of being thicker than normal turf and combined with the cushioning effects can make it far safer for children to play to their heart's content.
Helps to avoid slips and falls
When it rains, normal grass can become slippery and muddy, meaning not only does your grass become ruined, but it can be a perfect storm for slips and falls.
Artificial grass does not get as slippery and provides more grip, making it less likely for you, your child, or your pet to fall. This allows your artificial grass installation to be used all year round, no matter the weather. And it avoids the pain of muddy footprints!
Cleaning and maintenance
If you have a combination of children and pets, particularly dogs, then you will understand the need to maintain a clean lawn. Ordinary grass can be difficult to keep sanitary if your pets regularly use it as a toilet.
Artificial grass is great for keeping your play areas free of pet waste, as they are designed to drain moisture from the surface with drainage holes and/or a porous backing, so any urine will drain harmlessly into the ground below. Any faeces can be picked up as normal, and the artificial grass hosed down with water and grass cleaner. Helping to keep you and your family safe.
Sports grass
If you are interested in using your outdoor space to play sports such as football, rugby, or golf, then artificial grass is ideal and far safer than normal turf. Install a large astroturf lawn for ball games, or why not install your very own artificial grass golf putting green!
At Grass Direct we have a large collection of artificial sports grasses with different lengths and textures to suit your needs.
When it comes to playing sports, safety is paramount. Turf, tarmac, and real grass have traditionally been used to surface sports fields, gardens, and pitches throughout the country. They may seem to be fine at first glance, but they can actually be hazardous, resulting in tripping, falling, and even injury. In addition to hard surfaces, natural grass fields can also become muddy or slippery when wet, increasing the risk of injury.
Because of these reasons, many homeowners, sports clubs, and organisations are turning to sports grasses or artificial grasses instead of the more traditional alternatives.
If anyone in your household is a keen golfer, then installing your own artificial grass golf putting green in your garden can be a safe way to sharpen your putting skills. Having your own putting green gives you a great way to practice at home and have fun.
Artificial grass from Grass Direct
There are other benefits to installing artificial grass in your outdoor space, without the need for regular mowing and weeding, you have the perfect, low maintenance garden for you and your family to play in.
Here at Grass Direct we offer exceptional prices on our wide range of quality and luxury artificial grass, you can find your ideal pet-safe product without having to compromise on budget or quality. And because we understand that creating the perfect outdoor space can be tricky, we offer free samples, so you can make sure you choose the right option for you and your pets and get your ideal lawn all year round.
For all your artificial grass needs and enquiries, please contact us today by using our contact form on our website or call us on 03308 182 500 to speak to one of our friendly expert advisors!