Installing artificial grass is becoming increasingly popular in busy family homes. One of the main reasons for this is that artificial grass can be placed practically anywhere, making it extremely versatile. However, this begs the question 'what goes under artificial grass?'. Of course, each area of the home has different requirements when it comes to what goes under artificial grass.
There are a number of products and methods that you can use in order to get the best results. You may use artificial grass underlay if laying onto a harder surface such as concrete or decking. Sharp sand paired with a weed membrane is the perfect combination when laying in your garden.
In this blog, we will be looking over what goes under your artificial grass; different kinds of sand infill, artificial grass underlay and weed membranes, in order to help you make the best decision when laying your turf.
Everything You Need For Installing Artificial Grass
Firstly, let's go through what exactly what you will need to fit and install your artificial grass:
Art

ificial grass of your choice - we have over 30 ranges to choose from.

A sharp Stanley Knife - this is to cut your turf to size.

Grass fixing nails - this is to secure the perimeter of your grass, once it has been laid and fitted.

Underlay for Artificial Grass

- this does an effective job at adding additional comfort and protection from the hard surface below the grass. Underlay is a great option if you have little ones, as it cushions the impact from trips or falls.

Weed Suppressant Membrane

- this a very important product to consider using, as weeds have the potential to grow from underneath any surface. This membrane prevents any kind of weed from making their way through your turf.

Impero Adhesive Kit

- this kit provides a simple solution to fixing the joins to your turf together. It is a single component moisture-curing adhesive designed

for bonding synthetic grass carpets to a range of substrates or jointing tapes. The adhesive is tolerant to the use in damp and cold conditions.
Included in the Imperio Adhesive Kit:
3x Impero adhesives (290ml)

1x Envirostik Lawnfix Tape

1x adhesive gun
Fitting Types
There are many different ways to fit artificial grass. This all depends on the surface that you are laying your turf on, as well as personal preference.
Installing artificial grass to a dirt surface is straightforward and can either be done by a professional fitter, or you can install the grass yourself. However, if you're installing your grass yourself, you'll need to know what will give the best outcome for you when it comes to what goes under artificial grass.
Replacing Your Lawn With Artificial Grass
Remove any existing grass from the dirt.

Spray the area with weed killer to make sure all vegetation is dead & to prevent re-growth.

Create a timber frame around the perimeter of your install. This will help secure the grass when using your fixing nails, in the final step.

Compact the dirt until it becomes firm, this is to create a solid platform for the turf to be laid on.

Add around 50mm – 75mm of MOT type 1 of Limestone chippings. Be sure to compact this as you have with the soil.

Add roughly 15mm of sharp sand or dust granite over the dirt, you will need around 25kg of sand per 1m

². This area needs to be firm but porous.

Lay your weed membrane over the top of the sand and secure it with fixing nails around the perimeter.

Line up your turf to one of the corners of your perimeter and lay the rolls flat over the surface to see how much you need to cut off.

Trim the edges off your grass that do not need to be there.

Use galvanised fixing nails to keep the joins in place. These fixing nails should be lined up with the timber frame to secure them.
When fitting artificial grass to dirt, it is important to install a weed membrane too. This will prevent any weeds from making their way through your artificial grass.
Weed membranes are optional for all other types of install. However, when fitting your artificial grass to a hard surface we would recommend using one as weeds tend to grow in the most unlikely areas.
Fitting Artificial Grass to a Hard Surface
When Fitting Artificial Grass to a Hard Surface the process differs slightly. Additional steps are taken to ensure your turf is secured properly and safely:
Remove any dirt or debris from the surface.

Add a coating of artificial grass adhesive around the perimeter, ready to receive the underlay.

Place your underlay across the surface, making sure to even out any imperfections.

Add a second layer of adhesive to the underlay, again around the perimeter.

Stretch out your turf in order to remove any ripples.

Even out your grass using a carpet roller, this will also help bond the adhesive.

In dry conditions, dress your lawn with kiln-dried sand.
Be sure to check out the DIY Installation section of our website, where we go a little more in-depth on the different methods of fitting turf. This will also explain what to do if your grass requires a join.
Professional vs DIY
Fitting Artificial Grass is a rewarding task when done without professional help. It can also save you a lot of money as you won't need to pay a fitter. As long as you have the time and knowledge, a DIY install is a great cost-effective option.
Professional Installs guarantee a high-quality finish. You can get on with your other activities with peace of mind that you will have a great looking garden or lawn.
If you have little knowledge of laying artificial grass, don't have the time, or you simply prefer a professional fit, we can provide Fitters in your Area that will get the job done.
MyBuilder and RatedPeople are great sources to find the perfect fitter for you. They provide you with pre-approved tradesmen within a nearby radius so you don't need to worry about finding a trustworthy installer on your own.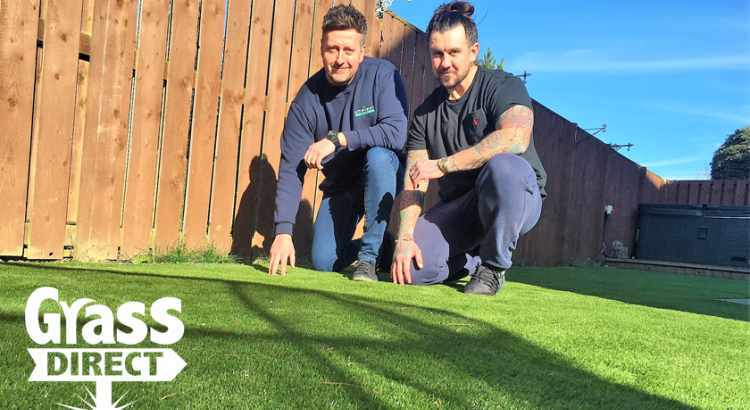 If you're unsure on which route is best for you, check out our blog on Finding a Fitter or Taking the DIY route to help you make an informed decision on the best option to suit your need.
Top Tips on Artificial Grass Sand
Sand Infill for Artificial Grass
As well as going underneath your artificial grass as previously mentioned, sand can be used on top of your turf used as an infill to enhance the overall appearance of your artificial lawn.
Here are some of the benefits of using sand infill:
The sand weighs the grass down, keeping each blade in a fixed position. This keeps the appearance of your grass consistent and reduces the need to brush the blades to your desired position.

Certain types of sand can improve the drainage of your turf. The presence of the sand will regulate the flow of water going through your turf during a heavy downpour.

It is important that you use the right type as regular sand can have an adverse effect and block the drainage holes.

During warm times of the year, the sand can cool down the surface of your turf, keeping it at a comfortable temperature.
What Sand do I use to Infill Artificial Grass?
As previously mentioned, choosing the right kind of artificial grass sand is very important. To help you understand which one to go for, we've broken them down for you:
Silica sand is the most common and effective option of sand infill. This sand is often made specifically for artificial grass. This sand infill supports protection from UV rays, which means your turf will look amazing for longer.
Acrylic sand infill is another popular choice for artificial grass. This sand, in particular, helps prevent any kind of bacteria from spreading across your turf that can cause bad smells.
Zeo infill is a great choice for pet owners. The durable material will absorb and significantly reduce foul smells and stains. The negatively charged material also absorbs urine while suppressing the smell. This type of sand also allows liquids to pass through with ease, supporting the drainage process.
Walnut shell infill is an excellent cooling option for artificial turf. The infill is made of natural components, unlike the previous options. However, the performance is still right on par with other options.
For the most part, 4 kg of sand infill is ideal per square meter of grass. The infill will be at an ideal height where you cannot feel the sand under your feet, but it will hold enough support to keep the blades in place.
Knowing which type of sand to go for is crucial for pet owners. The wrong sand can actually enhance odour and trap urine between the blades of grass. Zeo sand is designed to omit odour and assist the drainage flow, this allows urine to pass through quickly and effectively.
It is important for pet owners to consider pile height when purchasing artificial grass too. If you plan on adding a sand infill, there needs to be sufficient height to accommodate this. We recommend any turf under 30mm. As long as your choice is not extremely short, this will house the sand infill with ease. Longer pile heights can be a little messy when cleaning after your pets.
When to Use Artificial Grass Underlay
Artificial grass underlay is most suitable for hard surfaces. Commonly used in Decking Installs, the underlay will smooth out any rough areas from the surface below - creating an even, comfortable feel underfoot.
Of course, artificial grass underlay can be used for any surfaces that you want to install your grass over. There are no negative factors of using underlay for artificial grass, as its purpose is to provide additional comfort.
Here is a quick list of the benefits of underlay:
Provides additional comfort.

Cushions any little trips or falls, especially for the little ones.

The perfect aid to support a decking install.

Conceals ridges and bumps.
When to Use a Weed Membrane
Weed membranes are very effective in preventing weeds from growing through your artificial grass. Acting as a barrier, the membrane sits between the ground surface and the grass layer above. The semipermeable construction allows water and nutrients to pass through; supporting the drainage system.
As previously mentioned, we recommend using our Weed Suppressant Membrane when fitting artificial grass to dirt. This covers any lawn replacements or general garden installs.
However, for additional peace of mind, it would not hurt to install a weed membrane to decking, patios or other hard surfaces where weeds are likely to grow.
Here is a quick list of the benefits of using a weed membrane:
You can save money on replacement turf, if weeds make their way through.

Your turf is protected all year round.

There will be no need to worry about taking your grass up to fix any weed-related problems.

You will save money on weed killer and other gardening tools.
Do I Need to Nail Down my Artificial Grass?
Fixing nails are most commonly used when installing artificial grass on decking. Perfect for keeping your artificial grass in place, they can also be used to secure a lawn replacement when installing with a timber frame.
How to use Fixing nails:
Simply hammer a nail every 15cm around the perimeter of your lawn. Make sure your turf is fully stretched out to prevent any bumps and ridges from forming.
Once all the nails are in place, brush your hand over the nails to make sure none of the blades have been caught under the nail. This will also allow you to check the nails have been fully secured.
Conclusion
So to answer your question, what goes under artificial grass depends on surface and needs. There are plenty of options to choose from when deciding what to put on or under your artificial grass. It only takes a brief overview of them all to decide which is best for you. From weed membranes to correct sand infill and artificial grass underlay, we hope this blog has helped to explain the benefits of each and how to use them correctly.
If you need any further help or assistance, please do not hesitate to contact our artificial grass experts on 03308 088 900 or leave us a message in the comment box below.