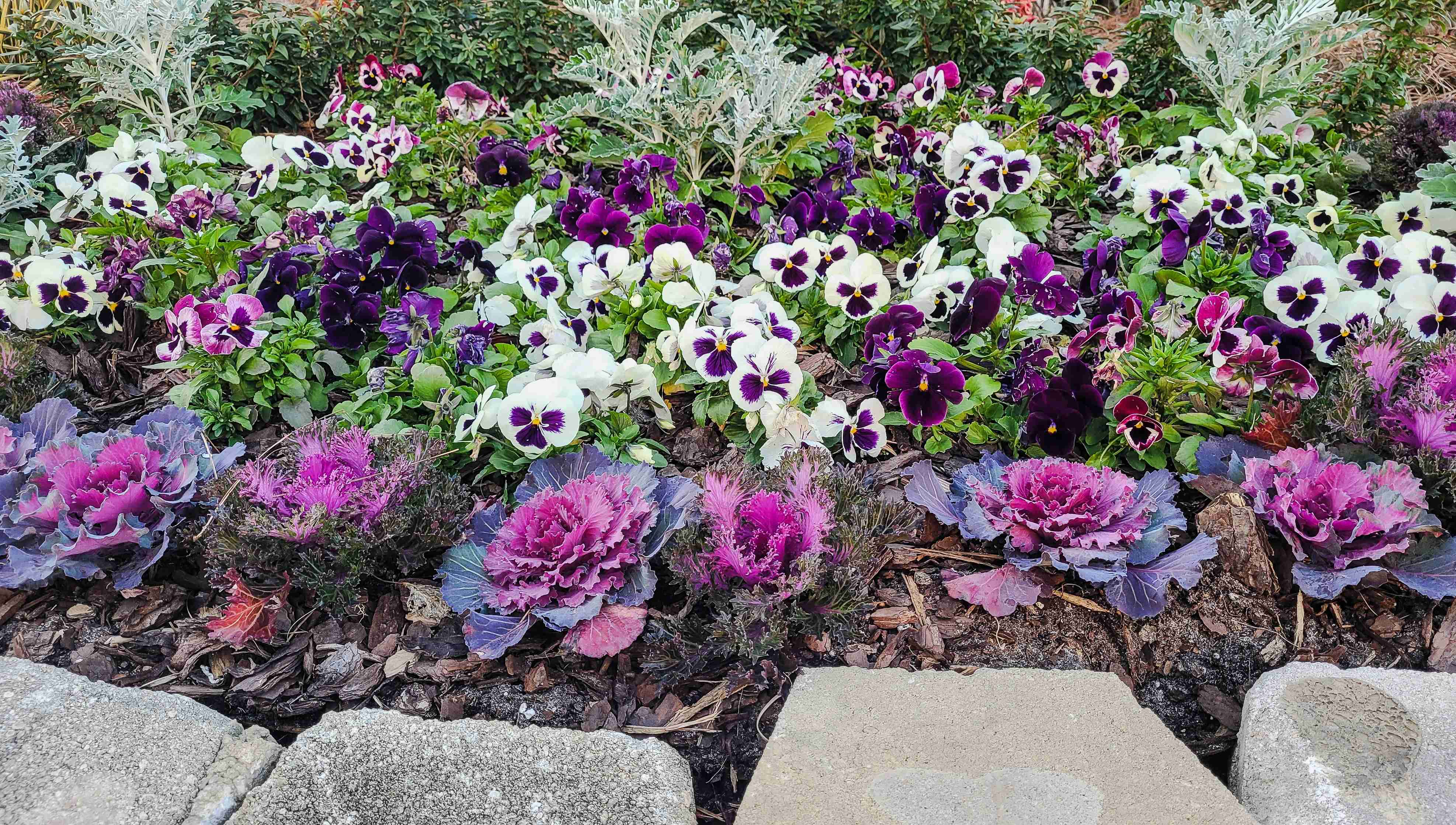 Gardens come in all shapes and sizes, with no fixed rules as to how they should look. Some people prefer to cover their garden with grass while others may pave it over to keep maintenance to a minimum level. But adding a border will help to bring your outdoor space to life.
Not only will you be able to enjoy the beautiful colours, but flowers and plants will attract all manner of wildlife. Creating borders might seem daunting to the beginner gardener but it is a fairly simple process which can transform your outside space.
Here at Grass Direct we have some great advice and tips to show even the novice how to create the perfect border.
Plan your border
As with many things in life, preparation is key to achieving the results you desire. It is important to note the areas of your garden that will receive the most sunshine and those that will be in shade. This will determine which flowers you decide to plant in certain areas of your garden.
Don't despair if the desired location of your new border is mostly in shade as there are some plants that thrive in those conditions, and we will touch on that later in the article.
Grass is quite often the dominant feature of a garden and adding a border on either side will help frame the green space. But, as mentioned before, it is completely up to you as to where you decide to place it.
Why not take time to sketch out the shape you desire on a piece of paper prior to starting work?
Once you have made that decision, then mark out the dimensions of the border. Larger gardens may require a deeper border to achieve the desired effect but narrow borders work just as well if space is tight.
Opting for a straight-edged border is traditional but there is nothing to stop yours having a curved outline. The latter can often make the garden appear bigger than it actually is.
Use string attached to wooden stakes to mark out the boundaries of a straight border. Those who have opted for curves may need to improvise at this stage and a hosepipe is as good as anything for defining the outline.
Remove the grass, prepare the soil
Once you have the parameters set, then it is time to start grafting. If you are creating a border in a garden with turf, then remove the grass with a spade and begin working on the soil. Take out the large rocks and give the area a thorough weeding.
It is at this point that compost or manure should be added and dug into the soil to give your plants the best possible start in your garden.
If you have decided to lay an artificial lawn in your garden, then it is still possible to create a border. It is possible to cut the artificial lawn with a Stanley knife to create space for the border.
At Grass Direct we recommend you use an edging system at this stage to create separation between your artificial grass and the newly formed border.
This will also prevent the sub-base material from leaking out and mixing with the soil in your border.
An edging material can also be used with natural grass but it is not essential. Clearly defined border edges with a trench at least 4cm deep at the margin will allow you to cut the lawn without encroaching on the soil.
Theme your border
The experienced gardener may well know which plants go well together in borders but don't be overawed if you are just starting your gardening journey.
There is plenty of help online, while your local garden centre should be able to point you in the right direction.
As a rule, avoid randomly selecting plants and pick a theme. Many people like to go with a colour theme, with reds, yellows and oranges creating a dramatic space along the periphery of your garden.
But there is also the option of choosing simpler colours such as green and white, with green foliage creating a contrast with the white flowers.
Planting
It may pay dividends to place your plants on the soil before putting them in the ground to ensure you have adequate space between them and they work well as a design.
The next step is to carefully remove them from the pots, making sure you don't damage the roots. Then arrange the plants according to height, with the tallest at the back.
Place medium size plants in the middle before planting the lower ones at the front edge. This tiered effect will ensure that all plants and flowers can be seen.
Although it is likely that your border will be in bloom during the summer months, adding a few evergreens will give you something to look at and keep your garden fresh all-year round.
It is recommended that you don't place individual plants randomly in the border area. Arrange them in groups to ensure you have the same colours in a specific area. And make sure there is adequate spacing between plants to give them the best chance of growing well.
Shade no obstacle to borders
As mentioned previously, borders in direct sunlight will thrive but others might not receive too much sun if they are sited in a shady area. Your choice of plant is key in this situation.
Plants such as hydrangeas, fuchsias, azaleas, and foxgloves will be fine situated in areas of low light. You might not get the spectacular, fiery colours of sun-filled borders but these are beautiful plants that will grace your garden.
If you need more help on deciding what plants would work best for your borders, check out our blog 'Choosing shrubs and flowers for your garden.'
After care for borders
Your new plants need immediate watering, and it helps to spread some compost or manure on the soil. Make sure you leave a gap around the base of the plants to avoid the possibility of the stems rotting.
The addition of fertiliser will be another aid to achieving a superb border once the flowers and plants are in bloom.
Your work does not end when the plants are in the ground as you need to attend to your border on a regular basis. Remove weeds from in between plants and stake any plants that have grown to a size where they might collapse.
Avoid the border becoming overgrown by removing any plants that have spread out too much. Remember, you will get out what you put in when gardening!
Help from Grass Direct
If you want to keep your garden looking great throughout the seasons and think artificial grass could be an ideal solution to compliment a beautiful border, then here at Grass Direct we have everything you need to give you your ideal looking garden all year round.
Grass Direct is the home of the UK's largest selection of artificial grass and we can accommodate any space - garden, patio, terrace, or balcony.
We have over thirty artificial grass ranges to suit busy family homes, pet lovers, lazy gardeners or anyone who simply wants a fabulous looking lawn in your garden without the trouble!
Furthermore, we won't be beaten on price, either. We pride ourselves on offering the best prices on the market and believe our synthetic grass is of the highest quality, and you won't find our products cheaper anywhere else. If you do, we will match that price and knock off a further 10%.
If you are unsure how an artificial lawn may look against the backdrop of your chosen borders, we offer free samples on all our products, so you can make sure you choose the right option for you.
For all your artificial grass needs and enquiries, please contact us today by using our contact form on our website or call us on 03308 182 500 to speak to one of our friendly expert advisors!