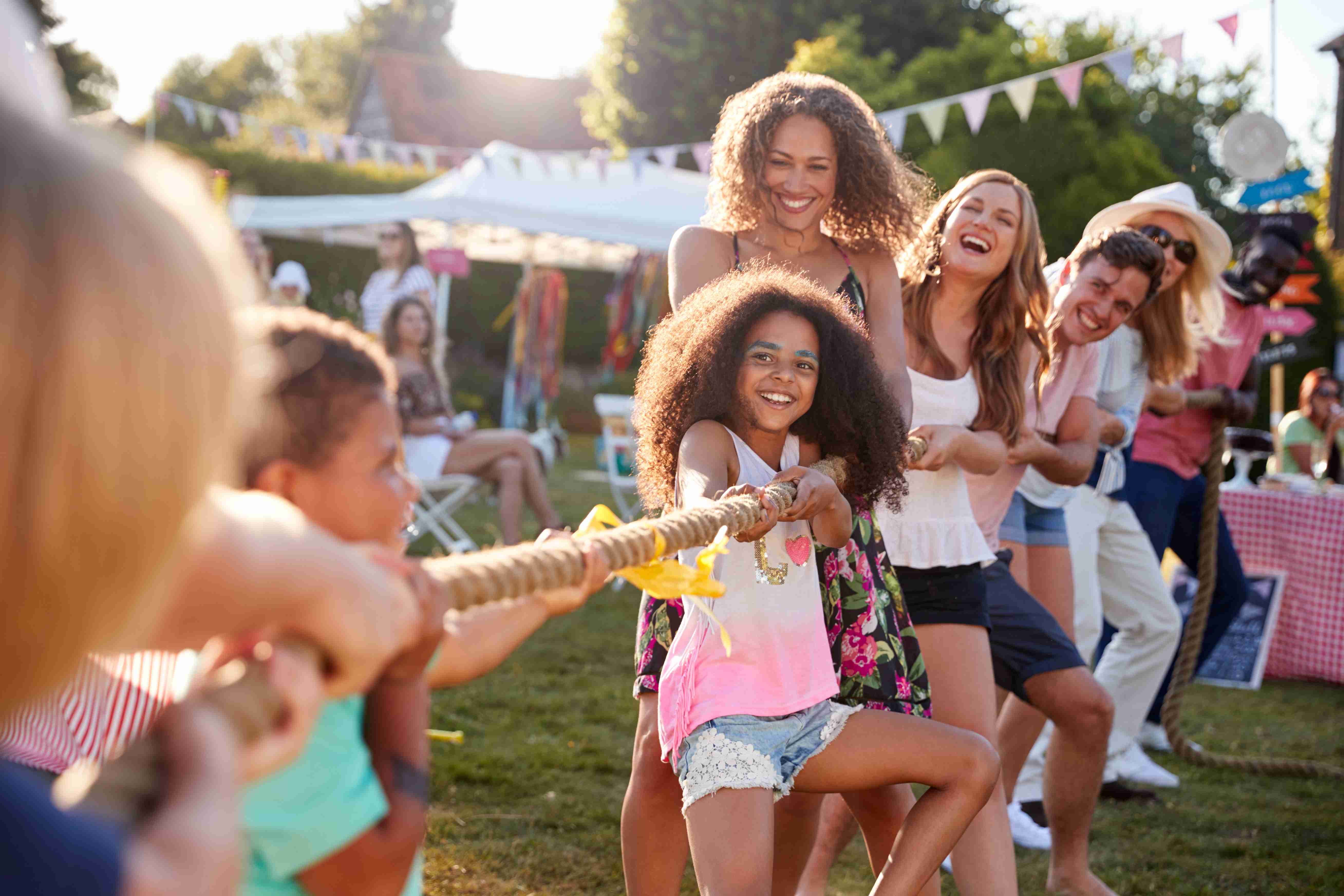 For many people, the garden is a place to sit back and admire nature at its finest. Sipping a glass of wine while admiring the fruits of your labour is extremely rewarding.
However, others may prefer more active pursuits and there are many garden games available to enjoy.
Croquet
Often seen as a pastime for the aristocracy, croquet is an enjoyable game that can be played by all in most gardens. It can of course take place on natural grass but lends itself to artificial lawn.
The simplicity of the sport makes it attractive, with the aim being to get your ball through a hoop by means of a mallet. The game does require space and so make sure you have enough room before purchasing a croquet set.
Quoits
Like croquet, quoits is a simple game to play but a tough one to be any good at. The aim is to throw a hoop or horseshoe onto a peg from a set distance. It requires excellent hand-eye coordination and is tough to master.
In fact, participants may see better results after a few glasses of vino!
Unlike croquet, the size of the garden doesn't matter as this pastime does not take up too much space.
Giant Chess
This is possibly a game for the more highbrow individuals who wish to take the traditional board game outside. It is a fun way to play while also making a superb garden feature.
It is a way to introduce beginners and youngsters to the game while having fun with oversized pieces.
Sizes vary, so make sure you choose the set appropriate to your garden space!
Giant Connect 4
There will not be many people who haven't played the traditional version of this popular game. It has been around since the mid-1970s and is a regular feature in households the length and breadth of the country at Christmas time.
But now it is possible to play an outside version in your back garden which is fun for all ages. For those unfamiliar with the concept, the aim of the game is to make a line of four coloured counters in the frame while preventing your opponent from doing the same.
The line can be horizontal, vertical or diagonal. It requires skill plus strategy and will not take up too much space.
Skittles
Grass may be fine for many of these games but artificial grass would be preferable in this case. Once again, it is a simple concept, with the aim being to knock down the pins with small bowling balls.
Artificial grass would allow the balls to run true and further enhance the skill element. But most of all, this is a fun game that anyone can play. Who doesn't like to see skittles splattered all over the place after a direct hit?
Drink Pong
While most of the garden games mentioned require some form of initial financial outlay, this one is as cheap as they come. All you need is an outdoor table and some plastic drinking cups and off you go!
After filling about 20 cups with some form of beverage, arrange them in two triangular shapes on either side of the table, like the reds in a game of snooker.
Pick teams and the object is simply to throw a ping pong ball into the opposing team's cups. If you are successful, then your opponents have to take a drink.
It is fine to play with children, when soft drinks will be used. But it can become competitive and extremely noisy if the adults carry on once the little ones are safely tucked up in bed.
Fizzy pop is replaced by other fizzy substances and, as the game is now called 'Beer Pong', the forfeits become far more outrageous for every successful shot.
The only restriction is the size of your table but you could even improvise and align the cups on the floor.
Lawn Darts
This is a variation of the traditional pub game of darts and is so simple that even the youngest members of the family can take part. Instead of having the board hung on the wall, the targets are in the form of hoops laid out on the grass.
Then, from a designated distance away from the target, giant darts with weighted tips are thrown towards the hoops. That is the basic concept and it is up to those playing to determine the scoring system.
Targets placed further away from the throwing point are usually worth more points. One scoring method is to choose a number that must be reached to win, meaning the participant has to hit the relevant hoops so they add up to that number.
There is no need to worry about the safety aspect as you can buy darts that have rounded rubber ends as opposed to the usual sharp tips.
Space Hopper Race
While the space hopper may have long been replaced as the kids' outdoor toy of choice, it holds a nostalgic place in the memory for those of a certain age. They were all the rage in the 1970s and 80s and it is unlikely that many adults did not enjoy a turn on one at some stage of their childhood.
Now is the time to turn back the clock and enjoy space hopper races in your own garden. They can be purchased online and are not too expensive.
Having enough space is more important with this one, so make sure you have room in the garden to make it worthwhile buying a few.
Giant Jenga
This is another indoor game that translates well to the back garden once supersized. Those who played it as a child will be familiar with the wooden blocks but experience is not necessary. The blocks are stacked into a solid rectangular tower, with three blocks per layer.
Players take turns to remove a single block from any layer below the highest. Once the block has been removed it is then placed on the top of the tower, meaning the structure will continue to grow in height.
The only moving block allowed in the game is the one that is being moved during a player's turn.
The game ends once the tower falls after a piece has been removed. The person who caused the blocks to fall is declared the loser.
Making the most of your garden games with Grass Direct
Here at Grass Direct we understand the importance of your garden and outdoor space, especially during the warmer months. We actively encourage time to be spent outside as it can have numerous physical and mental health benefits.
Playing garden games are a great way to make use of your space and installing artificial grass has a lot of benefits. It doesn't become slippery or muddy when it rains, so you can have fun without worrying about members of your household tracking dirt through your house, it is entirely safe for children and pets and can allow you to enjoy summer days as well as making mowing, watering, and weeding things of the past - giving you the perfect lawn all year round, even after garden parties!
For all your artificial grass needs and enquiries, please contact us today by using our contact form on our website or call us on 03308 182 500 to speak to one of our friendly expert advisors!