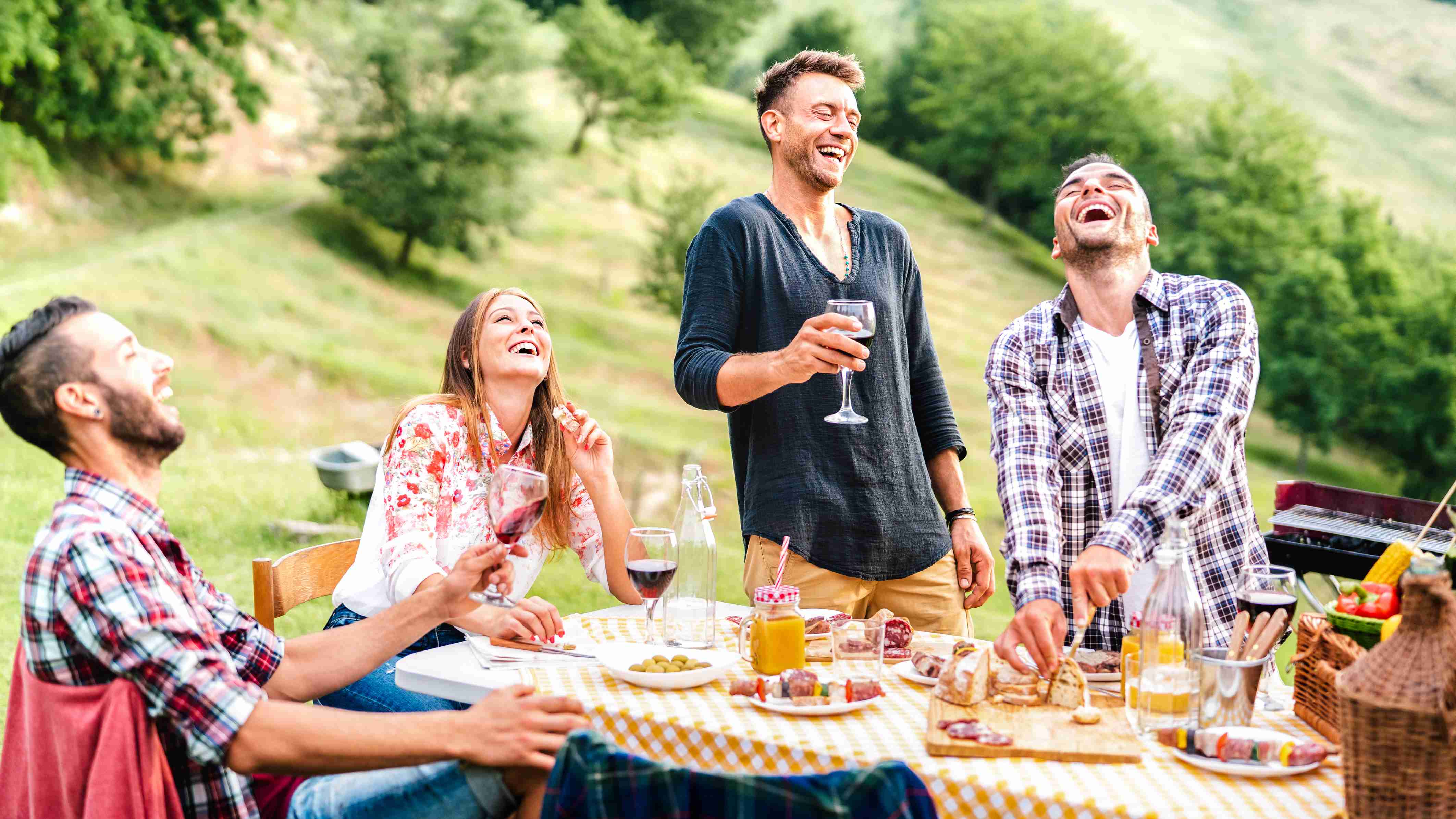 With summer in full swing, you may be thinking about hosting a garden party for your friends and family and making the most of the longer, warmer days. A get-together like this is an ideal way to socialise and have fun without breaking the bank, so it's important that you have the essentials to make your garden party a success and enjoyable for your guests.
One of the key elements to an amazing garden party is the food. No matter what level of cooking skill you have, you need to remember that this party is for you too! Don't agonise over the menu or spend hours in the kitchen, with our ultimate guide for garden party food ideas, you can make the most of your party while giving your guests a fantastic experience.
The outdoor setting
Setting the scene for your garden party is an important aspect of any party planning, especially if you are planning to serve food! Your guests need a comfortable place to sit and eat, and if you are having a BBQ then you need to make sure that it is situated correctly and won't affect your guest's eating area.
We would recommend creating a good seating area with plenty of seats and either a table big enough to get your guests seated around, or a table or bench that can accommodate plates, bowls, cutlery and of course your food!
This way, your guests won't be coming in and out of your house and you won't have to stay in the kitchen and can socialise and enjoy your party.
If you find you don't have enough seats or your garden or outdoor space isn't large enough to add extra chairs, then simply put down picnic blankets and some cushions to create a comfortable place for your guests to relax. Picnic baskets are a great solution to hold your garden party food without taking up a lot of room. If the weather has left your grass feeling damp, then waterproof blankets are a good buy.
If the weather forecast doesn't look good for the day of your garden party, then we would also recommend hiring or buying a gazebo to help keep your guests dry.
If you want to be fully prepared for a summer of garden parties, then you should consider installing an artificial lawn, as this requires no maintenance and won't be damaged by guests or wet weather!
Garden party food
In order to be fully prepared for your party, it is best to write out a menu, so you know exactly what style of food you are going for and what you need to either buy or prepare yourself. Remember not everything needs to be homemade! Give yourself time to spend at your own party rather than trying to impress your guests and not seeing or speaking to anyone as you are too busy in the kitchen!
We would recommend breaking your menu down into sections to make things easier.
Canapes –

If you want to wow your friends or family and are having a main meal of a barbecue for example, which may take a while to get warmed up, canapes are a great option of keeping everyone happy while they wait.
Puff pastry bites are an easy option, cut a sheet of ready-rolled puff pastry into squares, brush with egg and put in the oven for 15-20 minutes, top with a spoonful of any topping you like – for children we would recommend tomato sauce, a piece of frankfurter and a sprinkling of cheese (put under the grill to melt the cheese) or mix cream cheese, with chives, black pepper and smoked salmon trimmings for a more adult snack. For vegetarians we would recommend some caramelised red onion chutney and feta cheese.
Crostinis are another quick and easy option – thinly slice a crusty baguette loaf and brush with olive oil and grill until crisp. You can then add whatever topping you choose, such as pesto, a slice of fig and some goat's cheese (put back under the grill for a few minutes) or use them as a finger food for a selection of dips. Sweet chilli humous is a great dip to serve at a garden party!
Buffet style –

If you are going for a relaxed buffet rather than a BBQ, then your options are endless. Finger sandwiches with a range of fillings are a nicer way to present sandwiches, especially if you use bread such as sourdough or ciabatta.
Savoury tarts/quiches are always popular as they are both tasty and easy to eat! We would recommend stilton and broccoli and red pepper and chilli for your vegetarian guests and ham, pea and asparagus quiche or a salmon and crab cheddar tart for your meat-eaters.
Charcuterie and cheese boards are always a good option for people to graze on but if you want to keep it simple, then deviled eggs and homemade sausage rolls (add rosemary and mustard to your sausage meat before rolling in puff pastry) are sure to win your guests over.
Barbecue –

If you are holding a barbecue, then alongside the traditional sausages and burgers, we would recommend slow cooking ribs in the oven before finishing them off on the barbecue. Paneer and vegetable skewers make a delicious option suitable for vegetarians or barbecue a side of salmon with a teriyaki glaze for a bit of a wow factor!
Desserts –

No party would be complete without desserts! Lemon posset can be made in individual dessert glasses and made and chilled beforehand, you can serve with raspberries and either homemade or shop bought shortbread. For the easiest summer dessert, try eton mess – simply mix together crushed meringue, chopped strawberries and whipped cream with vanilla for a pudding that's quick yet beautiful! If you have children, then make sure you have plenty of ice lollies, or make your own using fresh apple and raspberry juice.
Making the most of your garden with Grass Direct
Here at Grass Direct we understand the importance of your garden and outdoor space, especially during the warmer months. We actively encourage time to be spent outside, as it can have numerous physical and mental health benefits.
Holding garden parties is a great way to make use of your space and installing artificial grass has a lot of benefits. It doesn't become slippery or muddy when it rains, so you can enjoy an outdoor party without worrying about guests tracking dirt through your house, it is entirely safe for children and pets and can allow you to enjoy summer days as well as making mowing, watering, and weeding things of the past - giving you the perfect lawn all year round, even after garden parties!
For all your artificial grass needs and enquiries, please contact us today by using our contact form on our website or call us on 03308 182 500 to speak to one of our friendly expert advisors!