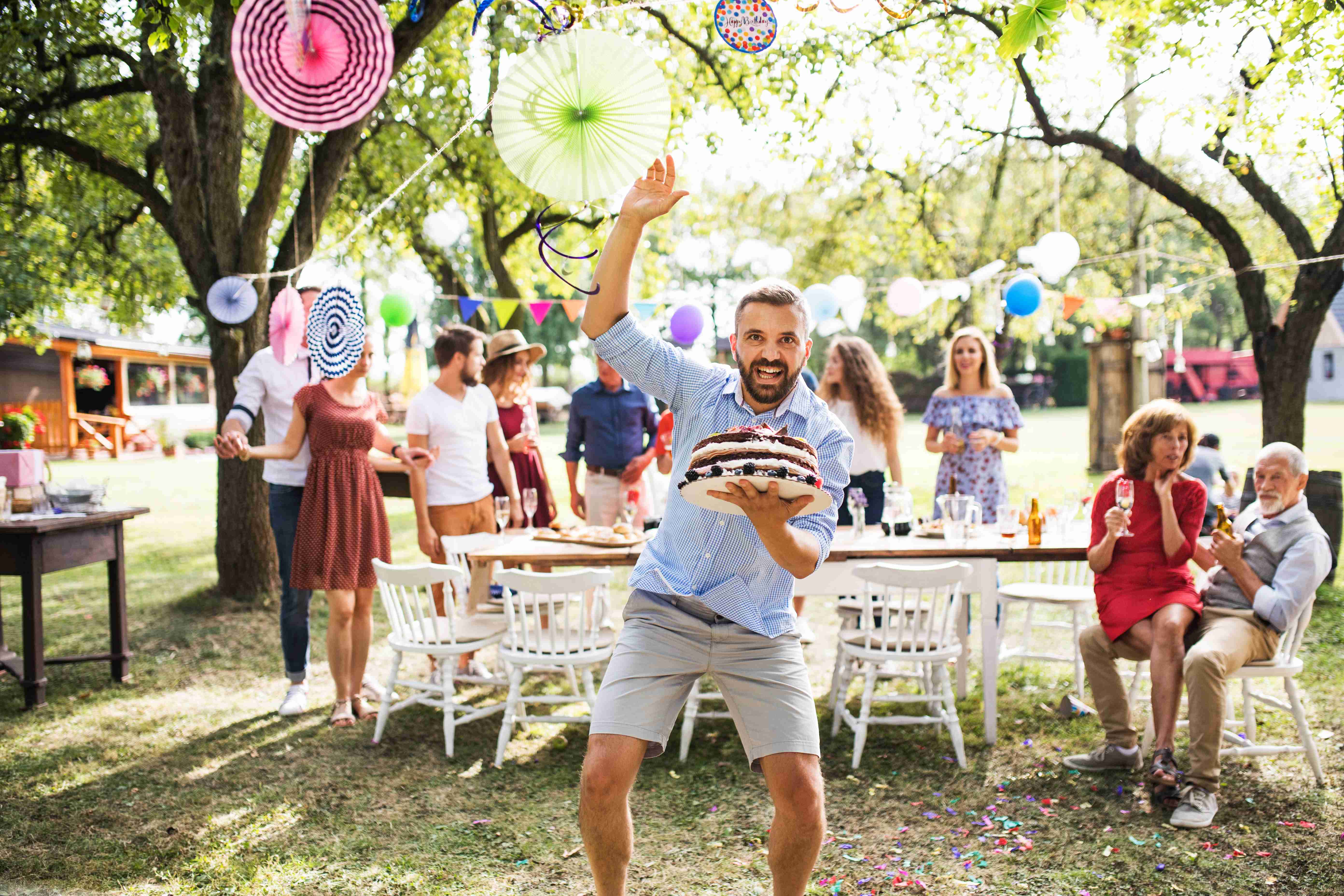 With the weather getting warmer and summer on its way you may be thinking about throwing garden parties or socialising with your friends and family.
We have created the ultimate guide to throwing a great garden party with all the key elements to consider to ensure your guests have an amazing time and your party is a success!
Guest list
When it comes to a garden party, it may be tempting to invite everyone you know. However, you should consider the size of your garden area and outdoor space and invite the correct numbers to avoid damage to your lawn.
Seating
Seating is the most important consideration when planning a garden party. Do you have enough seats? Is your space big enough to accommodate your guests?
If you have a decking or patio area, indoor chairs can be brought out for your guests to sit on. However, if you have a mostly lawned area, then a cheap and easy option is to add blankets and cushions if the weather has been fine. If your lawn is damp, then you can buy waterproof blankets. We would also recommend buying or hiring a gazebo to keep your guests dry as the British weather is notoriously fickle.
If you want to be fully prepared for a summer of parties, then you should consider installing an artificial lawn, as this requires no maintenance and won't be damaged by guests or wet weather!
Refreshments
Refreshments are an essential for any garden party. Well-fed and watered guests make for happy guests!
You have several options when it comes to food:
Snacks throughout the evening

Order takeaway pizzas

Have a BBQ (you can also use the dying embers to toast marshmallows)

Afternoon tea theme with finger sandwiches and cake

Picnic – just provide blankets and big jugs of alcoholic/non-alcoholic cocktails
If you are thinking about how to utilise your garden space to avoid your guests going into the kitchen to collect or pour drinks, then you should think about a garden bar. Having your own garden bar has been a big trend for the past couple of years and is a fantastic addition to any garden party. Upcycling furniture such as a chest of drawers is an easy way to create one without building a permanent addition to your home, just add a chalk board with the "specials" and a few bar snacks and recyclable straws and voila! Your own personal garden bar your guests will love!
When it comes to refreshments you also need to think about tables, crockery, and glassware. We would always recommend the use of recyclable tableware to help protect our environment, but whatever you decide – make sure you have enough to cover each guest!
Entertainment
When it comes to entertainment, it really is all about getting creative. We have put some of our favourite ideas below:
Hot tubs:

If you are lucky enough to own a hot tub already, then this is ready made entertainment, just warn your guests to bring their own swimwear! If you don't have a hot tub but have the space for one, they are readily available to rent for a weekend, so you can enjoy it even when your guests have gone.

Movies:

If you want a great entertainment idea that doesn't break the bank, then putting a big tv or screen in your garden surrounded by blankets, pillows and bowls of popcorn can be a fabulous way to keep your guests entertained.
Games:

Who said games were just for kids? Outdoor games can be huge fun for all ages, including water pistols. Although we would recommend warning guests beforehand! Cheap garden games can be found in any kids' toy shop or supermarket and are a fantastic way to liven up your garden parties!
Music:

Using portable speakers placed around your garden means you have a ready made dance floor in your garden. Leave out a notepad and pen for guests to write down song requests. If your garden or outdoor space is big enough, you can always hire a musician or band to play.
Decoration
Although as adults we may be long past having balloons and streamers adorning our parties, decoration is still something to consider.
If you have tables or benches to hold food or drinks then consider centrepieces or battery powered tealights.
If you expect your garden party to carry on throughout the evening then outdoor lighting is a big must have. This provides illumination for your guests and creates a lovely atmosphere. Lighting doesn't have to be expensive; string fairy lights up on your fencing or trees to give your party a cosy, fun feel even when night falls.
If it's towards the end of the summer, then you might want to think about hiring portable heaters to keep your guests warm. If this is out of your budget, then providing a ready supply of blankets works just as well!
Making the most of your garden with Grass Direct
Here at Grass Direct we understand the importance of your garden and outdoor space, especially during the warmer months. We actively encourage time to be spent outside, as it can have numerous physical and mental health benefits.
Holding garden parties is a great way to make use of your space and installing artificial grass has a lot of benefits. It doesn't become slippery or muddy when it rains, so you can enjoy an outdoor party without worrying about guests tracking dirt through your house, it is entirely safe for children and pets and can allow you to enjoy summer days as well as making mowing, watering, and weeding things of the past - giving you the perfect lawn all year round, even after garden parties!
For all your artificial grass needs and enquiries, please contact us today by using our contact form on our website or call us on 03308 182 500 to speak to one of our friendly expert advisors!