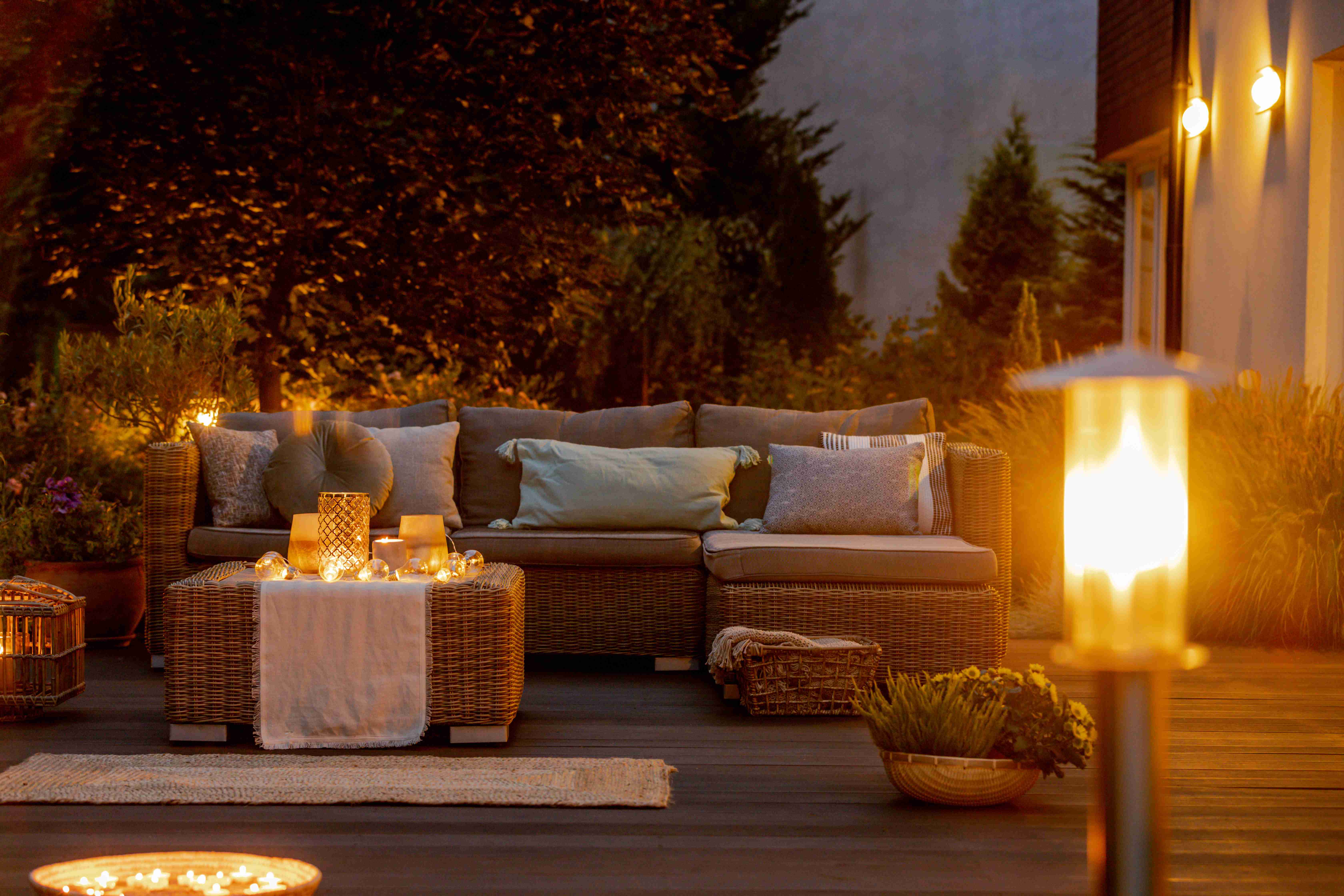 Outdoor lighting can have a dramatic impact on your garden or outdoor space. It can create different ambiences and provide the ideal setting to enjoy warm summer evenings or the perfect glow to brighten up long winter nights. We have listed our top ten fabulous ideas for garden lights below to give you inspiration on how to make your garden look at its best all year round.
1. Smart lights
With technology controlling a lot of our daily lives, smart lights are the next step in remote systems. You may already have smart bulbs or lights in your home, but did you know you can get them for outside your home as well? This offers an extra layer of security and saves energy, as it gives you control over when they are illuminated.
2. Wall lights
If you haven't got a lot of space in your garden or outdoor area, then wall lights are a fabulous solution. You can buy solar powered ones which reduces the need for electrical installation and unsightly wiring, giving you the illumination you need, without the hassle.
3. Fence lights
If you have darker areas of your garden or want lighting throughout your space, then adding strings of solar powered fairy lights across your fences can make an enormous difference. This adds beautiful illumination but is simple and cost effective to install.
4. Solar pathway lights
Adding lights to illuminate your pathways and driveways is one of our top recommendations. Not only does it help with visibility and security, but it also looks great too! Available in a range of designs to suit all tastes, from modern solar sticks to classic lanterns, you can turn what is usually a drab, grey area of your home into a design feature guaranteed to improve the appearance of your outdoor space.
5. Standalone light features
Have you thought about using lighting to create a stunning lighting design display? Using standalone lights such as LED trees, you can create your own piece of light art directly in your garden, which is sure to be a talking point amongst your friends and family, as well as giving you a beautiful visual display all year round.
6. Uplighting
If you are looking for a soft yet cosy effect for your outdoor space, then uplights are a great idea. These work perfectly with decking or patios, adding a gentle light to illuminate your space without overpowering with brightness.
7. Lanterns
Traditional solar lanterns are a classic lighting design for your garden. Freestanding or hung from any outdoor structure, they add a sophisticated atmosphere to your space. Larger ones can be added to gravel beds for some added interest.
8. Fairy lights
Fairy lights or string lights as they are sometimes known, are not just the remit of teenagers' bedrooms. They are an affordable way to light up your garden whilst being beautiful in their own right. They are versatile and can be used across structures like pergolas, used to create a wall of light on a trellis, added around decking areas or hung from hedges and larger shrubs to create a light wonderland in your own garden.
9. Pendant lights
If you have an outdoor seating area, garden bar or pergola, then pendant lights provide the perfect solution to add light without taking up space. Go bare bulb for a modern, industrial look, or woven shades for a more natural, rustic appearance.
10. Tree lights
If you have large trees in your garden, then adding lights can add another dimension and turn your trees into amazing design features. This is particularly useful during winter when the branches are bare, and you may want a prettier aesthetic. String lights are a cheap and easy option, either wrapped around the trunk or woven through the branches, or you can add battery powered tea lights into glass jars and hang them from the branches. Because of their size, you can get creative with lighting and make the most of your space.
Making the most of your garden lighting with artificial grass
Show your garden in the best light by making the switch from a traditional lawn to artificial grass. At Grass Direct we have everything you need to make your outdoor space look picture perfect – without the hassle.  
With exceptional prices on our wide range of quality and luxury artificial grass, including our sports grasses for businesses and homes, you can find your ideal product without having to compromise on budget or quality. And because we understand that creating the perfect outdoor space can be tricky, we offer free samples, so you can make sure you choose the right option for you and get your ideal lawn all year round. 
Here at Grass Direct we are committed to becoming a carbon neutral company, so if you are concerned about the environmental impact of using artificial grass, for every order you place, we will plant a tree, as well as donating a share of our profits towards tree planting. 
We also offer composite decking which is an ideal base for a range of garden furniture. Our decking is FSC® 100% certified hardwood timber with recycled plastic – premium materials that are built to last but with the traditional look and feel of timber whilst also giving you the benefits that plastic has to offer.  
It is low maintenance, and we have a wide selection of styles, patterns, colours, and classic finishes such as black, golden grey, charcoal, oak, and walnut, to ensure you get the look that complements both your home and your outdoor space.  
For all your artificial grass or composite decking needs and enquiries, please contact us today by using our contact form on our website or call us on 03308 182 500 to speak to one of our friendly expert advisors!