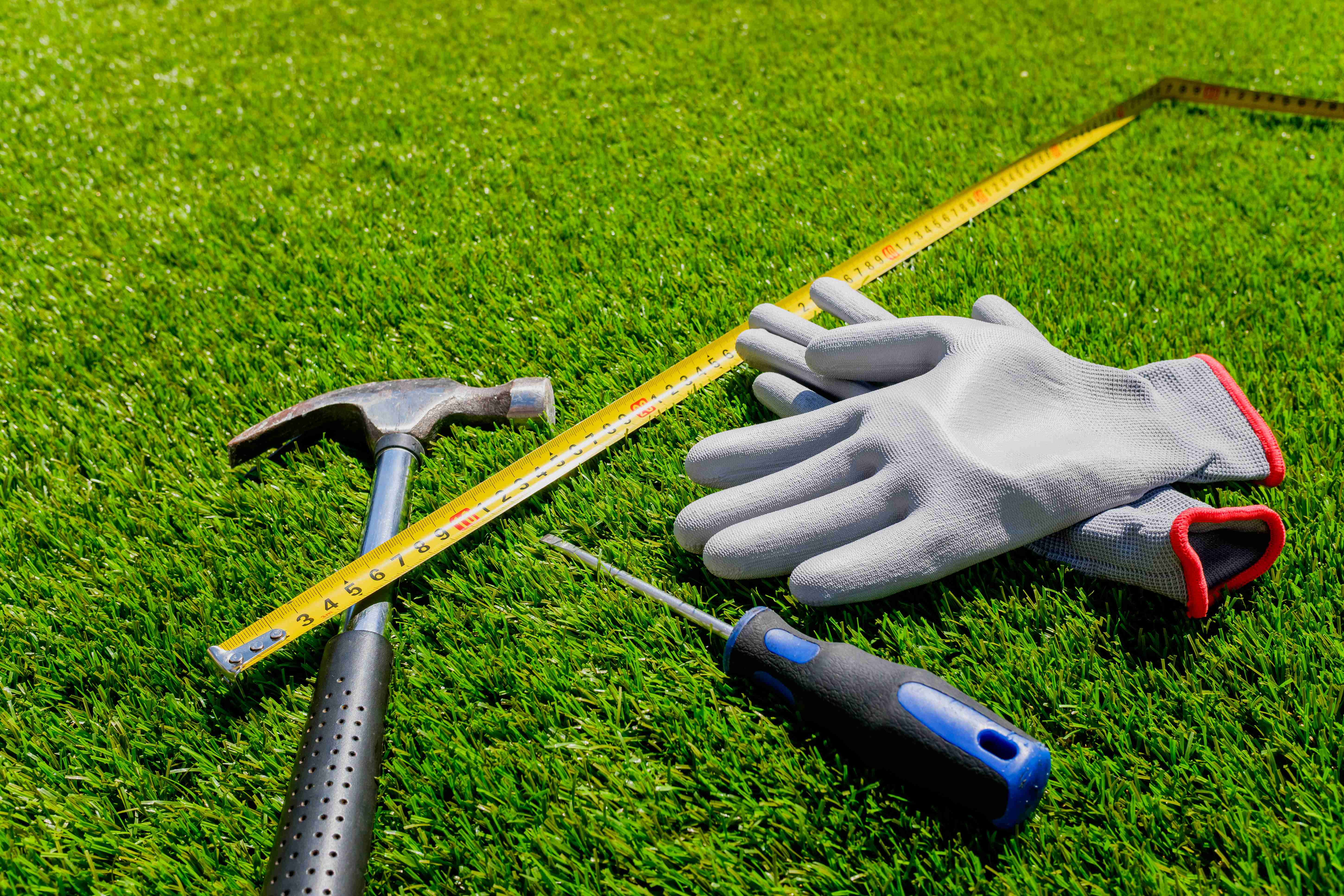 If you are thinking of purchasing artificial grass but are concerned about how to correctly install your new turf because you have a dog, then here at Grass Direct we have created an easy How-to-guide to help you either prepare the groundworks for your artificial lawn yourself, or give you the information needed so you can make sure any installation of artificial grass is done with your dog in mind.
It is important that the steps below are followed, as this method is designed to drain moisture from the surface, so any urine will drain harmlessly into the ground below. This will help prevent smells and staining should your dog use the new artificial grass as a toilet.
Step 1 – Assess and prepare
Before you start any work on installing your artificial grass, you need to take some time to assess the area where you want to lay your new turf. If your ground is particularly soggy, then you may need to create a pit called a soakaway, which is simply a hole in the ground filled with a material such as rubble.
You also need to measure the length of the perimeter so you can purchase the correct amount of timber to fix your artificial grass to.
Step 2 – Clear the area
Once you have everything you need to start your groundworks, it is important to clear your area of any existing turf, rocks, and remove around 8-10 cm of soil or until you reach the natural sub base.
Step 3 – Install a weed membrane
If you have a dog, installing your weed membrane at this stage rather than above your creation of a sub base using aggregates in step 5 ensures that any urine can drain away and doesn't get trapped at the top.
Weed membranes are also used to help prevent the growing of weeds ruining your artificial grass and stops worms getting into your base materials.
Stretch your weed membrane across the entirety of your groundworks and secure in place using galvanised nails.
Step 4 – Add a timber perimeter
To be able to fix your artificial lawn in place, you need to have a timber perimeter. This can be created using timber boards and fixed in place using concrete. Just remember to sit the boards a little lower than you expect the height of your artificial grass to come to.
Step 5 – Create a sub-base
Creating a sub base using aggregates is the ideal way to keep your lawn flat and smooth and gives you the best lawn for you and your dog.
Add a 6-8cm layer of type 1 aggregate, which is made from crushed concrete and rubble and make sure it is evenly spread over your weed membrane. Use a wacker plate to compact it down and create an even sub-base.
Step 6 – Add a layer of granite dust
Adding a layer of granite dust is a crucial step when you have dogs. This is because granite dust can help with the urine drainage far better than using traditional sand, which is more commonly used during artificial grass installation.
You want to add around 3cm of granite dust to your sub-base and rake it over evenly. Using the wacker plate, compact the entire area to avoid any sinkage in the future.
Step 7 – Smooth your groundworks
Using a flat board with a straight edge, smooth out your granite dust until you have a level surface. This step is important as it will help your artificial grass installation process far easier, as well as ensuring your new artificial lawn looks its absolute best.
If your granite dust is a little dry, spray it with a little water to help smooth it over.
Now your garden is ready for your new artificial grass! Following these steps can ensure you get the best out of your purchase and have the ideal groundworks in place if you have a dog.
Although artificial grass is both durable and low maintenance, if you have a dog(s) that may want to use it as a toilet, you may need to take some steps to help keep it in a clean and sanitised condition. Artificial grass can be easily cleaned using a garden hose, warm water, and mild detergent, or even with a good rainfall!
Artificial grass is not affected by urine, unlike real grass, but to get rid of any persistent stains that are not being washed away, we recommend use of specially formulated artificial grass cleaners to clean the area thoroughly and get rid of those stubborn stains!
Other than that, your dog cannot tear up artificial grass, unlike natural turf, so it should not require any other maintenance!
If you still have concerns over the safety and security of installing artificial grass anywhere in your outdoor space, then we recommend using a reputable firm such as Grass Direct and looking for a "pet safe" or "animal friendly" badge, either on their website or on the product descriptions themselves. This ensures you know the product you are purchasing is safe for your pets and you can have the lawn of your dreams for years to come!
Dog-safe artificial grass from Grass Direct
Here at Grass Direct we are the home of the UK's largest selection of artificial grass, and we make sure every grass product is animal friendly and built to withstand the test of time (and your dogs!) so you can have peace of mind when choosing your new lawn.
With exceptional prices on our wide range of quality and luxury artificial grass, you can find your ideal dog-safe product without having to compromise on budget or quality. And because we understand that creating the perfect outdoor space can be tricky, we offer free samples, so you can make sure you choose the right option for you and your pets and get your ideal lawn all year round. 
If you have any concerns about how to install artificial grass so it is best for your home and your dog, or for any other artificial grass needs and enquiries, please contact us today by using our contact form on our website or call us on 03308 182 500 to speak to one of our friendly expert advisors!