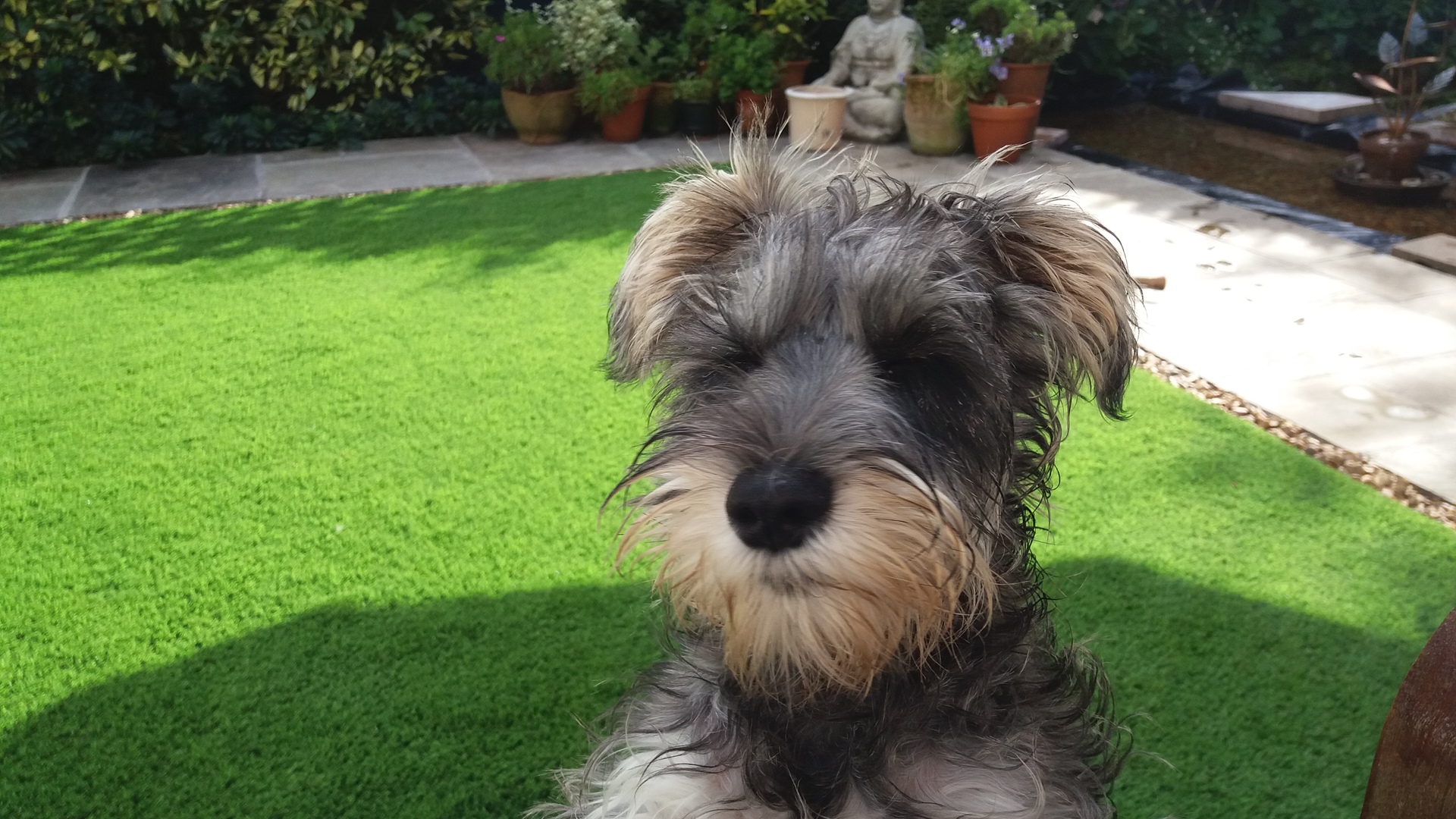 Installing artificial grass in a pet owners' home is slightly different to a regular household. Whilst the majority of artificial grass ranges contain sufficient drainage systems to deal with pet urine, excessive toiletry use may cause a lingering odour.
There are certain precautions you can take to ensure your fake grass doesn't become a hoarder of bad smells. Urine certainly is not this years must have summer fragrance so you may want to read on for some top tips to keep your grass smelling clean and fresh.
1. Installation
Getting the installation right sets you in good stead against pet urine. You must make sure your sub-base is permeable - the liquid needs to be able to pass through the sub layer and drain away. Some pet owners have found that by laying the weed membrane beneath the foundations, instead of directly under the grass, prevents urine being trapped between the layers. However, we would advise speaking to your fitter or our grass experts for further advice on this.
2. Regular Maintenance
Depending on the area of your grass and the number of times it is used as a pet toilet, you will need to hose it down to keep on top of the smell. A routine of once a month should be suffice, however the more pets you have the more often this will need to be carried out. For regular use, it is advised to treat the grass with professional grass cleaner in addition to the hosing. Once or twice a month will help keep the smell under control, especially during peak summer when smells can be heightened.
3. Pet Hair Treatment
If you have a furry friend who loves to cast his coat, then it's important to keep an eye on pet hair. A blocked drainage system could cause a backup of urine as it will have nowhere to filter. The majority of pet hair will simply blow away in the wind. However giving your artificial grass a spruce up by brushing back the strands can prevent any blockages. Some people hoover the grass or use a leaf blower to treat any trapped hair between the strands and the base.
Pet Pee Myths
It's important to establish what will get rid of the smell of pet urine from what will mask it. There are all sorts of profession cleaners available to treat the issue. Listening to internet myths and trying home remedies can make the smell worse.
Top 3 recommended myths for pet urine:
Diluted white vinegar - Whilst the vinegar will act as a neutraliser to remove the odour, unless you want to replace the smell with the potent smell of vinegar, we advise to stay clear.
Sprinkling the grass with sand - This is a common misconception to treat pet urine. What you're actually doing here is giving the urine a base to soak into. It will crystallise into the sand giving you a bigger problem to deal with.
Jeyes fluid or Zoflora - Disinfectants are great for eliminating pet odour. Again, unless you love the smell, you may end up with another odour to tackle.
Getting the installation right and carrying out regular hosing will prevent the lingering smell of dog pee. Adding a monthly use of grass cleaner and there you have it... problem solved!
Other Pet Issues you could encounter with Artificial Grass:
Chewing
Making sure your artificial grass is tightly secured will avoid your pets being able to access any loose areas to encourage chewing. Fixing pins will seal the edges whilst grass adhesive cements any joins to stop them lifting.
Digging
Whilst there isn't much you can do in the way of digging - other than teaching your pet not to do it. There are artificial grass ranges which are robust against their digging efforts. Having a separate soil area could encourage pets to dig there rather than the lawn too.
We hope this blog has helped you to treat or prevent any pet problems. If you need any further assistance our artificial grass experts are at hand to assist you. Simply call us on: 03333 205 022 or leave a reply in the comment box below and we will get back to you as soon as possible.