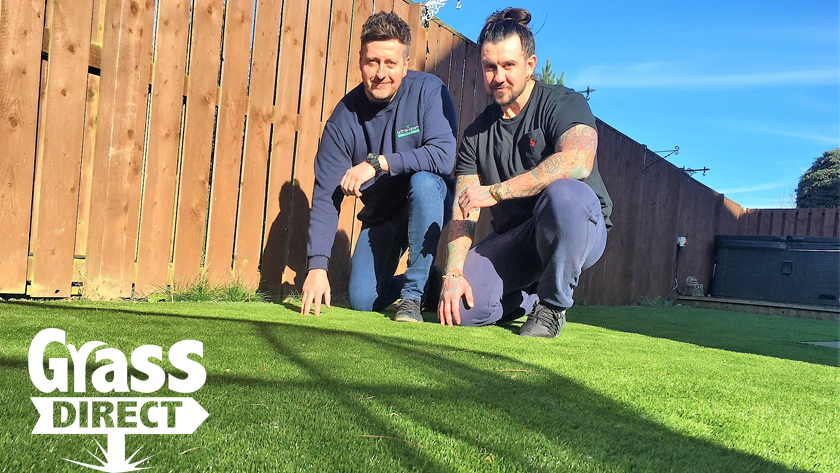 When it comes to installing artificial grass you are faced with two choices. You can leave it to the professionals and get in touch with a trusted landscaper or rely on your faithful DIY skills and give it a go yourself. Our handy installation guide will assist you through the process however not everyone is confident enough to don the gardening gloves and give it a go.
Our recent customer Ross, opted for the professional finish. His work commitments meant he didn't have the time to spend gardening. After ordering his free samples and narrowing his selection down, he decided to go with the beautiful Hollywood range.
Choosing a fitter for your artificial grass
Residing in the North East area, Ross called on the services of Ultra Lawn NE to complete his installation. As a local 5 star fitter, Ross was confident in the results he would achieve from their impeccable service. Sure enough, he was not disappointed:

This stunning transformation has elevated the garden to the next level. Receiving numerous compliments from neighbours, friends and family, Ross is delighted with his results.
What does the customer think?
When asked to comment on his experience he said:
 "I decided to get artificial grass in my back garden because I work away so haven't got lots of time to maintain the garden when I am at home.
"I also have young children and dogs. The beauty of the artificial grass is you don't get little feet and paws treading mud into the house.
All I need to do to maintain it is brush it every now and then. I think it looks miles better than grass, especially in the autumn and winter. I would recommend it to anyone."
What does the fitter think?
Steve Adams, the owner of Ultra Lawn NE, said:
 "Artificial grass has come a long was over the last few year and I have never been busier as more and more people turn to it.
"I recently fitted artificial grass for an elderly gentleman who loved gardening but had become too frail to continue doing it. He called me in tears afterward to say how pleased he was with the grass and how real it looked. That, for me, was the perfect testimonial."
Whether you're time-conscious, struggling with mobility or just generally a non-gardener looking to improve the family home, there's an artificial grass for every home and budget in our huge range.

For more information or to speak to one of our artificial grass experts, contact us directly on: 03333 205 022.
You could also leave a reply at the end of this article. We will endeavour to reply as soon as possible.