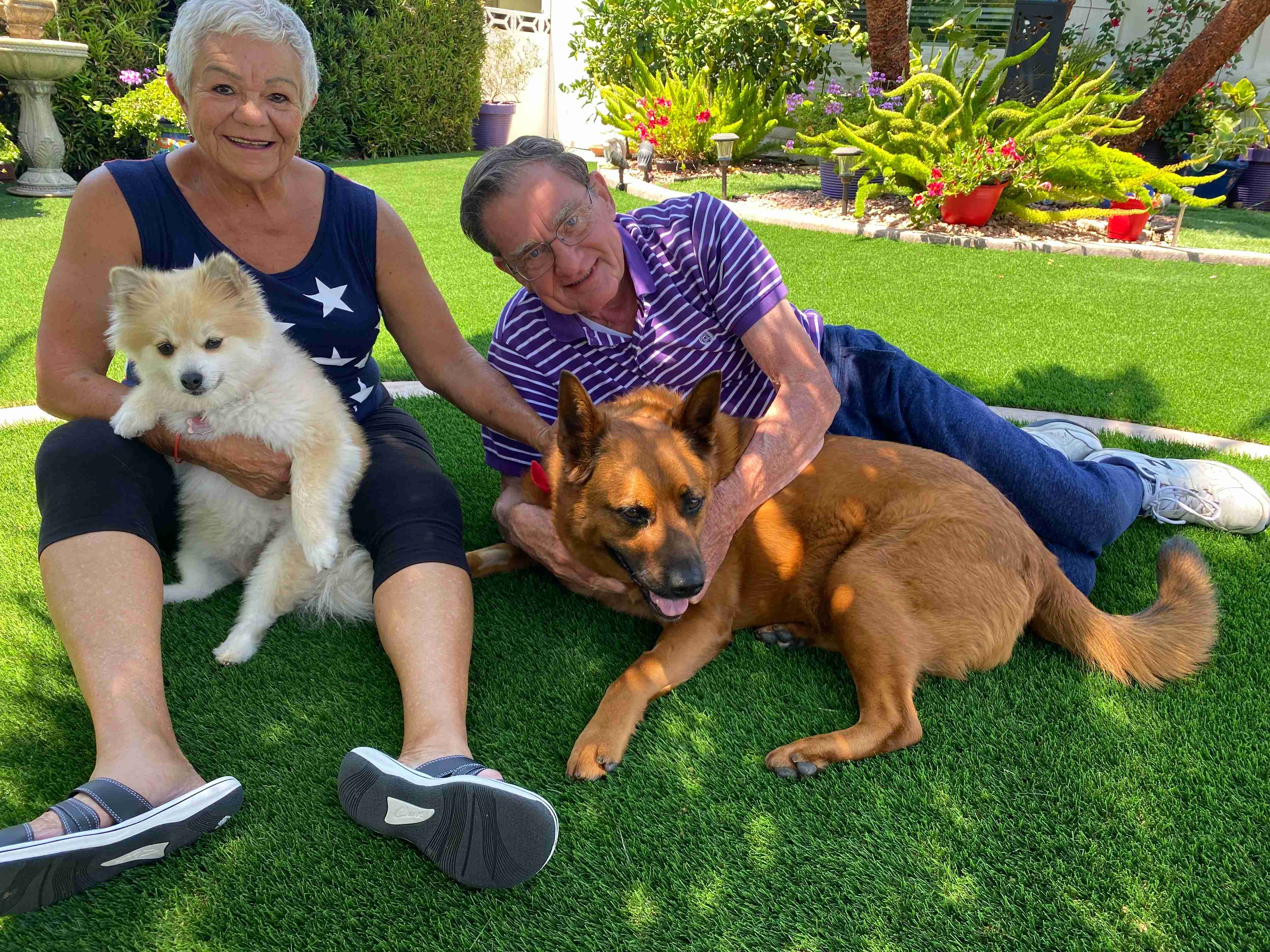 One of the most common enquiries we get here at Grass direct is whether artificial grass is safe for pets, in particular dogs. The answer is yes, it is perfectly safe for your dog, but to help you, we have collected the most frequently asked questions regarding artificial grass and dogs to help put your mind at ease.
Is Artificial Grass good for dogs? -

Artificial grass is actually a great solution for dogs and is often far better for dog owners than a traditional lawn. Its constant length gives the ideal play area for your dog and the grass is hardwearing and resilient to dog life! Plus, you get the benefit of no muddy pawprints being tracked through your house during the wetter months.

Are there any harmful chemicals present in Artificial Grass that could harm my dog? - Thanks to the synthetic nature of artificial grass, it is entirely safe for your dog. Plus, by installing artificial turf, you avoid the need for harmful chemicals such as weed killer and pesticides, making it a suitable and safe environment in which to keep your dog safe.
What happens if my dog urinates on artificial grass? - If you have dogs that regularly use your outdoor space to do their business, then you may be worried about continuing to let them use your new artificial lawn as a toilet. Artificial grass is in fact great for dogs, as they are designed to drain moisture from the surface with drainage holes and/or a porous backing, so any urine will drain harmlessly into the ground below. Any faeces can be picked up as normal, and the artificial grass hosed down with water and grass cleaner.
Will dog urine stain my new grass? - Artificial grass is not affected by urine, unlike real grass. But to get rid of any persistent stains that are not being washed away, we recommend use of specially formulated artificial grass cleaners to clean the area thoroughly and get rid of those stubborn stains!
Does artificial grass smell bad when you have a dog? - Although dogs can often be a bit smelly, contrary to popular belief, if you use a regular cleaning product on your artificial grass, it will not retain smells. We do recommend bathing your dog from time to time however!
How do I maintain my artificial grass when I have a dog? - Although artificial grass is both durable and low maintenance, if you have dog(s) that may want to use it as a toilet, you may need to take some steps to help keep it in a clean and sanitised condition. At Grass Direct, all our products can be easily cleaned using a garden hose, warm water, and mild detergent, or even with a good rainfall! Other than that, your dog cannot tear up artificial grass, unlike natural turf, so it should not require any other maintenance!
Is artificial grass too hot for dogs? - Artificial grass in general does tend to get hotter than natural turf in the sunlight due to being made from plastic. However, the temperatures will seldom rise enough to make your artificial grass become hot enough to burn. In the unlikely event we have soaring heat that would affect it, we would highly recommend keeping your dog inside and in the shade anyway.
What is the best artificial grass for dogs in the UK? - All artificial grass should be safe for dogs, however, if you still have concerns over the safety and security of installing artificial grass anywhere in your outdoor space, then we recommend using a reputable firm such as Grass Direct and looking for a "pet safe" or "animal friendly" badge, either on their website or on the product descriptions themselves. This ensures you know the product you are purchasing is safe for your pets and you can have the lawn of your dreams for years to come!
Is artificial grass suitable for other pets? - Although we have concentrated exclusively on dogs, artificial grass is also suitable for other pets such as cats and rabbits. It doesn't tear from claws nor fade from urine like natural grass and your pets will love rolling around on your new lawn!
If you have rabbits or guinea pigs or an animal that needs an outdoor run then you may be concerned about them chewing on your new installation! However, although your artificial grass may look super realistic to you, small animals won't eat it because to them it is just green plastic!
If you have a pet that still likes to chew on everything, you can either go with a shorter blade length to avoid giving them anything to chew on, or you can get a sample from an artificial grass company to see how your pet reacts before purchasing an entire new lawn.
At Grass Direct we pride ourselves on our animal friendly products, so you can get up to 4 samples delivered free to your door within 48hours to reassure you that your pet will stay perfectly safe with our artificial grass.
Dog-safe artificial grass from Grass Direct
Here at Grass Direct we are the home of the UK's largest selection of artificial grass, and we make sure every grass product is animal friendly and built to withstand the test of time (and your dogs!) so you can have peace of mind when choosing your new lawn.
With exceptional prices on our wide range of quality and luxury artificial grass, you can find your ideal pet-safe product without having to compromise on budget or quality. And because we understand that creating the perfect outdoor space can be tricky, we offer free samples, so you can make sure you choose the right option for you and your pets and get your ideal lawn all year round. 
For all your artificial grass needs and enquiries, please contact us today by using our contact form on our website or call us on 03308 182 500 to speak to one of our friendly expert advisors!