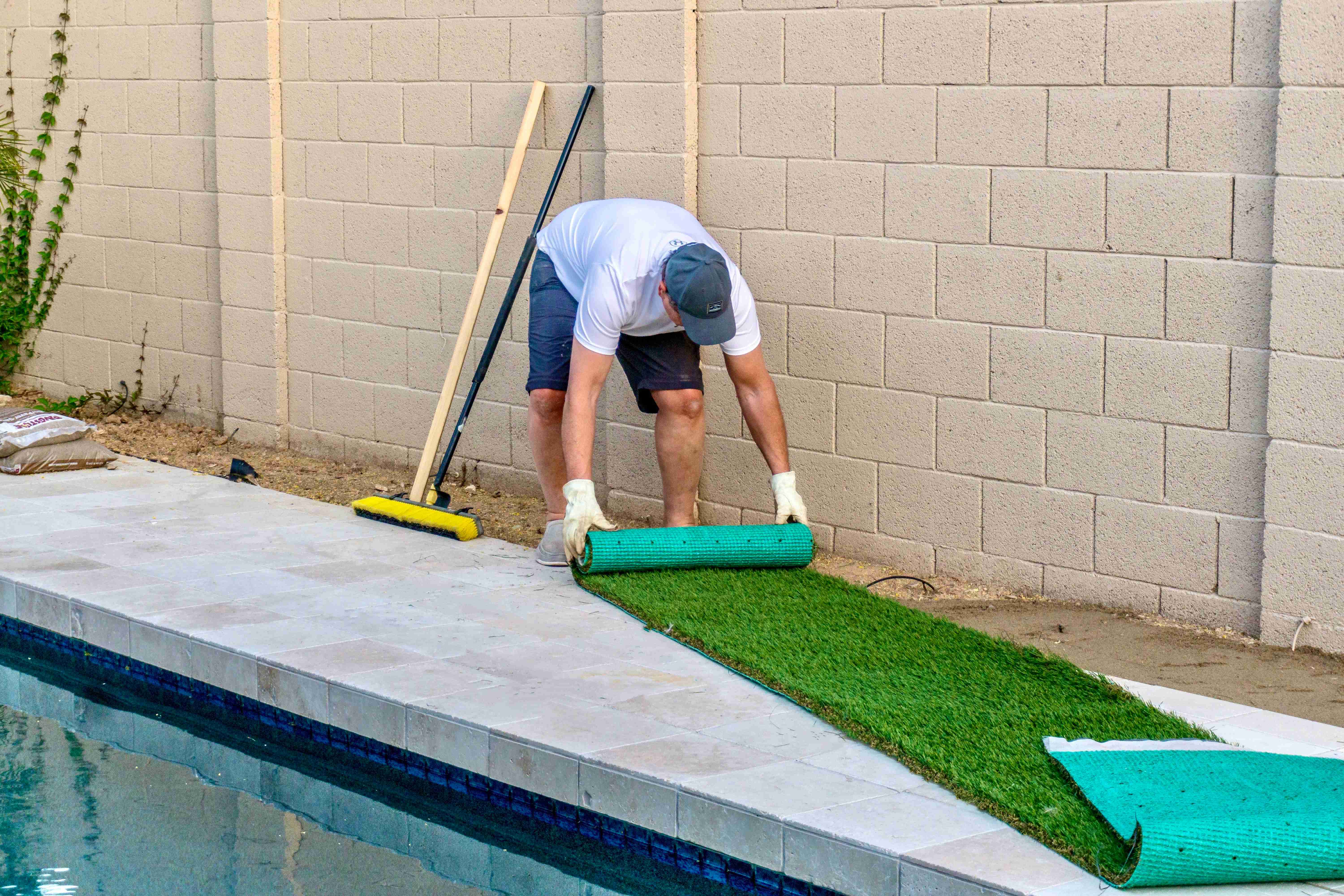 Once you have taken the decision to install artificial grass, the big question is how are you going to lay it in your garden? Professionals could do this for you but many people will take the option of installing artificial grass themselves.
It is reasonably simple to install but there are many things that can go wrong and lead to problems during the installation process.
Not everyone is practical when it comes to DIY but being aware of the following pitfalls will help even a novice achieve the desired finish.
Inadequate preparation of foundations
Artificial turf can transform your garden and bring it to life. But it can also prove frustrating if not installed properly. It is vital that the foundations are strong, so make sure you take time over this aspect to avoid disappointment later on.
The route you take will depend on the area to be covered. Does it have an existing natural lawn to remove or are you laying artificial grass over tarmac?
Attempting to lay artificial grass over existing natural turf will lead to an uneven surface on your finished lawn. You need to remove the grass and prepare the base properly.
To make the excavation process as quick as possible, why not hire a turf cutter from your local tool hire shop?
Once the grass is up then check for soft spots in the soil. This can be done by simply walking over the exposed earth and seeing if your feet sink in any areas.
These must be treated with sub-base material to ensure your artificial grass does not 'sink' in the future.
Is there sufficient drainage?
Water pooling on the soil prior to laying the artificial turf is something that needs to be considered. Fitting a drainage pit could be the answer and prevent flooding and the appearance of moss later on.
Drainage holes can be drilled into tarmac if that is the base you are laying your turf on.
Failure to deal with weeds
Installing artificial grass means there should be little maintenance to consider.
However, weeds have a nasty habit of finding a way of growing up through the new turf and so it is important to head this problem off at source. If your base is existing concrete then remove all weeds before using weed killer to prevent regrowth.
We at Grass Direct recommend adding a weed membrane to the subgrade in order to negate any issues. This will simply need to be measured and cut before laying and is an effective measure to give you years of weed-free grass.
Don't rush the sub-base
The sub-base gives your lawn the strength to deal with heavy usage and must be laid correctly.
It is best to use around 50mm depth of MOT1 granite stone which should be compacted.
Installing a 75mm sub-base may be necessary if you are expecting heavy usage of your artificial grass.
Add around 6mm of dust granite stone on top of this which will provide the smooth base that you are looking for.
Once the sub-base has been laid and levelled, the next step is to use a vibrating plate compactor. These are not expensive and can be sourced from a tool hire shop.
Avoid using sharp sand
The laying course is installed to provide a smooth, even surface that the artificial grass sits on top of.
Sharp sand has been widely used for this layer but is not a good option.
It does not bind together as well as other materials which in turn causes the laying course to move. This results in an uneven lawn with the potential of a rippling effect.
Sharp sand can also wash away over time, exposing your lawn to the deeper level of the sub-base.
Install a suitable edge restraint
A common mistake when people lay their own artificial turf is failing to put in place an edge restraint. But it is an important part of the process.
Opting to skip this stage will mean the sub-base and laying course could easily slip out of the edges under your lawn. This will give the effect of the lawn having collapsed at the peripheries.
There are many options you can use at the margins to secure your turf.
Decking, steel edging, paving slabs, treated sleepers, concrete edging and plastic lumber will all do the job. Wooden options will also give you an anchoring point with which to use galvanised nails.
Remember, you get out what you put in so don't skimp on this task.
Is the pile pointing in the same direction?
Once the tough work on securing the foundations is complete, it would be easy to think that the job is nearly finished. Laying the turf is easy compared to the work undertaken to get to this point.
However, there are still things that can go wrong. Artificial grass fibres all point in the same direction on a section of turf. Therefore it is vital to make sure that when laying two rolls next to each other the pile direction faces the same way.
Laying two rolls with the pile in the opposite direction will mean the join between the two pieces is more obvious.
Check out the shade of green on the grass to determine if the pile is running in the direction you desire.
It is recommended that you lay your artificial turf with the pile direction towards your house.
Secure your joins properly
Cutting and securing joins is one of the toughest parts of installing artificial grass. Take your time over this to make sure your cuts are accurate.
Then use joining tape and specialist artificial grass adhesive to ensure that the join appears seamless.
Don't forget the sand infill
Opinions vary as to whether a sand infill should be used on top of your lawn.
But the smart move is to always complete the job by using sand.
Adding sand will support the artificial fibres and act as a stabilising agent. This prevents the lawn from moving and giving it an unsightly rippling effect.
Sand will also increase fire resistance should you decide to barbeque on or near the lawn, while it will also help with drainage.
Choose your artificial grass wisely before embarking on the installation process.
The product you decide to lay will give you years of low-maintenance usage as long as you adhere to the advice given above!
Why use Grass Direct?
Here at Grass Direct, we pride ourselves on making your gardening simple. This includes finding the right product for you and being there when you need help or advice.
If you are planning to install artificial grass yourself, then as well as the advice above we have DIY instructions on our website for installing your new artificial grass. We also provide customer service via Facebook messenger, email, or phone, to make sure the installation process runs as efficiently and as quickly as possible, and to answer any questions about the installation or artificial grass you may have. Helping you to enjoy the benefits of your new garden with the minimum amount of fuss!
For all your artificial grass needs and enquiries, please contact us today by using our contact form on our website or call us on 03308 182 500 to speak to one of our friendly, expert advisors!