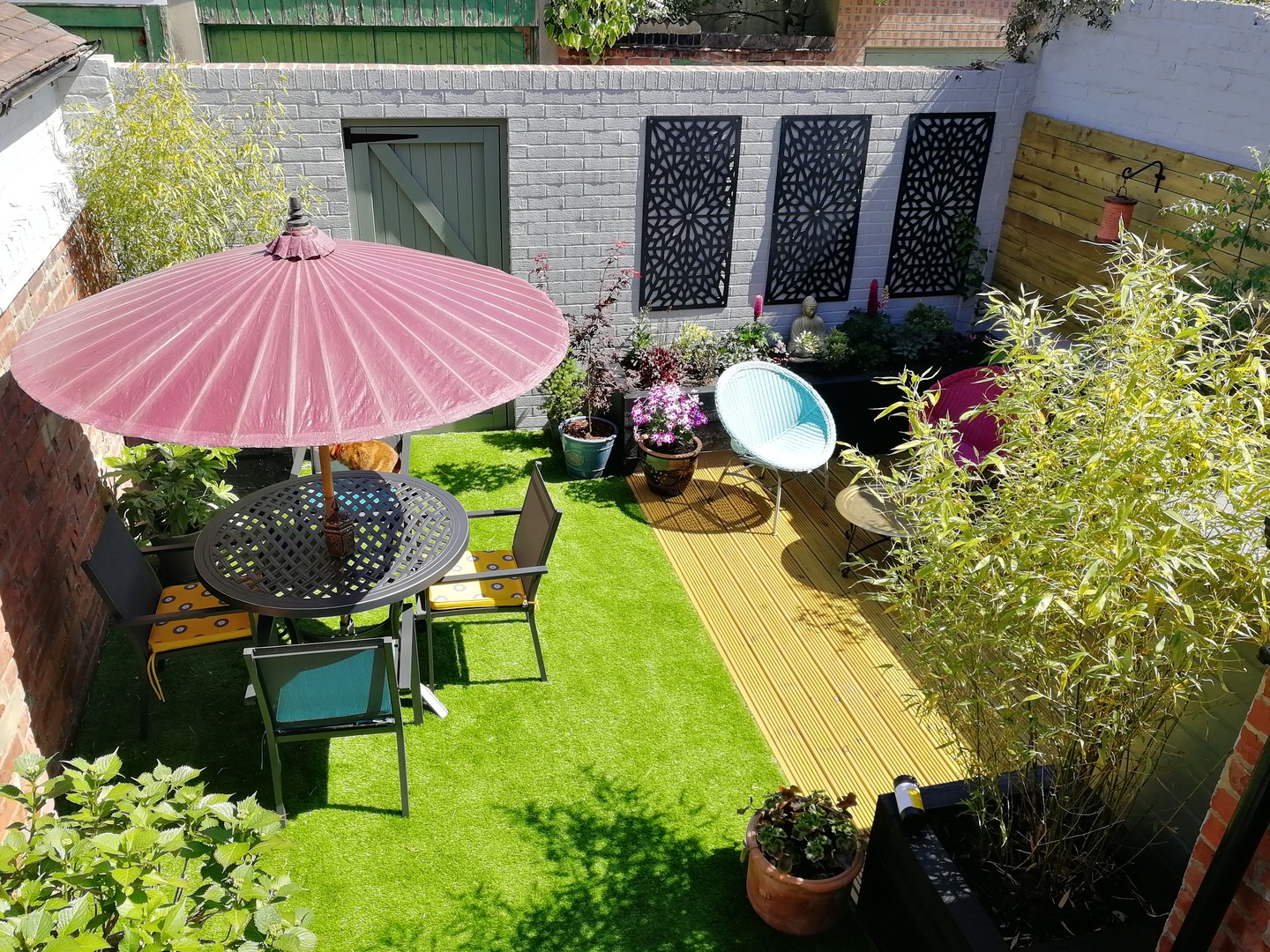 Purchasing artificial grass is one thing, but deciding on whether your green thumbed abilities stretch far enough to enable you to be successful in fitting artificial grass is another, entirely. Not to worry, we've got all the answers you need to make the right decision when it comes to deciding whether you can fit it DIY style, or whether you'll need a professional artificial grass fitter. 
Why choose a professional artificial grass fitter? With knowledge and experience, their result should be perfect with reduced installation time. For peace of mind, or for those not so confident in DIY, this could be the right route for you. 
Why complete a DIY artificial grass fitting? A DIY fitting offers personal and financial benefits. Significantly cheaper than hiring a professional, you can save a small fortune. It's also the most rewarding route in terms of self-achievement and satisfaction. Who doesn't want to kick back and relax on an amazing lawn you just installed yourself! 
There are pros and cons to both fitting methods, which we will look to uncover throughout this guide.
Is the Grass Really Greener?
Below we delve into just some of the key benefits that are in abundance when it comes to artificial grass. There are pro's and con's to every major decision. To prevent any bias we've also taken into account key factors you may need to consider before purchasing. 
Benefits of Artificial Grass
Cost Effective -

Low Maintenance

(Only requires a few deep cleans per year, resulting in reduced water bills)
Child friendly - Durability and cushioned nature makes it great for playing
Aesthetically pleasing - Fresh, football field finish all year round
Less Maintenance - No need to mow, fertilise or remove weed
More time for fun - Less maintenance means more time to enjoy your surroundings, less work, more play (or relaxation)
Long lasting - Has a life expectancy of around 15 years
Disadvantages of Artificial Grass
Removes the need to garden - the lack of maintenance means green thumbed enthusiasts spend less time with upkeep of the grass
Installation process can be long 
In essence, it's true what they say. The grass IS greener where you water it. But why water it when you can have aesthetically pleasing landscapes all year around with little maintenance and upkeep? Save yourself a few pounds and have more time to bask in the ambience. To find out more on the benefits and disadvantages of artificial grass, click here. 
DIY Installation 
Now that you've decided on styles and colours, your next decision relies on your manual abilities. Fitting artificial grass is no walk in the park, but for those keen DIY enthusiasts, this shouldn't be too much of a challenge - Right? 
Why DIY?
Of course, doing the job yourself removes the cost of hiring a professional artificial grass fitter. With our easy to follow step by step guide, you'll have the theory behind the practice to walk you through the process. 
The DIY route also provides the chance to upskill on your handy work and revel in the joy of self reward when the finished product is installed. In doing this, you obtain the right to gloat to your significant other. 
On the contrary, whilst the DIY offers economic and personal benefits, it has considerable disadvantages that need to be accounted for before taking on a task of this size. 
For instance, there is manual labour involved in the process. Your physical strength and endurance will need to meet the demand of carrying rolls of artificial grass and other materials, as well as cart wheelbarrows around. This is an important factor to consider when deciding to DIY or hire an artificial grass fitter. But if you can do it, then do it! The personal reward is a great incentive to give it a go yourself.
Other Factors to Consider Include:
Time - It can take a day or two to fit, taking approximately two days with two people. But Rome wasn't built in a day. The years of memories to come far outweigh two days of labour.
Tools - Some tools will be household regulars: Stanley knife, wheelbarrow, tape measure etc. However, there are some specialist tools that you may not have lying around. If you don't, these can be found at your local hardware store. 
Whilst saving money is often the primary reasoning behind not hiring a professional artificial grass fitter, the DIY route is often chosen for the personal benefits it brings as discussed above. It's important to remember to do what accommodates your wants and needs in the process of making your space look easy on the eye. 
Why Get a Professional Artificial Grass Fitter?
Hiring a professional artificial grass fitter for installation is often the best option for quality and assurance purposes. They're the specialists after all, and making sure the job is done right after investing in the product is a priority for most. Though this is a key advantage of hiring a professional, the benefits of doing so are rife, including: 
They do all the hard work - Labouring is left to the professionals.
Experts - They have the knowledge and experience to ensure it's done correctly. If you haven't installed artificial grass before, the standard of the install could be much higher if done by a professional. Though that's not to say you don't have a hidden talent in artificial grass laying, and your first go won't turn out perfect!
Doesn't take up your time -

You won't have to spend days fitting, professionals will have carried out installations of artificial grass countless times. This will allow them to do it quicker, meaning you can enjoy your new turf quicker. 
The value in hiring a professional to install your artificial grass is clear, the only tough decision you'll have to make are: 
But not to worry, we can help with that too!
How to Best Find a Professional Artificial Grass Fitter?
Finding someone you can trust to deliver your finely landscaped space is not always an easy task. But to make it easier, here are some tips that can help you find the perfect professional: 
Stay local - These pro's are at hand for any questions and help after the installation, as well as having the possibility of seeing local work with your own eyes.
Word of mouth - The best type of recommendation. It's honest, reliable and comes from experience. Ask around. Find others who have had artificial grass installed and see who they used.
Approved professionals - There are plenty of sites to allow you to find approved and reviewed professionals before you enlist them to carry out work

. 
We recommend

ratedpeople.com

and

mybuilder.com

for quality and assurance, as these are certified fitters and you can check out previous installs to make sure you're happy with their standard of work.
Is a Professional for me?
You may question whether you really need a professional, but the truth is, everyone can gain from a professional. Who wouldn't benefit from maximum satisfaction of the end result, whilst having sat back and relaxed throughout the whole process? 
However for a lot of people, their geographical location can mean the cost of a fitter is actually more than the grass - Crazy I know! 
Though this feels like a safer option for some to ensure your grass is fit correctly, the DIY method is relatively easy as long as you follow our step by step guide. 
If the professional route is for you? Start your landscaping journey and choose your artificial grass now. To find the perfect fitter to install your artificial grass, click for approved professionals here.
Alternatively, head to your local hardware store to pick up some gardening gloves and get to work! 
Still have questions? Get in touch now and our team of experts will be happy to help you with all your artificial grass needs.