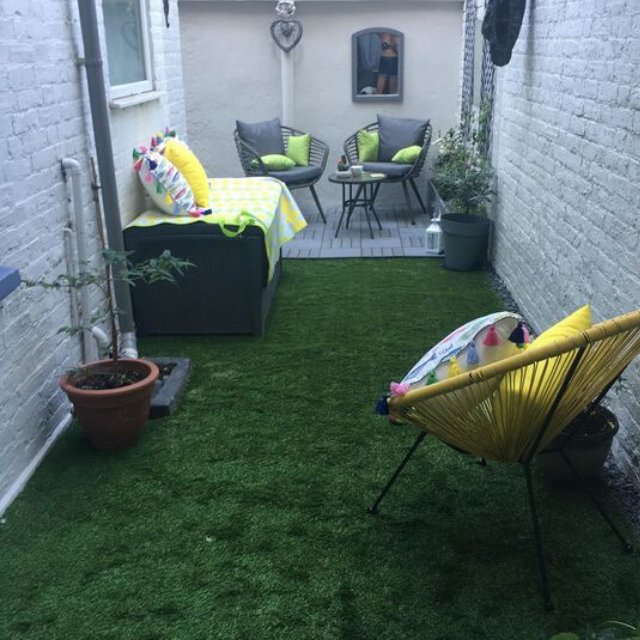 Not sure on the best artificial grass width for your garden? Much like a lot of products, artificial grass comes in a variety of shapes and sizes, and it's not always easy to know which one is right for you. 
Fortunately, we've got all the information you need to make the right decision to make sure you order the correct width of artificial grass for your garden project. 
Our artificial grass comes in standard widths of: 2m, 4m and 5m. These widths cater for all sized landscapes, with the 5m width ensuring larger sized gardens require less joins, making for less wastage. We'll cover more of this in the next section of the blog.
Hiring a professional can help with the process of measuring and choosing the best size for your garden, as well as carrying out the installation process, so your end result is as perfect as can be. If you are at all unsure on sizing or how to measure, you can speak to our artificial grass experts who are happy to assist you. 
Let's get to it and cover commonly asked questions surrounding artificial grass widths. 
Does Artificial Grass Come in Standard Widths?
Good question! Artificial grass widths do come in standard widths. These are:
When purchasing artificial grass, it is possible that you will require joins if your garden is on the larger side. If joins are necessary in the installation of your grass, it is important that your artificial grass pieces are purchased from the same roll to avoid colour differentiation, similarly to when buying wallpaper. 
No one likes that trip back to the shop to get the correct roll after putting up the same wallpaper but in different shades. 
Getting your Measurements
Gardens come in all shapes and sizes. This is often an aspect of our homes we take pride in, especially when those summer months come. Making your garden look the part helps in basking in the ambience of that summer sun.
Thankfully, with the variations of widths and the ability to add joins, artificial grass caters for all shapes and sizes of landscapes. Whether you have a yarden or open-planned garden, your design is catered for. 
The process of joining consists of joining together your rolls of artificial grass with joining tape and adhesive, and can be done DIY yourself with the help of our step by step guide, if you're confident in your DIY skills.
Please note: Fitting artificial grass can include a lot of heavy lifting. Some may find difficulty with this process, so hiring a professional could be an option should you need help with the job.
Hiring a professional can also give you the assurance that your end result will be as flawless as possible. This is because professionals will often measure your space for you when retrieving your quote, ensuring you're getting exactly what you need. 
5m Wide Artificial Grass Ranges
With our wide variety of 5m grass ranges, you're spoilt for choice in designing your perfect garden.

These ranges are available to accommodate for all budgets and needs. With something for everyone, creating your dream landscape could be easier than you think.
Benefits of 5m Wide Artificial Grass
You may be wondering what the benefit of having larger artificial grass widths is when there is the ability to join rolls?
The benefits of 5m wide fake grass are significant, particularly if you have a larger space.
Quick and Easy Installation
Using 5m wide artificial grass, means that more space is covered, reducing the need for as many joins. In minimising the amount of joins needed, the installation process becomes quicker and easier, which can result in both time saving and possibly installation cost if you have chosen to hire a professional to carry out the job.
Economical Benefits of 5m Wide Artificial Grass
With more of the ground covered by using 5m wide fake grass, this usually means that less joins are required. 
For example; Marks' garden is 9m x 4m in size. He is wanting to purchase artificial grass, and is wanting the best size, to achieve the best finish in the best way. 
We recommend that Mark buys 2 x (5m x 4m) wide lengths of artificial grass to cover his garden, as this will not only require less joins, but less wastage too. If Mark was to buy 5 x (2m x 4m), this would mean 4 joins were needed. If he bought 3 x (4m x 4m) he would have 2m x 4m of excess wastage.
Whilst less wastage means you haven't paid for part of the product you won't be using, it also gives an environmental benefit of 5m wide artificial grass. This help reduce the amount that will be discarded. It's a win, win situation!
Does Size Matter?
All in all, the width of your artificial grass is dependent on your garden's shape and size, and standard widths are there to cater for all of these. 
With larger gardens, it's important to remember that for an easier installation and less wastage, the 5m artificial grass would be most suitable. Smaller gardens may benefit from 2m or 4m widths with joins. 
Need help with anything other artificial grass related needs? Contact us now, and our team of experts will be on hand.