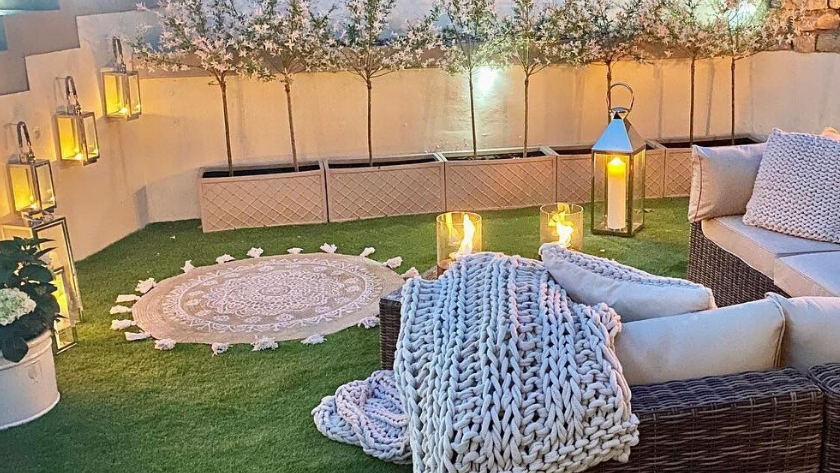 So you want artificial grass? But have no idea what design you're wanting. If it's the inspiration you want, then it's the inspiration you've got! Artificial grass is quickly becoming the latest and greatest in the garden department. This is why we are here to help you with artificial grass garden ideas.
With a variety of artificial grass garden designs to use as a muse, we've honed in on what we feel are the pick of the bunch when it comes to revamping your garden.
Everyone's garden is a different shape, size and style preferences are personal. There are lots of designs to choose from when it comes to creating the perfect garden space using artificial grass:
Open-planned modern designs offer space, with a contemporary vibe, suitable for all types of families.

Featured pieces give focal points to any garden and bring a unique element to your space.

Yardens are the latest trend in turning a small, rundown yard into a little outdoor haven.

Pathways offer a way of segmenting your garden into zones depending on use, as well as creating an eye-catching element to your landscape.

A cosy aesthetic can require the use of furnishings and accessories. Artificial grass is resistant to wearing, inviting this vibe without caution of damage.

Garden rooms offer an outdoor living space that can be visually enhanced when installing artificial grass to brighten up the scenery.
Open-Planned Modern
Space. Space. And more space.
An open-planned, minimalistic aesthetic gives you the opportunity to make the most out of your garden space, with a 'less is more' approach. This design is currently trending in the garden industry, with takers making the most of impressive lawn space, decorating with minimal planters only.
An open-planned garden design can make your garden appear bigger, whilst requiring minimal maintenance and still look perfect all year round. This makes it great for seniors who may struggle to maintain a more typical landscape.
Open-Planned Garden for Pet Owners
Got pets? This artificial grass garden idea is great for them too. Who doesn't want a nice open planned lawn to tire their pets out?
Artificial grass is 100% animal-friendly, meaning those stains, odours and digging disasters are alleviated. No more patterning the kitchen floor with muddy footprints. This artificial grass garden design is the answer to any pet owners prayers!
Open Planned Garden Design for Families
This layout is also perfect for those with or without children, wanting to modernise their environment with an artificial grass garden design.
It offers an optimal amount of space for your children to make memories in, whilst requiring less furnishings to accessorise. This means less maintenance and wear of the often pricey effects when childhood mishaps come into play and a football hits your glass table.
Open-planned designs also see to it that those without children are satisfied with the results too. Think of the social gatherings you could have enjoying a contemporary ambience with friends and family, as well as having a light and airy setting for you to relax and unwind after a long day.
What's not to love about this artificial grass garden design? Feeling inspired yet? We are here to help you with your open-plan garden transformation now.
Featured Piece
Still need artificial grass garden inspiration? Good! Because we're not done yet. The next design we'll look at is featured pieces.
A featured piece, in terms of artificial grass concepts, is a standout piece that gives a focal point to the space. This often comes in the form of a feature wall or a feature circle.
Artificial Grass Feature Wall
An artificial grass wall is pretty self explanatory. Yes. you heard us correctly: a grass wall. Artificial grass is applied to just about any vertical surface to merge a botanical essence with a contemporary natural atmosphere, giving an impactful impression. Impressive, right?
One thing to note: Though it can be versatile to compatibility with many surfaces, materials such as wood need to be in good condition as it will have suffered weather damage over time. This also needs to be a consideration for sustainability of your feature wall as this type of damage can still persist even with the covering of the artificial grass.
The possibilities of your feature wall design are endless and to the limit of your imagination. With the variety of colours, textures and ease of cutting and fitting the artificial grass, those limits are far from restrictive.
To fit this yourself all you'll need is a Stanley Knife (or something similar) to cut the artificial grass to shape, and adhesive to fit the grass to the wall.
Yes. To get an artificial grass garden design this striking, it's as easy as that.
Still need artificial grass garden inspiration? We've got plenty more ideas for you.
Artificial Grass Feature Circles
The next artificial grass garden idea we'll look at is similar in its purpose to the feature wall in that it offers an eye catching centrepiece to accentuate the garden, usually presented within a paved area.
With a feature circle, they can be used in many ways. Some ways in which they can be used include:
Creating seating areas

Space for children to play

Outdoor space for pets

To accentuate garden features - e.g. bird baths, fire pits, BBQ's
Feature circles are installed the same way as any artificial grass is installed, the only difference is… you guessed it! It's cut into a circle.
This feature is a great stand-out alternative to add character, and emphasise key elements that make up your garden. With ease of cutting and fitting, this is something you can do yourself. Take a look at our step by step installation guide for tips on the best way to install it yourself, or alternatively, you can hire a professional to start your garden revamping.
Yarden
Looking to transform your run down yard? Sick of those cracks and weeds poking through? We have the answer; a yarden.
For those of you who don't know what a yarden is, it's a concrete yard that has been transformed, using artificial grass, into a beautiful space for the whole family to enjoy.
A yarden is beneficial for those typically living in a terraced house who are looking for garden inspiration as these style houses tend to come with a yard.
Types of Yarden
As with everything, everyone has their own style and desires, and it doesn't have to end with a yarden. This trend comes in its variations too!
Botanical theme - Create this look with lots of plant life an shrubbery, creating your very own urban jungle

Family orientated space - You might have little ones that would benefit from the outdoor space. No problem! Fill it with play mats, beanbags and toys.

Gardeners sanctuary - Have a yard but love to garden? Then you need a yarden. Introduce planters to grow your own herbs, hanging plants to tend to flowers or wall flower arrangements to keep maximum space on the ground.
Using artificial grass to cover a drab patio can transform your yard, and make it a space you want to use, instead of avoiding.
A yarden brings beauty to those smaller spaces and is often used as more than just an aesthetically pleasing place to sit in the summer but also for:
Growing flowers

Growing fruit and vegetables

Fun for those interested in gardening
As if that wasn't enough, artificial grass requires little maintenance, needing only a few deep cleans per year, and in a smaller space this would require little effort.
What's not to love about a yarden?
Begin your yard transformation now with this artificial grass garden inspiration.
Pathways
Us garden lovers all enjoy a pathway. Especially when that path leads to somewhere interesting. A BBQ? A cosy fire pit setting? A secret den for the children? Whatever it is, pathways and stepping stones are a great addition to your artificial grass garden design.
They generate curiosity and allure you to what commodity sits at the end of the path, giving opportunity to highlight key attributes of your garden.
Segmentation
A lot of people tend to want or have different areas to their garden that they want to:
keep well maintained away from the hustle and bustle of the kids playing

have privacy for: Hot tubs, bars, sun loungers, playhouses

create zones for growing herbs, plants or just having a free space
Pathways are the perfect way to accomplish this segmentation, as well as being eye catching with paving slab colours contrasting and complimenting the naturality in the fresh green shades artificial grass can come in.
This popular style can require precise cutting when being installed, in order to make room for specific types of paving. Cutting and fitting the artificial grass can be done with ease via DIY method, however, for quality precision you may want to look into hiring a professional.
Cosy Aesthetic
Are you one for a cosy evening, fire pit on and stars above head? This artificial grass garden idea may be exactly what you're looking for.
The cosy aesthetic is often a theme that requires a lot of furniture, and if you have a large family or are fond of gatherings, this can be a lot of tables, chairs and other garden accessories.
You may have concerns about whether this will affect your artificial grass. Well worry no more. Artificial grass can withstand high amounts of pressure and usage without any wear and tear.
This means you're free to go ahead and furnish your artificial lawn with all of the accessories you need to make your space comfy and cosy for those summer evenings without worry of damage.
Additionally, with little maintenance needed to help with upkeep of your artificial grass, the need to move furniture around to clean it is minimal. No need to worry about the time and labour it would take to move it all around.
What are you waiting for? Go ahead and begin your journey to your outdoor haven.
Garden Rooms
We all like a room with a view, and having one accessible from our own homes would be delightful. Well. When coupling artificial grass with a garden room, you can achieve just that!
A garden room is an outdoor structure that provides an outdoor living space all year around. Often boasting large windows, allowing in ample amounts of light and the potential to host breathtaking views.
We say potential because a great view can't just be expected. Adding artificial grass to your garden design will help to make this achievable.
Looking effortlessly tidy, maintained and evergreen all year round with little maintenance, you will never not be pleased with the impressive landscape right outside your window.
Looking to improve the perspective of your garden room? This is the perfect way to achieve just that.
Feeling Inspired?
We hope that these artificial grass garden ideas gave you the inspiration you need to kick off your garden transformation. With a variety of ideas offering artificial grass garden inspiration from open-planned designs to make the most of your space, to accentuate your garden with aesthetically pleasing focal points. There is an abundance of possibilities when it comes to artificial grass garden designs.
Ready to get start your garden revamp? Browse our selection of artificial grass now, and bring your vision to life.
Still need help with making your decision? Get in touch with our artificial grass experts now for advice on your garden design.