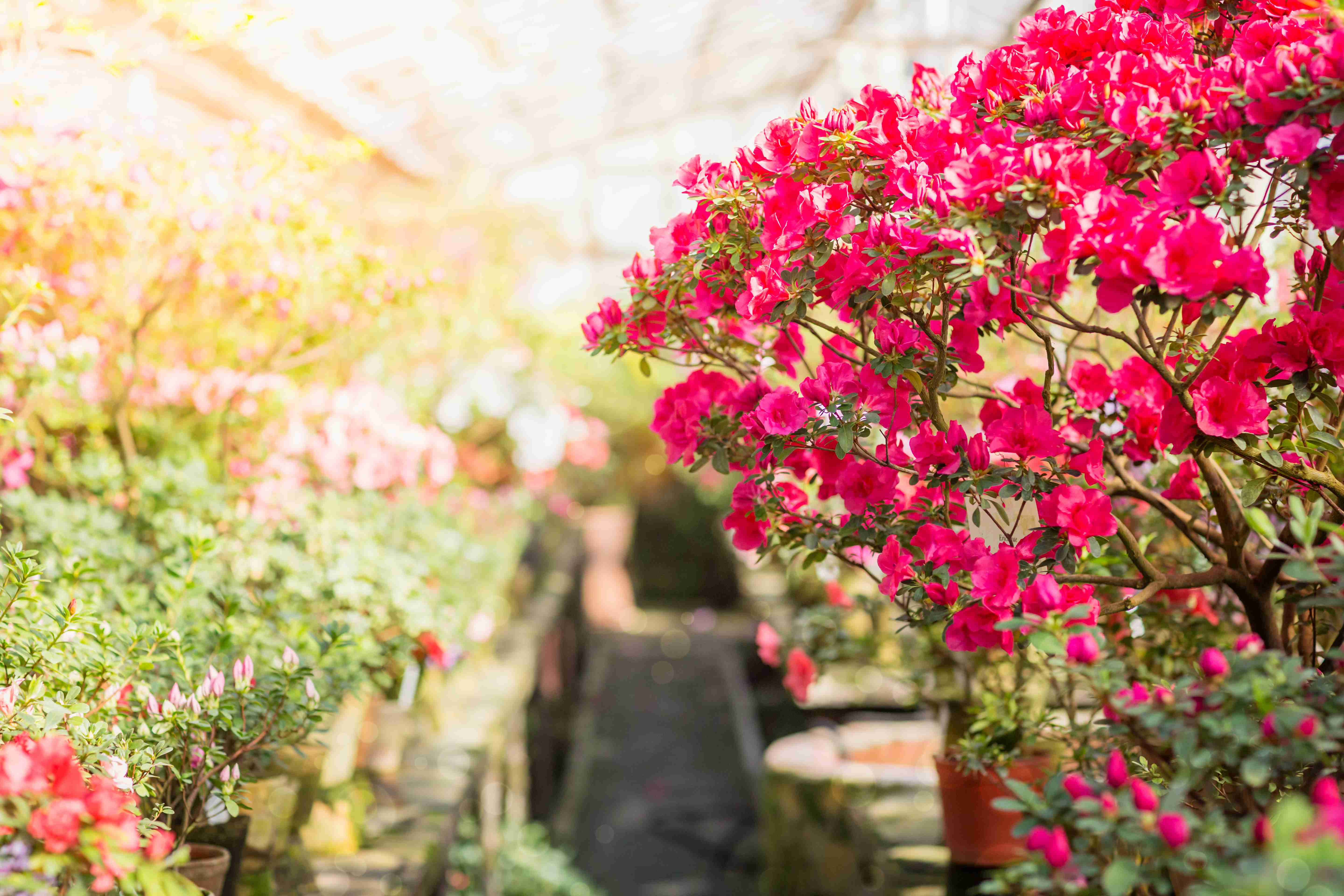 If you are redesigning an outdoor space, choosing what flowers and plants you would like is a key step in deciding the upkeep and maintenance required, the overall aesthetic and how much space you want to assign to soft landscaping.
There are several factors you need to take into account before choosing your plants. Soil type, space and lighting are all vital elements to consider when designing a garden. At Grass Direct we want to help you get the most out of your outdoor space and that includes what shrubs and flowers work for you.
We have put together the most important factors to think about when creating a planting scheme or landscaping design, to help you get the perfect garden all year round.
Quick Links
Available Space
Space is the first thing to bear in mind when choosing your plants. How much space can or will you dedicate to flower beds or shrubbery? If you are wanting to hard landscape an area, that will reduce the amount of space you have for planting.
Many plants need a little space to thrive, so it is best to plan out your space so you can choose the correct amount of plants and flowers to match your design and so you end up with an enjoyable and successful garden.
Soil Type
Most people won't think about what type of soil they have unless they are a seasoned gardener. However, knowing what soil type you have can directly impact the type of plants and flowers you can purchase.
If you want to have a garden that thrives and flourishes, purchase a simple pH soil test kit from any garden centre to identify how alkaline or acidic your soil is before buying any flowers or shrubs.
The next factor to consider about your soil is what it consists of. Different areas of the UK will have different types. Some of the most common soil types are:
Chalky –

Chalk soil is always alkaline due to the high lime content found within it. It can often show areas of white aggregates. This means it can only support alkaline-loving plants.
Sandy –

Also known as light soil, sandy soil is warm, dry and tends to fall on the acidic scale. This soil has quick water drainage but suffers in the summer months from dryness and lack of nutrients.
Clay –

Clay soil can hold a high amount of moisture, which makes it very wet during winter and is also very dense, combined with low organic material, this type of soil makes it difficult to grow some flowers and vegetables.
Loamy –

This is the ideal type of soil for gardeners, as it contains a wide mixture of sand, clay, and minerals, allowing it to have a high nutrient content which supports all types of flower and plant.
Peaty –

Peat soil contains substantial amounts of organic matter and is more often found in soil bags and compost than in gardens.
Silty –

Silt soil is a fine and light soil, which although drains well whilst holding more moisture than other light soils, it can still be washed away easily and be easily compacted.
When choosing your flowers or shrubs, you can find information on whether they are the right choice for your soil. By choosing correctly, you have a better chance of your garden plants flourishing and giving you the outdoor space of your dreams.
Garden Aspect
Your garden aspect is simply which way your garden faces. Is it north facing? South facing? This is an important consideration as some flowers and plants won't fare as well in warmer, south-facing gardens and vice versa. If your garden faces east or west, however, you will be able to choose any shrubs or flowers you like!
Lighting Conditions
Although everyone knows that plants need light to grow, how much light a plant needs is key to choosing your shrubs and flowers. For each area of your garden where you intend to plant, note down whether it is in direct sunlight, light shade, dappled shade, or dark shade.
Most plants are sun-loving, so if you have a shadier garden, you may need to choose plants that reflect this.
Colour Schemes
Colour schemes are an important aspect for your garden. You can either choose whatever colours you like or stick to ones that match on the colour wheel. Foliage is equally important if you want your colours to pop, darker foliage works better with brighter colours and lighter green foliage works well for darker coloured blooms.
If you want colour throughout the year, then we would recommend planting some evergreens for all year round colour. Either within the garden itself, or dotted around your outdoor space in plant plots.
Grassy Areas
Your lawn or grassy areas can make a big difference to what types of plants and flowers you should choose for your garden. Maintaining both a large lawn and flowerbeds can take a lot of work and if your focus is on creating a beautiful display, you may not have the time nor energy to give a natural lawn the attention it requires.
Artificial grass is a great solution for modern gardens. Available in a range of colours, blade lengths and softness, you can match your grass to your plant and flower design. At Grass Direct, our artificial turf is a great alternative to real grass, allowing you to enjoy summer days as well as making mowing, watering, and weeding things of the past - giving you the perfect lawn all year round. As well as the time to concentrate on other areas of your outdoor space!
What can Grass Direct offer you?
If you want to keep your garden looking great throughout the seasons and think artificial grass could be an ideal solution to complement your flowers and shrubs, then here at Grass Direct we have everything you need to give you your ideal looking garden all year round.
Grass Direct is the home of the UK's largest selection of artificial grass, and we can accommodate any space - garden, patio, terrace, or balcony.
We have over 30 artificial grass ranges to suit busy family homes, pet lovers, lazy gardeners or anyone who simply wants a fabulous looking lawn in your garden without the trouble!
Furthermore, we won't be beaten on price, either. We pride ourselves on offering the best prices on the market and believe our synthetic grass is of the highest quality, and you won't find our products cheaper anywhere else. If you do, we will match that price and knock off a further 10%.
If you are unsure how an artificial lawn may look against the backdrop of your chosen shrubbery, we offer free samples on all our products, so you can make sure you choose the right option for you.
For all your artificial grass needs and enquiries, please contact us today by using our contact form on our website or call us on 03308 182 500 to speak to one of our friendly expert advisors!