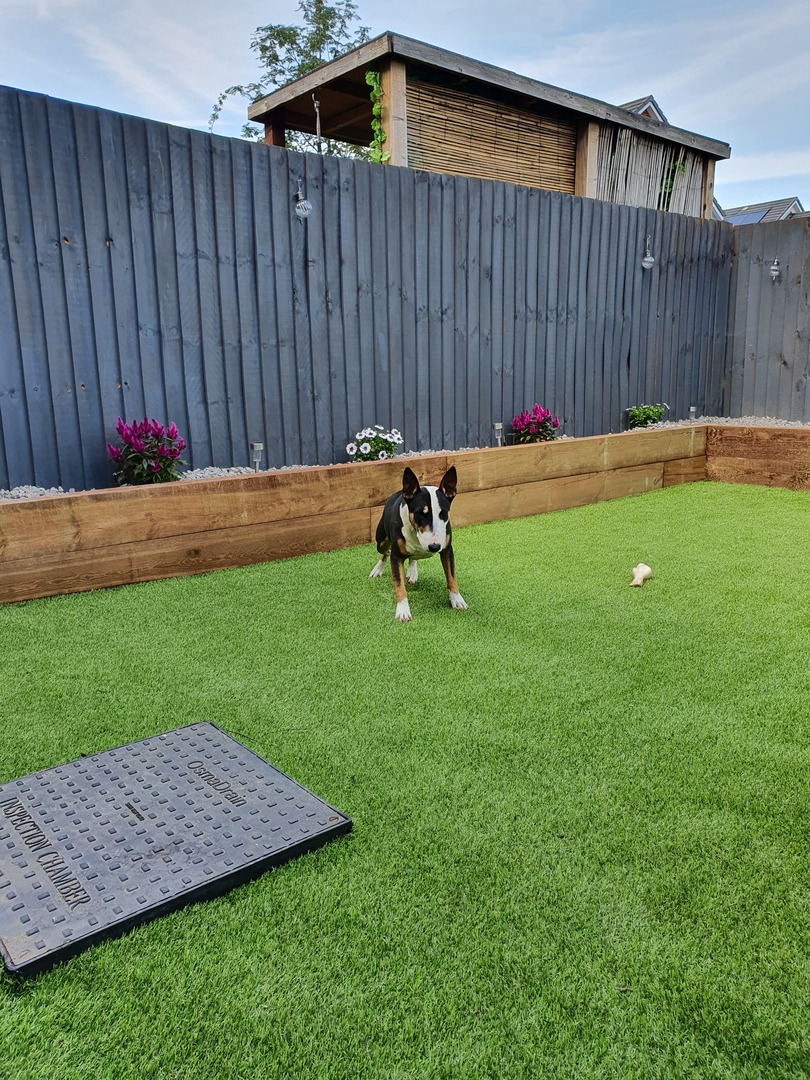 You'd be surprised at the common misconceptions regarding artificial grass. Now these myths are no Loch Ness monster standard, but the amount of artificial grass myths we've come across is rather outstanding!
We're here to bust those myths and make sure that you aren't avoiding turfing your garden with luscious evergreen artificial lawn for something that's just simply NOT TRUE!
Myths of artificial grass include:
Bad for the environment

Not pet-friendly

Has poor drainage

Dog urine makes it smell bad

Expensive

Not safe for children

Doesn't look realistic

All artificial grass looks the same

Limits your landscaping options
1. Bad For the Environment
One thing we get asked a lot is "Is artificial grass bad for the environment?". As a matter of fact, it's not. 
Artificial lawn is actually an environmentally friendly product, reducing the need to use gas fuelled lawn mowers every week, contributing to emissions that are negatively affecting the environment.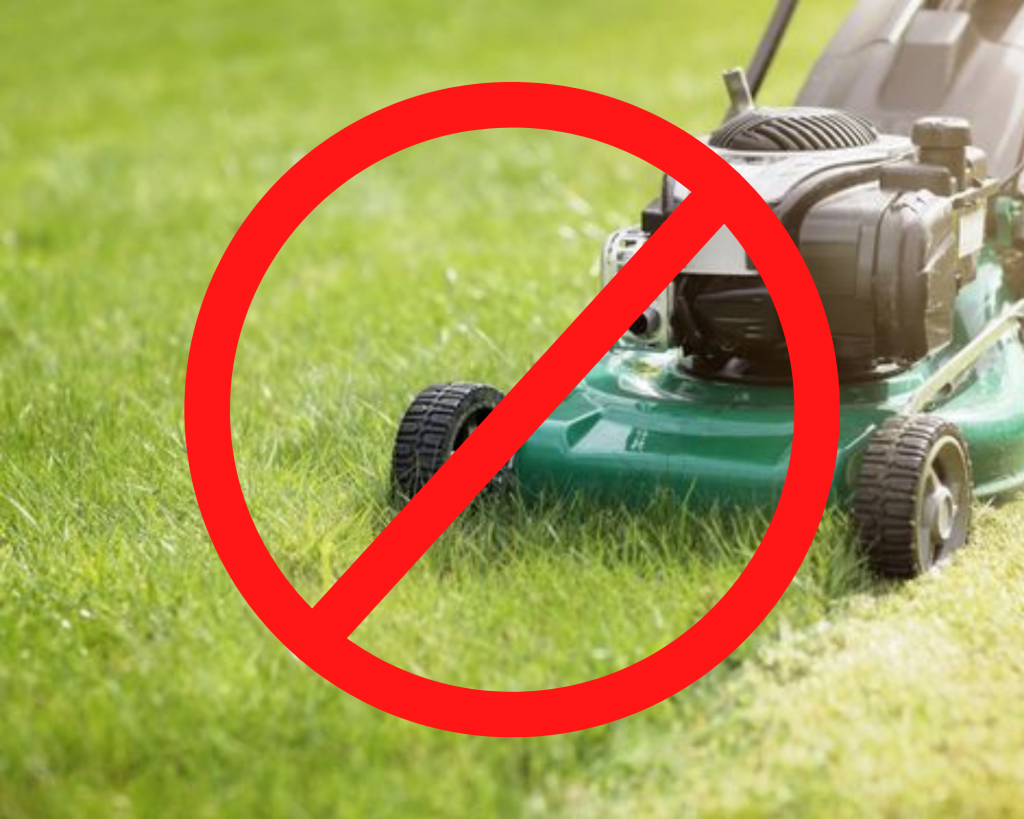 Additionally, artificial turf has no need for chemical presence such as pesticides or fertilizer that harm wildlife. 
Not only that, artificial lawn requires little maintenance, so not only does it save you a few pounds in water bills, but it saves the water too! The need to leave your sprinkler on for hours, is gone, thus saving gallons of water per year. 
To continue on the eco-friendly route, there are some Artificial Grass Ranges that are made from recycled materials as well as ranges that are fully recyclable after use. Our Stockholm, Bahamas and Antigua are all recyclable after use.
So to answer the question "is artificial grass bad for the environment?"
Most certainly not, it's quite the opposite in fact, so make sure this myth is not one of the reasons stopping you from purchasing artificial grass!
2. Not Pet-Friendly 
Another question we get asked a lot is "Is artificial grass pet-friendly?" Of course!
Artificial turf is 100% pet friendly, manufactured with high quality eco-materials that are lead and cadmium free. So Dexter can roam free on your turf without a care in the world. 
On top of that, those pesky holes you dread going out to find are non-existent with artificial grass. 
Thankfully, fake grass is made with polypropylene fibres and robust backing, so digging and scratching is an issue you don't have to worry about. 
Sorry Dexter, no more burying them bones or trying to dig your way to China. 
Porto Artificial GrassArtificial lawn doesn't depend on the presence of mud or soil, and it has a permeable base that allows for the dispersal of excess water.
This means those muddy pawprints that paint the kitchen floor, are no longer a worry.
3. Has Poor Drainage
Another artificial grass myth that we hear a lot is that it has poor drainage. Synthetic grass typically has drainage holes allowing for excess water to be drained away, eradicating those fears of flooding. 
These drainage holes also aid in the drying process of the grass being sped up.
The only way you could ever experience a drainage problem is if the subfloor has not been prepared properly. For maximum drainage efficiency, the subfloor must be flat and permeable.
Panic over, the arc is NOT needed! 
4. Dog Urine Makes it Smell Bad 
Now this myth is possibly the most common of all! "Does dog urine make artificial grass smell bad?" is something we hear all too often because there is a misbelief that artificial grass and dog urine don't go hand in hand.
However, this is only true when your artificial grass is not maintained correctly. 
If you have pets, their calls of nature usually beckon them out of the dog flap and to the garden. 
Keeping this in mind, the best practice for getting rid of the smell of dog urine starts from the installation. Many pet owners have found that laying weed membrane beneath the foundations, instead of installing it directly beneath the grass. This can prevent urine getting trapped between the layers. 
Using Artificial Grass Cleaner and hosing down the grass regularly is the best approach, to eliminate those smells. 
5. Expensive
Another common misconception is that artificial grass is expensive. And yes, there can sometimes be elements of installing artificial grass that can have a larger cost implication. 
Fitters, large landscape to cover and premium ranges can all have an effect on price. 
Grass ranges differ from budget to premium and this imposes a price difference. As with any purchase, you can make it as elaborate as you like or rein it in to fit the budget. 
Regardless of the price point, you can rest assured the quality of our grass remains the same. The same stringent quality checks are applied to our budget range through to premium. 
However, there are ways to keep costs down. 
Offcuts
Artificial grass offcuts can be a way of saving money on your artificial grass installation.
Offcuts are exactly the same quality, just pre-cuts rolls of artificial turf. If your sizing matches the space you're wanting to fill then you are onto a winner!
In purchasing offcuts, you could potentially make a large saving when transforming your garden.
DIY Installation
Another way of saving money on your artificial grass transformation is by carrying out a DIY installation. Often, when you hear that turfing your garden with synthetic grass is an expensive job, it's because a professional fitter has installed the lawn and their time and labour has been accounted for. 
However, fitting artificial grass is relatively easy to do, and definitely one for a keen DIY'er to give a shot. By following a step by step fitting guide, you could fit your lawn yourself achieving a new skill, and fresh looking landscape, without the installation costs. 
Long Term
Installing synthetic grass has long term financial benefits too! Reduced water bills from the little maintenance required, no need to fork out on a lawn mower or fertilizer when the grass isn't growing or has dried out. The long term benefits that come with artificial grass are great for saving money.
All in all artificial grass being expensive is definitely a myth!
6. Not Safe for Children
The next artificial grass myth on the list is that it is not safe for children. Again, this notion is not true. In fact, it's quite the opposite. 
Synthetic lawn makes for a great play area foundation for your little ones to run and play. A significantly better option than concrete or bark. Artificial grass cushions those inevitable falls.
For an additional piece of mind, Artificial Grass Underlay makes for a great shock absorber. Kids playing football in the garden? No problem, artificial grass underlay will give them a spring in their step and a cushion to their fall, potentially reducing injury. 
For little ones, artificial grass is a great addition to their play areas!
7. Artificial Grass Doesn't Look Realistic
Myth number seven falls upon the aesthetic of the grass, in that there's a common belief that artificial grass doesn't grass doesn't look real. 
Over the years, artificial grass has improved in appearance, beautifully imitating natural turf with its blend of colours used through the blades and its soft to the touch textures. 
With appearance there is one main factor you need to consider to help improve a realistic landscape. Pile direction.
Pile Direction
The pile direction refers to the direction in which the blades of grass face. To achieve the most aesthetically pleasing and realistic results, all of your grass should face the same direction ensuring the blades face towards the most common vantage point.
When placing your grass at the front of your home, the grass should face out onto the street as this is the view others have. When laying it in the back garden the vantage point is usually facing the house, so in this instance the pile would face in the direction toward the house.
8. All Artificial Grass Looks Alike
Continuing on with the list of artificial grass myths, another common mistake people make when it comes to artificial grass, is that all artificial grass ranges look the same.
And like the rest of the myths we've busted today, it's not true. 
Artificial grass comes in a variety of colours, styles and yarn types. Light green, dark green, striped. Whatever type of grass you're trying to imitate, it's out there.  
Yarn Type
Yarn shape plays a big part in the overall appearance of your artificial lawn offering a more authentic finish. 
Not only that, there are a variety of ranges to choose from to suit all budgets!
So to conclude, not all artificial grass looks the same. There is a grass range to suit everyone's design aesthetic.  
9. Limits your Landscaping Options
A perfect garden is often the reason people choose fake grass. Which is why we are shocked when we hear that there is an impression that using artificial turf limits your landscaping options.
Using artificial lawn is a great way to get that flawless finish with your grass. But sometimes a little bit of added décor, plant life and trees are just what you need to get the scenic look you desire. 
Many think furniture on artificial grass is a no-go! However, artificial grass can withstand high amounts of pressure so if a furnished garden or lots of ornamental décor is what you're looking for, then go ahead!
For garden styles that incorporate other features such as pathways, feature circles and patios, these are all attainable too. 
Fake grass is easy to cut, so cutting around water features, or paving slabs is an easy task to gain your scenic garden. 
10. Excessive Maintenance 
Finally, the last myth we're going to look at is that artificial grass requires excessive maintenance. 
A great benefit that comes with installing synthetic lawn is that the maintenance is very little in comparison to natural turf. 
There's no need to invest in a lawn mower or fertiliser as your grass will stay the same length and colour throughout the course of its life. 
Another benefit of synthetic grass being low maintenance is that cleaning up after pets is quick and easy! A regular clean here and there is all it takes to ensure your artificial grass is well kept after nature calls. 
This can be done a few times a month using a hose and Artificial Grass Cleaner.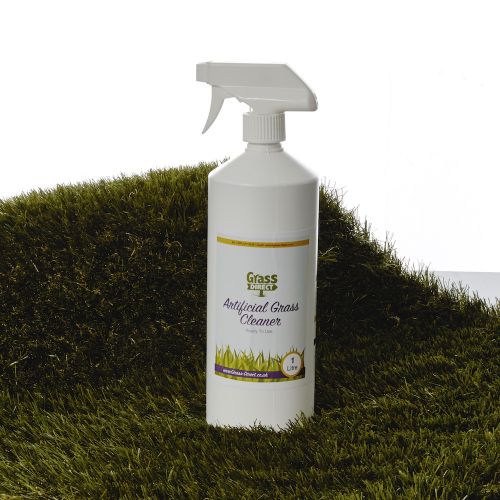 Myth Busting Accomplished!
To conclude, there are some beliefs about artificial lawn that may are untrue or fake news! Which is why we've ruled out some of the myths that are stopping you from having a flawless landscape to look out onto. 
If you have heard any more questionable information about artificial grass and need it clearing up, get in touch with one of our artificial turf experts now, and they'll be happy to help!