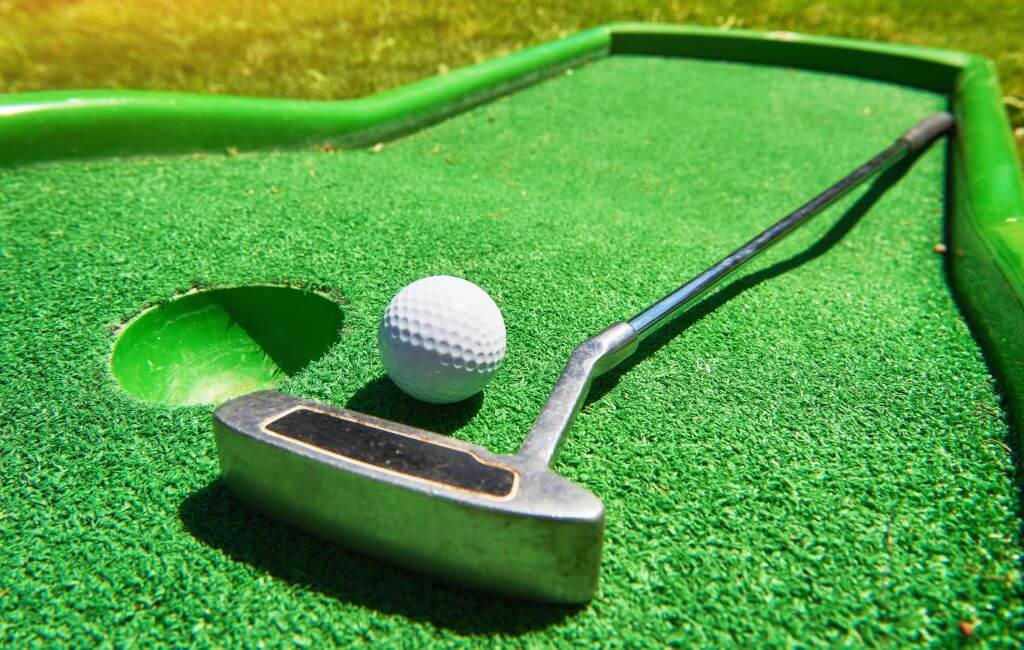 Are you someone who spends their early mornings and weekends unwinding out on the putting green with a golf club in hand? Great! Then this blog might help you to persuade your significant other to agree to have your very own putting green at home, as we look at 5 reasons to install putting green artificial grass
Practise your skills

Saves money

Adds value to your property

Great for entertaining family and friends

Weatherproof
Practise your skills
When thinking of installing putting green, there's usually one major perk you've got in mind. Becoming a pro!
Installing putting green into your home allows you to get the practise you need without depending on your local golf club or driving range to be open, or having to travel there.
Having putting green in your home allows you to practise without limitations. If you or your little ones see golf as a hobby or even a potential career move; yes, we're talking Tiger Woods level, then this addition to your garden or indoor space is a must!
Saves Money
Not only does installing putting green into your home allow you to have endless amounts of fun and practise your skills, it also allows you to save a few pounds doing so!
Heading to the golf course to get your practise in can become a large expenditure over time. So why fork out on travel and fees to your local putting green, when you can pay a one time cost to have your own installed in your home?
Over time, this will save you a significant amount of money, whilst also adding value to your property. So what are you waiting for?
Adds Value to your Property
Now if you're a keen golfer, you may already know that approximately 1 million people in the UK play golf around twice a month according to statista.com. With this in mind, adding a putting green to your home would be beneficial to many.
So when it comes to selling up, you don't have to be concerned about the potential of the putting green putting people off. We're certain there would be a lot of golf enthusiasts that would be more than happy to take it off your hands.
With an increased popularity for the sport, comes increased demand and with increased demand comes a higher value for your property! The benefits of adding putting green to your home just keep getting better.
Great For Entertaining Family and Friends
If you want a conversation piece then this is a guaranteed benefit of putting green. Your guests will be green with envy when they see you have unlimited access to endless amounts of fun for the whole family.
There will be no more worrying about how to entertain your guests at gatherings, because whether your guests are keen golfers or not, they can still have maximum amounts of fun. Why not add obstacles and make a crazy golf course. Create a scoreboard and introduce some prizes and you're onto a winner!
Weatherproof
Finally, the last of many reasons we'll discuss when it comes to installing putting green in your home is the durability.
With your local golf courses, these can often be weather dependent thanks to the good old British weather. Courses can often get waterlogged making it impossible to play a regular game of golf.
An artificial putting green is extremely durable and weatherproof, having drainage holes for water if you're using it outdoors. As it is used as an accessory to sport, putting green can withstand the pressures of both weather and a couple of miss-hits when it comes to letting the curious guests have a swing or two!
So whatever the weather, your putting green will be ready and waiting for you to get a hole in one… hopefully.
If you have any more questions about whether putting green us up to par when it comes to installing it in your home, our team of experts will be happy to assist you.