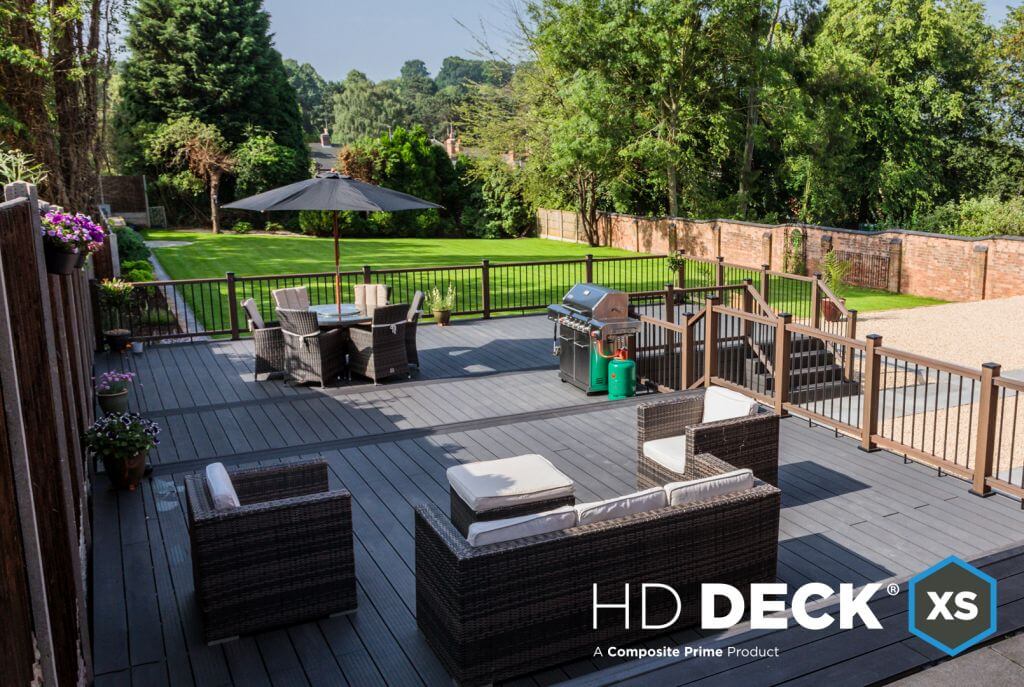 BBQ's, pool parties and relaxing evenings by the firepit with your family and friends. Sound like a summer you're wanting to have? Then why not sleeken up your garden in preparation with composite decking? Have your loved ones leaving in awe, impressed with your decking.
What is Composite Decking?
This sophisticated, eco-friendly product is an alternative to wood or plastic decking, designed to replicate beautiful wood designs for a sleek finish. 
Using the latest technology, this composite decking is made up of a combination of natural hardwood and synthetic materials, creating a high quality product engineered to perform and designed to last. 
Why Choose Composite Decking by Composite Prime? 
From style to practicality, this decking is everything your garden is calling for, offering an abundance of benefits to enhance your garden and lifestyle.
Some of the benefits of Composite Prime Decking that run across its range are:
The product itself is highly durable - Boards don't need to be sealed, stained or painted as they're designed with style and quality in mind 

Far more slip-resistant than other materials

No splinters or cracks 

Won't warp or fade in sunlight

Considerable savings over timber when considering the repairs and replacements you may require over the lifespan of the decking

Comes in a range of beautiful styles, colours, and budgets

This decking is made from sustainable sourced wood making it an Eco-friendly product

Child-friendly 

Amazing warranties 

Low maintenance and long lifespan
With an impressive list of benefits, where decking is concerned, this innovative product is among the best on the market. 
Whether you're a family looking to create a space to socialise with one another, a household that likes to relax and wants to incorporate a beautiful decking space to do so, or you're a commercial property that requires a reliable outdoor space that will stand the test of time, Composite Prime Decking is the perfect option!
Explore the Ranges of Composite Decking
As stockists of this elite range of Composite Prime decking, we are currently stocking 4 styles from the range. All of which possess the benefits listed above with some ranges offering even more advantages. 
The beautiful selection offers something for everyone, and can meet the demands of any garden with any lifestyle. 
All that is left to do is decide on your favourite. Which admittedly won't be easy because they're all as equally stylish as each other. But there's nothing wrong with being spoilt for choice!
HD Deck XS
If bringing new life to your garden is what you're opting for, then the HD Deck XS is a great option. Available in 3 different shades: Walnut, Lava and Silver, you have the ability to choose the perfect colour to compliment your garden. 
Its appearance delivers a thin and wide groove design on either side for a contemporary design, and comes with a fantastic 10 year warranty for that added peace of mind. 
The HD Deck XS Range is the lowest priced range we stock. So if you're on a tighter budget, this range is definitely the range for you - reaping the benefits of this fantastic decking for a more affordable cost. 
Shop HD Deck XS now
| | | |
| --- | --- | --- |
| | | |
| HD Deck XS Lava | HD Deck XS Walnut | HD Deck XS Silver |
| | | |
HD Deck 3D
If a more natural wood look is up your street, then you have met your match with the HD Deck 3D range. 
Thanks to its textured wood grain on one side, you have the ability to replicate natural tones found in timber with no two boards being exactly the same providing a stunning authentic appearance. 
Available in four stunning colours, this composite decking range you won't struggle to find a colour for you.
Its high durability means it can easily cater to the demands of any environment it is placed in. Whether it is used to create a beautiful functioning outdoor space in a commercial zone or it is placed in a busy family garden. You can rest easy knowing this product will stand the test of time.
For added comfort, this product comes with a great 10 year warranty, so you're covered!
Shop the Range
HD Deck Dual
The HD Deck Dual Composite Prime range offers an unrivalled likeness to timber. It's natural wood grain gives it a beautiful authentic wood finish along with having maximum performance against stains. 
These are just some of the reasons that set HD Deck Dual apart from other composite products. 
Made using a unique True Grain Colour System, it easily replicates the vision of timber. It's dual-coloured boards are reversible, meaning you have the ability to lay your decking in a bespoke design, finishing with contrasting colours. 
HD Deck Dual is available in 3, two-tone colour options, all equally charming in their own right. 
This composite decking product comes with an outstanding 25 years warranty, emphasising the confidence we have in the brilliance of this product!
Shop the Range
| | | |
| --- | --- | --- |
| | | |
| HD Deck Dual Natural Oak / Slate | HD Deck Dual Walnut / Oak | HD Deck Dual Carbon / Antique |
| Shop Now | Shop Now | |
HD Deck Pro
Looking to bring a touch of luxury to your outdoor space? Then the HD Deck Pro range will definitely catch your eye.
With extra wide composite decking boards that incorporate a traditional wood grain, it will easily add style and quality to any outdoor living space. This range is the only 200mm wide capped composite decking board in the UK. 
So where longevity is concerned, there's no concern! It's coated layer provides maximum protection against any fading and weathering from the elements. 
If you're still not excited about this composite decking range, you will be when you get a glimpse of the stunning shades on offer. Champagne and Oyster are the two alluring colour options available in this range thanks to a reversible board. 
HD Deck Pro Champagne Composite Prime Decking 
Shop the Range
And there we have it, the stunning range of composite decking by Composite Prime. Beautiful, versatile, durable and will definitely leave your guests stunned by its exquisite appearance. 
If you have any questions on this amazing range of decking, get in touch with one of our experts now who will be happy to help. Alternatively, browse the range today, and begin your garden transformation.