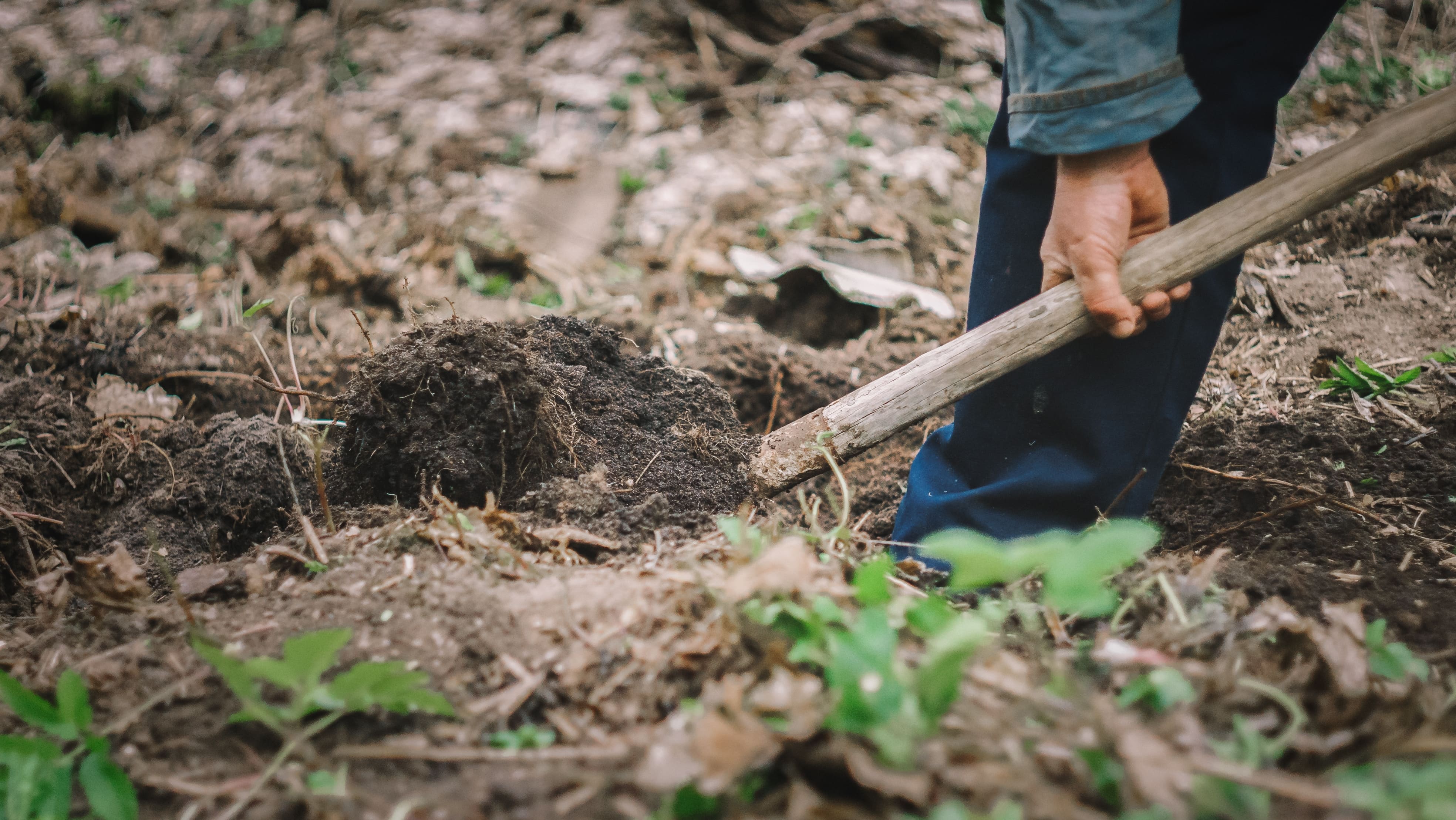 If you are looking to make changes to your outdoor landscape but are concerned about the cost of hiring a digger to level the ground, then look no further. In this blog we will guide you through the processes needed to level your garden with generic tools and a bit of hard work. It may require some effort but it will save you money on hiring a costly digger.
What tools and equipment will you need?
Grass seed or artificial grass
Step 1: Measure
The first thing you need to do is to plan out the areas that need to be levelled. You can do this by laying a length of timber on an area you know needs to be worked on and use a spirit measure to measure how uneven the area is. Mark this out using string and stakes, just remember to pull the string tight!
Step 2: Soften the ground
We would always advise softening the ground before digging. Watering your garden two days before you plan the work is ideal for softening the dirt without getting too muddy and waterlogged!
Step 3: Remove the Grass
The cheapest and best way of removing your grass from an outdoor space is to manually remove it using a spade and some hard work! As most households will already have a spade, this method is cost effective and can be done immediately or at your leisure. But how do you do it?
Firstly, if it has been relatively dry weather, you may want to water your lawn a day or two in advance of your planned digging. See above step. This will make it easier to cut and remove your turf.

Using the edge of the spade, cut out a square measuring approx. 10 x 10 inches in the area you want to remove. Insert your spade at a shallow angle and cut through the soil at about 1 inch deep until you reach the heel of the spade. You should aim to keep the spade as flat as possible as this will ensure you remove the grass roots without cutting too deeply into the sod if you are working on levelling an area that doesn't need lowering a lot.

Lift your piece of turf using the spade of your hands and depending on what you plan to do with it, place it grass side down out of the way.

Repeat the process until you have removed all your desired turf.
Remember to go deeper with the spade if you need to lower the area and less so if the area you are working on doesn't need to lose a lot of height.
Step 4: Levelling the ground
Once you have removed the grass, you can begin to level your garden by adding soil to the lower areas – this is much easier to do than trying to reduce the higher areas. It is best to use a good, nutrient rich soil so that your lawn grows back quickly, evenly, and well. If you are planning to add artificial grass to your garden, please see our website www.grass-direct.co.uk for advice on how to lay the correct groundworks for artificial turf.
Once you have added your soil, use a rake to make sure the soil has been distributed evenly.
Step 5: Compact the soil
Now the fun part! You need to compact your new soil down to avoid erosion when it rains. You can do this using heavy boots and stomping on each section until the soil underfoot becomes firm. If you don't fancy this method, you can hire a soil compactor for a fairly reasonable price to do the job for you.
Step 6: Let it settle
It is really important to let your levelled ground and the soil settle in. This means watering regularly if there has not been much rain and not planting grass seed or installing an artificial lawn for at least a month. You are more likely to get the results you want if you are patient at this stage.
Other methods
If you are not keen on hiring a digger but want an easier method of levelling your lawn, then consider a turf cutter.
This is a piece of equipment available from all good garden or tool equipment hire stores and can make removing your turf a quick and efficient process.
It is designed to remove just the top surface layer of your lawn in strips, but the depth is adjustable which can be useful for gardens that only need minimal levelling. All you must do is make sure that your grass has been cut short and all foreign objects have been removed. You can then adjust your cutting depth on the machine and move the turf cutter across the lawn to cut away your desired section.
Although this is probably the best way to remove your turf, there are several things to bear in mind before hiring a turf cutter. This method will cost money and if you are planning to pay for artificial turf or didn't hire a digger for financial reasons then this may be an issue. The depth of your lawn must be at least 25mm deep for the turf cutter to work and it will not work if the ground is hard. So if you want to level your garden during Winter, then you may have to do it the old-fashioned way!
Artificial grass from Grass Direct
Here at Grass Direct, we pride ourselves on making your gardening simple. This includes finding the right product for you and being there when you need help.
As well as our DIY instructions on our website for installing your new artificial grass on levelled ground, we provide customer service via Facebook messenger, email, or phone, to make sure the installation process runs as efficiently and as quickly as possible, and to answer any questions you may have. Helping you to enjoy the benefits of your new garden with the minimum amount of fuss!
For all your artificial grass needs and enquiries, please contact us today by using our contact form on our website or call us on 03308 182 500 to speak to one of our friendly, expert advisors!