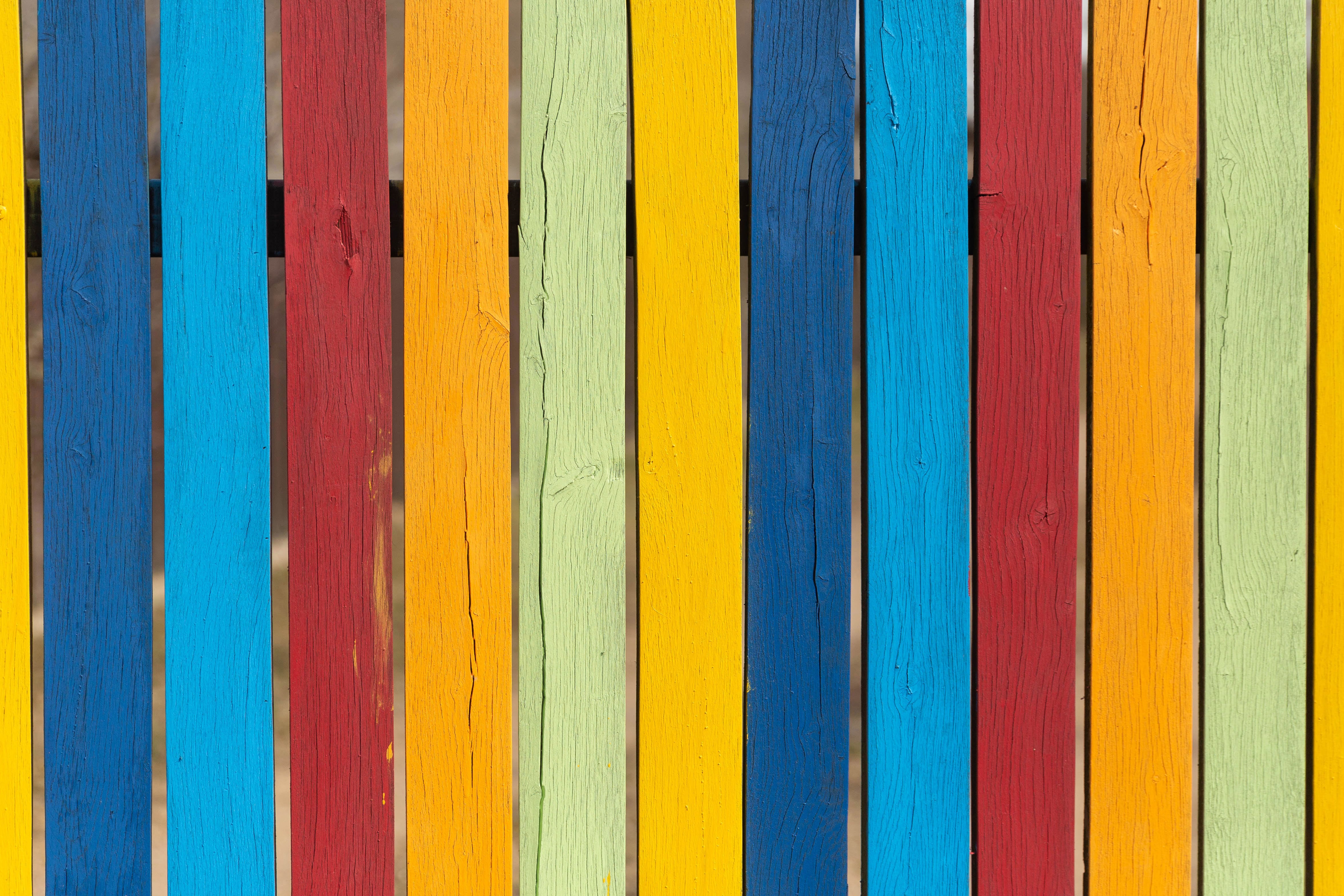 If you have a small garden or a garden that is fenced off on all sides, then you may want to give the illusion of more space. Most fence panels will come in their original wood colour, although you can purchase pre-painted ones, so painting them to make your garden look bigger is a great idea.
Many people will automatically think white as the go-to colour to enhance your small space but as well as being visually quite stark, white is actually not the best colour to go for if you are considering painting your fences.
So what colour fence paint should you go for to make your garden or outdoor space look bigger?
Green
Painting your fence green is the natural colour choice for fences in smaller gardens. It blends in perfectly with the environment, seeming to extend your garden outwards. Try and match your paint colour with the foliage you have already, if you have darker coloured bushes, go for a mid-dark green. If you have flower beds then try to keep to a lighter green as this will help them complement and blend with your fence rather than contrast.
Grey
Grey as a colour shade is very modern and on-trend at the moment. Therefore if you are wanting a more contemporary look to your garden while making it feel bigger, a cool grey is an excellent choice. A lighter colour is best to maximise the illusion of space, and most grey hues are exceedingly versatile and will work with all types of fences.
Cream
Although we said in the beginning of our blog post that white is not the best option when it comes to small gardens, creams and off-whites can actually work quite well. They create a light, bright feel to your outdoor space without the stark contrast of a white. It reflects the sunlight back into your garden and makes it seem more open while providing a beautiful backdrop to flower beds and foliage.
Light blue
If you're looking for a fence paint colour that is a little less traditional, try a light blue or teal. Not only is this a popular colour trend at the moment, but it offers a softer atmosphere than an outright green, and warmer than a grey tone.
Blue offers a neutral backdrop for most gardens and can work with any colour of foliage which is one of the reasons it is so effective at making your garden look bigger whilst adding some brightness, colour and style to your space.
Other things you can try
If you want to make your garden appear bigger, there are a couple of things you can do to help alongside painting your fences.
Declutter:

Removing unnecessary garden furniture and items gives a minimalist look and can really make your space feel a lot bigger.

Add a garden mirror:

Adding a mirror to your outdoors can reflect the sunlight, brightening your garden and giving a larger sense of space.

Replace your lawn with artificial grass: By switching out your traditional grassy areas for artificial grass, you can give neat edges and borders and choose where you want any artificial lawned areas to go. Switching from one lawn to smaller areas broken up by paving or paths can help modernise your garden and make it feel bigger.
Artificial grass with Grass Direct
If you want to make the switch from a traditional lawn to artificial grass to help your garden feel bigger and neater then here at Grass Direct we have everything you need to make your small outdoor space look picture perfect – without the hassle.
With exceptional prices on our wide range of quality and luxury artificial grass, including our sports grasses for businesses and homes, you can find your ideal product without having to compromise on budget or quality. And because we understand that creating the perfect outdoor space can be tricky, we offer free samples, so you can make sure you choose the right option for you and get your ideal lawn all year round.
Here at Grass Direct we are committed to becoming a carbon neutral company, so if you are concerned about the environmental impact of using artificial grass, for every order you place, we will plant a tree, as well as donating a share of our profits towards tree planting.
For all your artificial grass needs and enquiries, please contact us today by using our contact form on our website or call us on 03308 182 500 to speak to one of our friendly expert advisors!