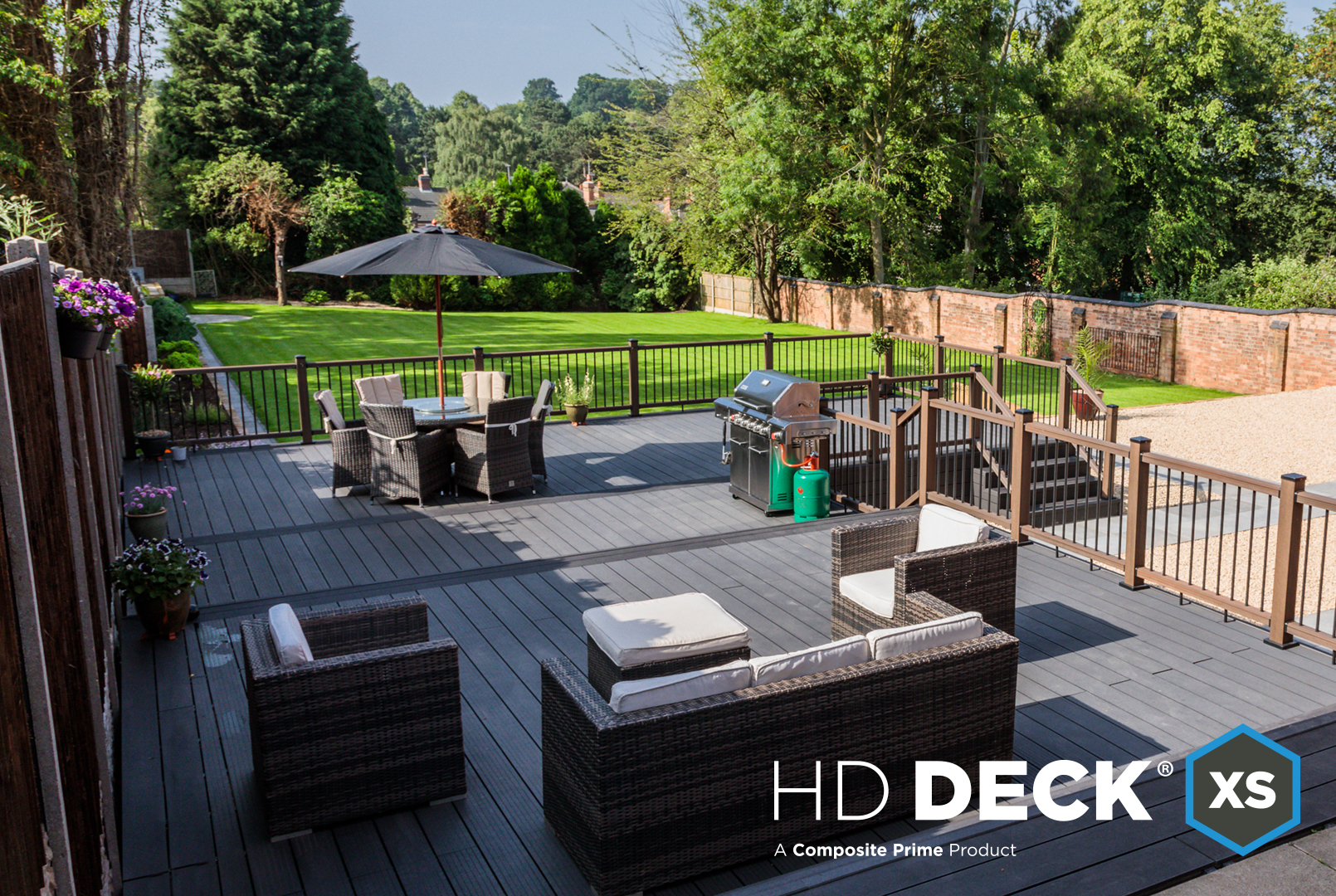 Decking has been a familiar sight in a UK garden for the last few years and with more people spending time at home thanks to the recent pandemic, outdoor landscaping and in particular, raised composite decking has seen a surge in popularity.
Decking is such a wonderful way to bring the indoors outside, but when space is at a premium, many homeowners are unsure of how to install composite decking whilst still having free space for plants or other garden landscaping. Raised decking has provided the ideal way to have all the wonderful benefits of decking, whilst maximising the space and making your decking into a design feature worthy of your home.
Raised decking is also the perfect solution to gardens with uneven ground and there are lots of different designs available to make sure you can install decking with steps down to more level ground.
If you are unsure of what options you have for raised decking or you are looking for some raised composite decking inspiration, then here at Grass Direct we have put together a list of the best to help you decide on a design that works for you and your outdoor space.
Styling
Choosing wood type and colour is a big decision when looking at installing raised composite decking. The style you want to go for can make a dramatic difference to the overall finished look, so getting it right is important.
You can now get composite wood decking in a wide range of styles, colours and finishes to complement your design. One of the most popular trends is a lighter coloured plank, such as grey or champagne, which creates a statement piece with contemporary twist. Or if you prefer a more traditional look for your decking, then choose a walnut or oak wood for a classic finish that blends perfectly into your outdoor space.
The shape of your raised wood decking also needs to complement your house and your outdoor space, a rectangular frame can suit both traditional tastes and provide a more modern, contemporary look with clean lines. It is also easier to build and gives more flexibility when adding to a home.
However, choosing a circular frame is ideal for small gardens and can be turned into a unique outdoor feature by offering smooth curves and a gentler aesthetic.
Remember to accommodate balconies and stairs when thinking about your design, balconies can be fitted with glass or Perspex for a stylish feel or keep traditional wood or timber frames to fit in with your surroundings.
Raised composite decking uses
If you like the idea of raised decking in your garden but need some ideas as to what to make of the space, here are a few fabulous ideas that can turn your decking into an excellent feature for your home.
Sundeck

– One of the advantages of having a raised deck is that it is higher than ground level, meaning it is more likely to catch the rays of the sun. Turning your decking into a peaceful sunning spot is a fantastic way to relax and enjoy the summer sunshine in the privacy of your own home.
Outdoor living area

– Expanding your living space into the outdoors is a popular garden design trend. Spending more time outside has become a priority for many since the pandemic and transforming your raised deck into an extra living area is a great solution to both limited living space inside and letting you enjoy your garden in comfort. Add soft furnishings to your garden furniture and add some solar lights and a firepit for those cosy finishing touches.
A living wall

– If you find you are struggling for space after having raised decking built, then you can turn the sides of your decking into a living wall or "green" wall. Adding trellis or a screen and planting climbers can not only blend your decking into its natural surroundings, but also give you some much needed colour so you can still enjoy all the benefits a garden has to offer.
Add a pergola or covered area

– Adding a pergola or covered area can not only give you a space to relax if the weather isn't too great but can also allow for an outdoor dining area and the perfect place to add a hot tub for the ultimate in relaxation. It can also provide the ideal spot to add luxuries such as a garden bar or a water feature.
Raised composite decking can also help reduce your garden maintenance whilst keeping your outdoor space looking great throughout the seasons. So there really isn't any reason for you not to take advantage of the benefits offered by adding it as a feature to your home.
Composite decking from Grass Direct
If you are thinking about installing raised decking, then at Grass Direct we have a range of composite wood decking to accommodate any raised decking design.
Our composite decking collection combines FSC® 100% certified hardwood timber with recycled plastic – premium materials that are built to last but with the traditional look and feel of timber whilst also giving you the benefits that plastic has to offer.
We are committed to providing only the best composite decking, and we will never stop innovating to do so. We focus on quality because we know that is what matters most to our customers.
We offer a wide selection of high-quality composite decking products, in a wide variety of styles, patterns, colours and classic finishes such as black, golden grey, charcoal, oak and walnut, to ensure you get the look that complements both your home and your outdoor space.
Whether you are still deciding on the style and detail from which you want to create your outdoor space, or have already settled on a raised composite decking design, we will make sure that we have a product for you no matter what your budget may be, and all our composite decking options are available with a 10 to 25-year guarantee, to give you peace of mind you are getting what you pay for.
For all questions and orders for any of our composite decking products, please contact us today by using our contact form on our website or call us on 03308 182 500 to speak to one of our friendly expert advisors!