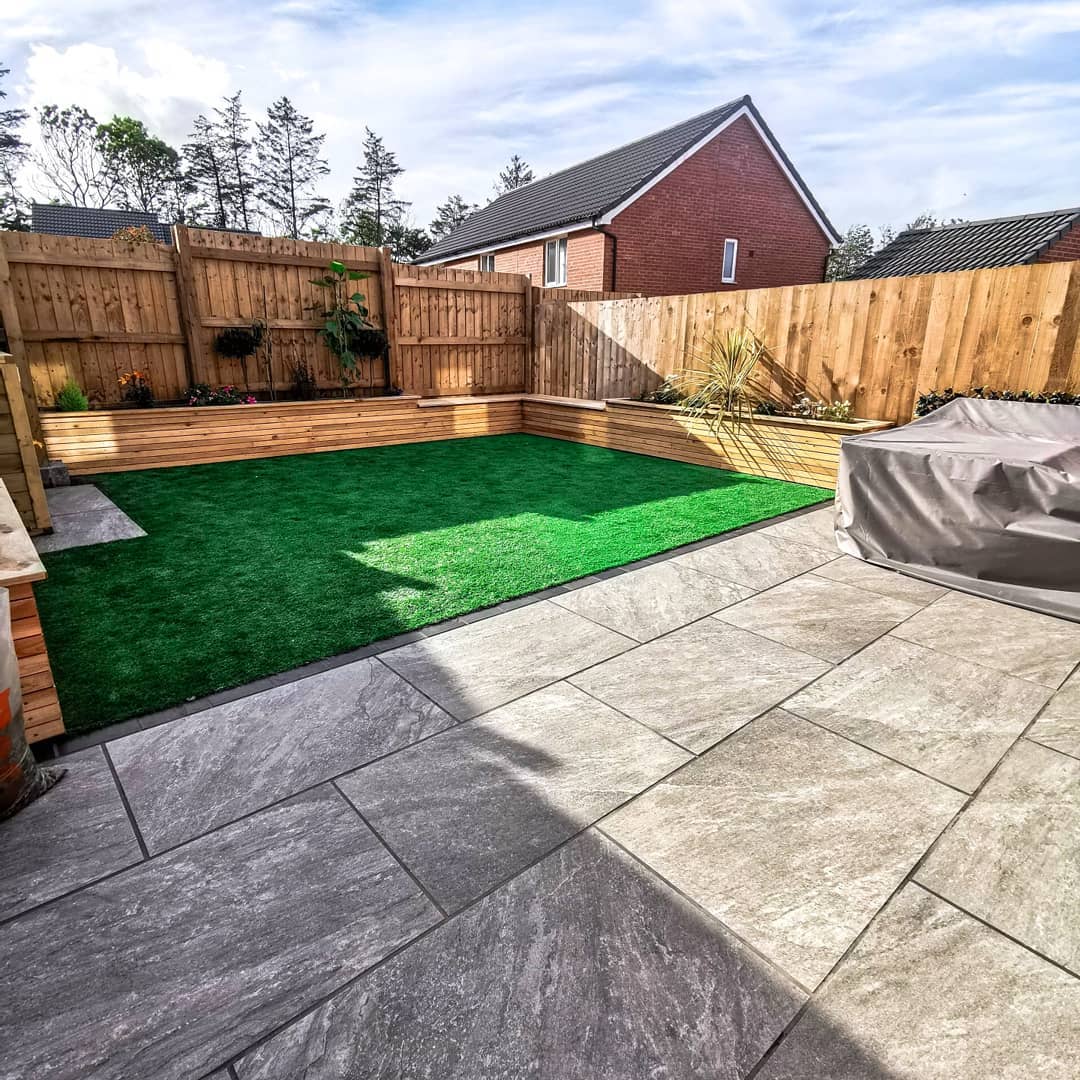 Are you looking to switch from real grass to artificial grass and need design ideas? Or maybe, you're looking for some inspiration to help turn your outdoor space into something special? Whatever you need, we have put together 15 of the best artificial grass design ideas for your garden to help you create your perfect style and find what works for you
Use different materials

Create texture and interest to your garden or outdoor space by combining your artificial lawn with focal points such as boulders, pebble pathways or even a decking area. This is particularly useful if you have a larger garden or have chosen a large area of artificial grass. By breaking up the space with different materials, you can make your space seem more interesting to the eye.

Add plants and trees to your lawn

Even though nothing can grow naturally when you install artificial grass, that doesn't mean to say you cannot have beautiful plants. By adding evergreen, large plants and small trees to plant pots and placing them around your space, you can add colour and vibrancy, as well as creating interesting focal points to create a beautiful looking space all year round. Tip: For a modern look, choose all black or all white plant pots.

Add decorative elements

If you like the space artificial grass gives you, but feel it is a bit boring or bland, then adding sculptures or a water feature can make your new lawn more interesting. However, if you want to keep your artificial lawn clear of added fixtures but would still like your outdoor space to have appeal, then stringing up solar fairy lights across your fence or adding lamps around your artificial grass can give a beautiful effect without your space becoming too cluttered.

Sweeping curves

One of the benefits of artificial grass is its versatility. It can be shaped however you want it. If you are wanting a more traditional look for your outdoor space, then creating elegant curves between flower beds or planted borders is not only aesthetically pleasing, but can make the artificial grass appear so natural that no-one will suspect otherwise.

Play areas

If you have children, then you know that broken up lawns and muddy footprints go hand in hand with letting your garden turn into a play area. Artificial grass is a brilliant solution to this problem, either by creating a specific play area within your outdoor space, or installing it throughout to create a durable garden for children to play safely and happily. Add a sandpit for extra fun!

Maximise your space

If you have a small garden, then it is worth considering installing artificial grass throughout the entire space. The mass of natural green will open up the garden and make it appear larger. If you do not want to lose flower beds, hang planters from your fences to avoid the lawned area becoming too busy.

Create a taste of warmer climates

Adding a combination of white stone and tropical plants such as palm trees to the green of your artificial grass can give your outdoor space a bright, summer-esque feeling all year round. Soft or rustic paving stones can be used for pathways through the artificial turf, whilst adding mosaic tiles as a statement feature can give your outdoor space a Mediterranean style focal point.

Keep maintenance low

If you are struggling to maintain your current lawn and are considering the switch to artificial grass, then you can either match your current design as artificial grass can be designed for your needs, or use the opportunity to downsize your current lawn size and add a smaller area of artificial turf. Adding decking or a pergola can reduce your garden maintenance whilst keeping your outside space enjoyable and relaxing.

Keep it natural

If you're worried your artificial grass may lose the calming effects of nature, adding rustic effects to your garden can keep your outdoor space inviting and natural. Accessorise with wooden furniture and planters and go for a leafy green, grey and blue colour palette. For a bit of extra rustic charm, add a fire pit, either as a centrepiece or to add a little warmth to the coldest areas of your outdoor space.

Add a pop of colour

Artificial grass can often take up space that may normally be reserved for growing flowers and plants. However, you don't have to sacrifice a vibrant, colourful garden. You can add colour all year round by painting garden furniture, sheds or even fence panels in colours of your choice. Keep it natural with greens and browns, or blues and slate greys, or add bright colours for warmth and vibrancy.

Create contrast

If you are looking for a modern twist, creating contrast with your artificial lawn can make an iconic statement. Black and navy grey are on trend colours for gardens, the darker colours contrasting beautifully with the all year round green of artificial grass and giving the appearance of an intimate space. Or keep it minimalist by having all black or white garden furniture and accessories to add chic focal points against the backdrop of your lawn.

Separate your spaces

If you have a household with different needs, then separating your outdoor space into areas can not only keep everyone happy, but look fabulous too! Paths, walls, flower beds and hedges are all excellent ways to separate your artificial lawn from the rest of the garden. The grass creates a space for play and can give the garden some colour all year round, whilst adding decking or a seating area as a separate area for relaxation means you get the best of both worlds. Walls will create more privacy, but it's best to keep them a lighter colour so as not to make the garden seem too busy.

Choose the right grass option

The most important aspect of design when choosing to install artificial grass is to decide how you want your grass to look. There are so many options to choose from, from colour to grass length, from softness to thickness, you can even get striped lawns for that "just mowed" effect! Longer, dark green artificial grass can look more natural, go bright green for a vibrant lawn throughout the seasons, or sports grass if you plan to use it to play sports outside.

Sports grass

If you are interested in using your outdoor space for sports such as football, rugby or golf then artificial grass is ideal. Install a large astroturf lawn for ball games, or why not install your very own artificial grass golf putting green!

Liven up paved areas

If you have large paved or concrete areas around your home, such as a driveway or patio, adding a small lawn or shaped areas of artificial grass can add colour and interest to an otherwise drab space.
If you want to create a stunning garden design using artificial grass, then here at Grass Direct we have everything you need to make your outdoor space look picture perfect – without the hassle.
For all your artificial grass needs and enquiries, please contact us today by using our contact form on our website or call us on 03308 182 500 to speak to one of our friendly expert advisors!