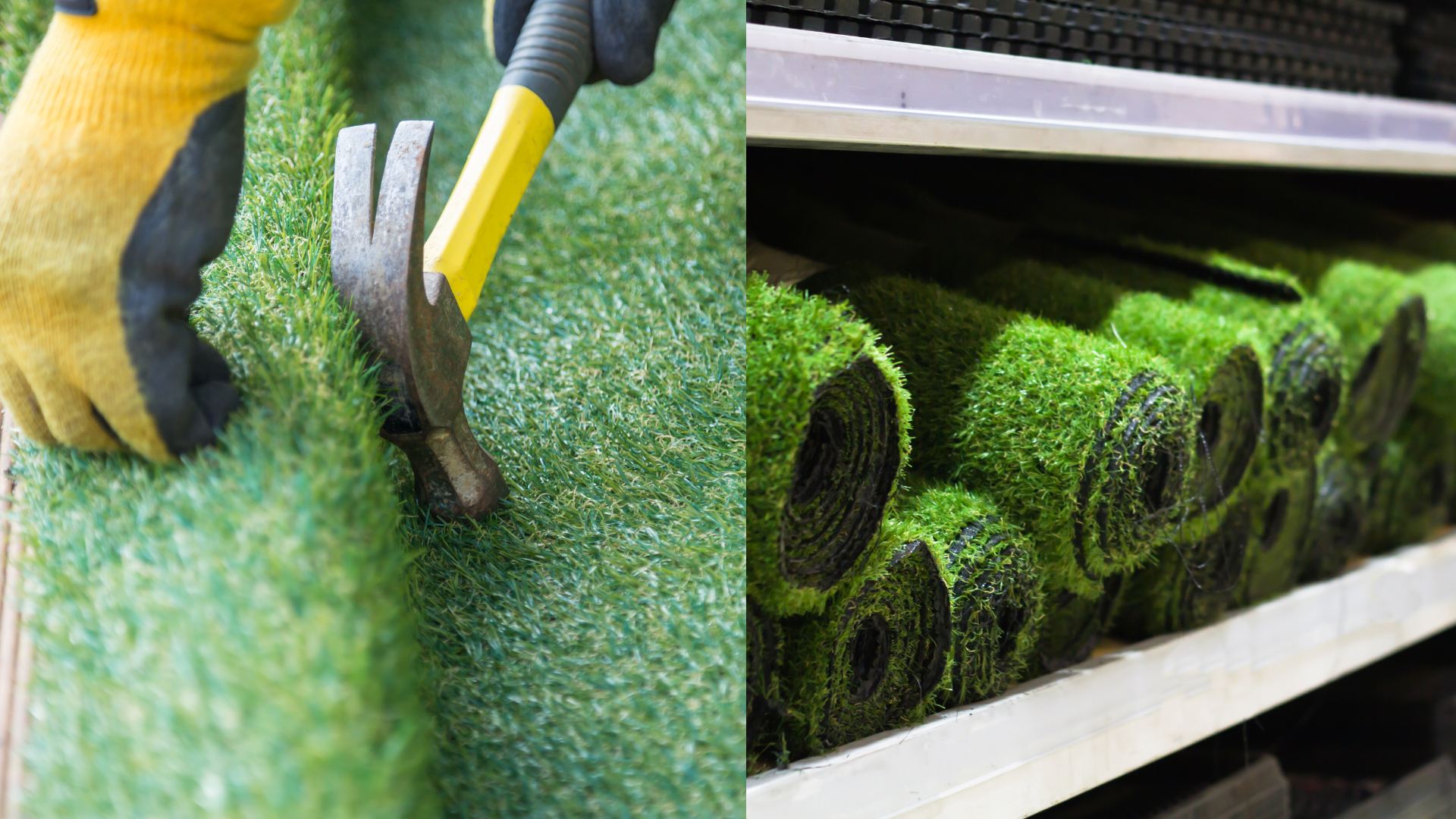 When it comes to your home, outdoor spaces are just as important as indoor spaces. Having the perfect space to entertain and relax in the sun can be a game-changer for summer, but this can be expensive. One larger expense can be artificial grass. Let's look at how you can save a few pounds with cheap artificial grass and get a step closer to your dream garden. 
How much does fake grass cost?
Shopping on a budget can sometimes make you feel limited to what you can do. But that's not necessarily the case. In fact, it can help you stretch your imagination to achieve the space you want whilst saving a few pounds too. 
If you are transforming your garden, artificial grass can be a big chunk of your budget by the time you've purchased your grass, accessories, and fitters if you're having it fitted by a professional. 
Online Calculator
Believe it or not, when considering your garden transformation, size matters… 
Everyone's garden is a different shape and size, and everyone's grass range preference is different too. This makes it impossible to give a general quote when asked "how much does fake grass cost?". 
But here's a tip that will help everyone, not just the budget conscious. 
If you are purchasing artificial grass from somewhere that has an online store, they usually have a tool online that will allow you to put in the amount of grass you would need for your transformation, so you can pre-empt how much it will cost you for that range. 
This is a great tool to use, especially when working with a budget because if you select a range you like, you can figure out how much it will cost for your garden project. From here you can see whether you have the ability to go for a more premium grass or if you'll have to compromise on the range. 
Ordering Samples
To start with, you'll need to choose the grass you're wanting. To do that,  ordering samples is the best way to determine the best grass for you. This way you can get a true representation of colour, feel, and how it will look in your garden. 
When ordering samples you may notice that with some ranges, there is not a significant difference between a lower cost range and a range that is slightly more expensive. 
When ordering with Grass Direct, what you should find is that all of our artificial grass ranges are amazing quality. What you will find is that the higher priced the range, the softer, denser or more realistic the grass will be. But all of our grass ranges are highly durable, comfortable underfoot and look realistic to the naked eye. 
So regardless of which range you opt for, high or low cost, you won't be disappointed, and your lawn will stand the test of time. 
Shopping for Artificial Grass On a Budget
Now, forget compromising on the garden furniture or the BBQ. Let's get into how you can achieve the garden of your dreams with these few handy tips and tricks. 
Cheap Artificial Grass Ranges
One thing to look out for is cheap artificial grass ranges. Now by cheap, we don't mean get one that will do the job but won't last very long. Or that lacks the visual appeal you desire out of your grass. Not at all, by cheap, we mean one that is of lower cost to you but still holds its quality. 
As suppliers of artificial grass, we know that cost doesn't have to compromise quality. All of our ranges, regardless of cost, are fantastic quality as previously mentioned. They will stand the test of time, with any lifestyle, are child and pet friendly and replicate artificial grass perfectly. 
So make sure you check reviews and order samples, because if you order from the right place, you won't have to worry about whether or not you'll be forking out to replace your lawn in a year's time. 
Our Essentials range of artificial grass offers amazing value artificial grass. The perfect place to browse if you're shopping on a budget. What you should find is that you're surprised as how amazing this cheap artificial grass range actually is. 
Sales
Another way to bag yourself a steal when transforming your garden with fake grass, is shopping in the sales. 
Seasonal times of the year, Christmas, Boxing Day, Black Friday, are great times to check for sales and discount codes. 
Sometimes you can really hit the jackpot, and get a more premium range that's within your spend, meaning you can get more bang for your buck! Alternatively, you can use the money saved elsewhere. 
Whatever you decide to do with your sales savings, make sure you take advantage of promotions! 
Cheap Artificial Grass Off-Cuts
This next tip to take note of may save you up to 30% off your artificial grass installation. Though about off-cuts?
 Artificial Grass Off-cuts (often referred to as artificial grass remnants or roll ends) are another way you can save money and stay within your budget when purchasing Artificial Grass. 
Offcuts are exactly the same quality. They are simply just pre-cuts rolls of artificial turf. If your sizing matches the space you're wanting to cover with grass then you are onto a winner.
In purchasing offcuts, you could potentially make a large saving when transforming your garden. This also, may mean you can purchase higher-quality ranges, which may have initially been out of budget. 
DIY Installation 
Our final tip relies on your confidence in your manual abilities. Fitting artificial grass is no walk in the park, but for those keen DIY enthusiasts, this shouldn't be too much of a challenge – Right? 
Right! With our easy to follow step by step guide, you'll have the theory behind the practice to walk you through the process. 
Also, you guessed it. Fitting your grass yourself removes the need to hire a fitter. You'd be surprised that with a lot of artificial grass renovations, it's not actually the cost of the grass that adds to the major expense, but the hiring of the fitter. 
Removing this cost can help you stick to a budget, and get a new skill under your belt. 
All in all, whilst you may have a budget and be concerned that you may be limited in creating your dream garden, there are plenty of ways to work within your budget and still get the satisfaction you desire out of your garden.
If you have any questions regarding your artificial grass installation, get in touch with one of our experts today!