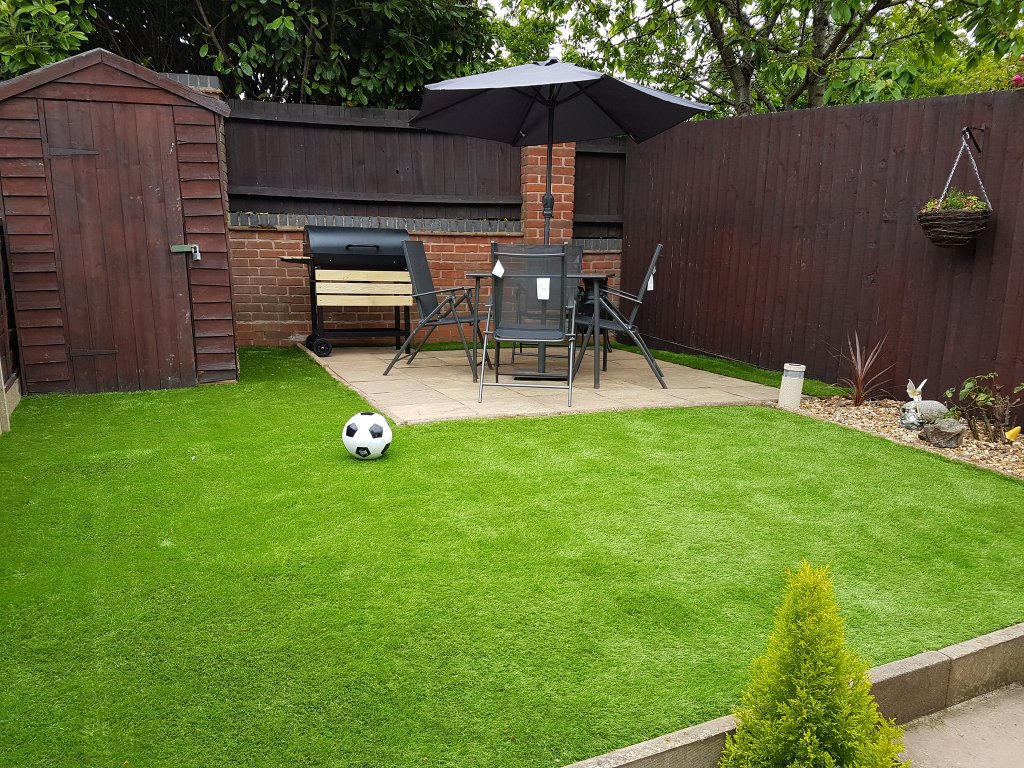 Artificial grass is priced per metre squared. On average, basic artificial grass starts at £4.99/m² and spans up to £29.99/m²+ for luxurious ranges. The average UK garden is 100 square metres. Based on these measurements, artificial grass would cost between £499 and £2,999.
Quick Links
The above costs do not include any additional materials or fitting costs. However, this article is full of tips on how to save money on artificial grass installations; making your dream garden affordable, no matter what your budget.
Comparing the Price of Artificial Grass
When it comes to purchasing artificial grass, it is important to know how to compare each range. Artificial grass varies in pile height, grass weight, softness and wear ratings to suit your needs. The increase in price reflects the quality of the grass in terms of the number of strands per m². This is represented in the grass weight. Heavier ranges are much denser; holding more grass per m², therefore carrying a higher price tag.
To give you an idea of price points, we have created the following table which compares both the cost and specifications of our artificial grass ranges:
Range
Artificial Grass
Cost (per m²)
Specification (pile height/ grass weight)

Basic

Lawn Budget

£4.99

5mm - 750gr/m

²

Budget

Adelaide

£7.99

20mm - 2000gr/m

²

Essential

Stellenbosch

£14.49

30mm - 2400gr/m

²

Premier

Miami

£17.99

30mm - 2700gr/m

²

Elite

Bahamas

£29.99

42mm - 3500gr/m

²
Pricing from Feb 2020.
How to Save Money on Artificial Grass
DIY Install
A DIY install is not only self-rewarding but can save you a lot of money when it comes to fitting. Professional landscaping costs can vary based on the size of the garden and your location. If you're confident with DIY, why not give it a go yourself? Our handy DIY Guide will walk you through the process.
Compare Quotes
Some people prefer reassurance and high-standards from professional fitters. To make sure the price is fair, retrieve multiple quotes from pre-approved fitters in your area. Sites such as ratedpeople.co.uk or mybuilder.co.uk are great for finding pre-approved tradesmen, with examples of previous work to ensure they meet your standard too. To give you a general idea, the average cost for installation will vary between £60 and £75 per square metre. Remember, this will fluctuate based on your location.
Purchase Wisely
Buying your materials from the same retailer will enable you to take advantage of bulk savings or site-wide discounts. Purchasing your underlay, weed membrane, artificial grass, adhesive and fixing nails together, means just one delivery cost too!
Offcut Savings
Lots of retailers stock artificial grass offcuts or remnants. These are the exact same quality, just pre-cut rolls. If your sizing matches, you could save yourself a small fortune.
Shop Around for Materials
When it comes to preparation, you will need to look into costs for limestone chippings or hardcore; typically MOT type 1, sharp sand or dust granite. You can source these from local home improvement stores, garden centres or builder's merchants. Landscapers can also quote on providing these for you. The average cost for materials per unit is as follows:
Limestone chippings - £43 per bag

Hardcore - £20 per ton

Sharp sand - £40 per bag

Dust granite - £47 per bag
The volume required will be based on the size of your garden and the depth of the area. We recommend a depth of 5-8mm, to ensure no regrowth. This handy Construction Material Calculator will help you determine exactly how many units you need.
Higher Specs Add Value to Your Home
Artificial grass is renowned for adding value to residential homes. A well-presented garden not only improves aesthetics but adds financial value to the property too. Purchasing a higher spec artificial grass will set the standard for potential buyers, whilst increasing the longevity of the garden. A good quality artificial lawn, installed correctly, can last in excess of 15 years. For those not planning on moving, increased longevity means long-term savings on replacements.
There are many other benefits of installing artificial grass such as reduced water rates, savings on garden equipment and low maintenance. These are all covered in our Advantages and Disadvantages of Artificial Grass blog.
We hope our handy tips have helped you to save money on artificial grass. If you need any further help or assistance, don't hesitate to contact our artificial grass experts.