There are lots of reasons why people convert from natural lawns to synthetic grass; saving money, low maintenance, child and pet friendly, economical, aesthetics and durability are just a selection. For the majority of us time is the core factor as our busy schedule doesn't leave room for gardening. No matter what the reason, synthetic grass gives you a perfect natural looking lawn all year round. Choosing which style grass is best for your needs is the tricky part...
Price of Synthetic Grass
We all want the best garden our budget can afford. The hanging baskets, solar lights and fancy fencing are just the start. When it comes to the lawn, Grass Direct have the UK's largest selection of artificial grass with the cheapest prices guaranteed. From budget to supreme there is a grass to suit any price range without jeopardising the quality. Of course, the further your budget stretches the more luxuriously thick, realistic and dense the grass will be but rest assured the cheaper ranges are still superb quality. Our price promise guarantees the best price on the market too. If you find one of their products cheaper elsewhere we will not only match the price but beat it by 10%!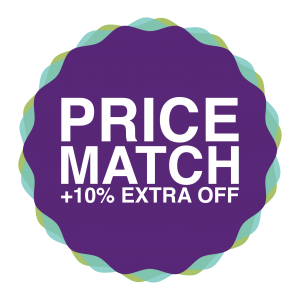 Great Value for your Money
Delivering fantastic quality grass at unbeatable prices is what we do. When it comes to evaluating the quality of your synthetic grass, it's important to look at the stitch count in the backing. The higher the stitch count the more grass you're getting per square metre; creating a fuller, more dense grass. This is one of the most important areas to consider when choosing the right synthetic grass for your garden.
Purpose of Synthetic Grass
So we've covered the price range, next on the agenda we have purpose. How often will the grass be used? Is it solely for decoration or does it need to withstand the pressures of high traffic from children, pets and family BBQs? All of our synthetic grass comes with a robust backing and ample drainage but vary in pile to create different levels of realism. Colour variations create a more authentic grass and are typically used for lawn replacements. Where as a shorter pile may be more practical for outdoor sports such as golf and football and are also popular among pet owners. A longer pile provides a thicker cushioning to protect your children with those inevitable trips and falls whilst also creating a realistic look.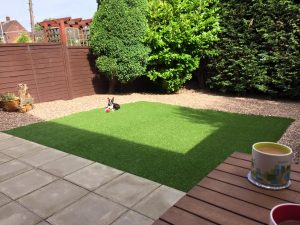 Buying the Right Synthetic Grass for your Garden
Personal preference will always factor into your decision, whether you go for the luxury range or a cheaper alternative. We advise you to order our free samples to give you the opportunity to compare the physical look, feel and quality before purchasing synthetic grass for your garden.