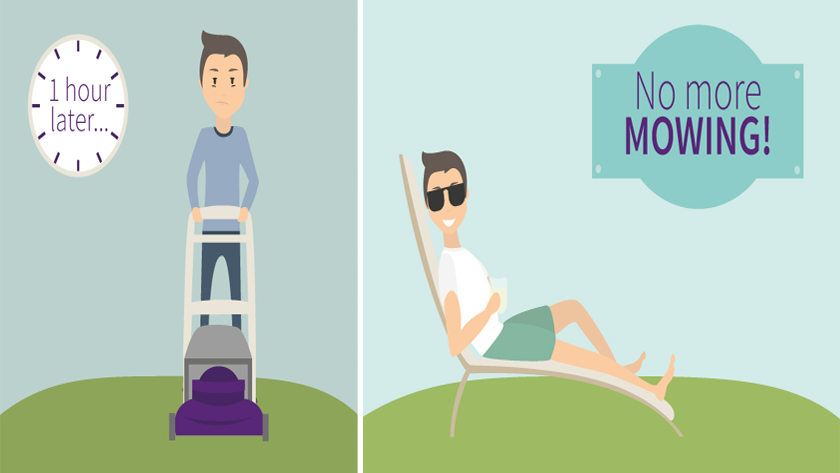 Unless you're a green-fingered garden lover, keeping on top of your perfectly primed garden is one of those chores that we all love to avoid. Preparing the plants in spring. Picking up the autumn leaves. Shovelling winter snow from the patio. None of these tasks have the same appeal as putting your feet up with a cuppa in front of the TV.
Introducing low maintenance gardening...
Summer may be the only season where we dare to delve in with the mower at the ready and hose pipe in hand. A great way of filling a lazy Sunday afternoon in the sun or so we'd like to think! When it comes to maintaining a healthy, natural lawn a little more attention to detail is needed. A regular mowing regime of at least twice a week is just the start. Hosing down dry areas. Reseeding bald patches. Trimming the edges and weeding. These are all the joys of a natural lawn upkeep.
Taking the edge off that lazy Sunday afternoon in the sun? Low maintenance gardening is the way forward!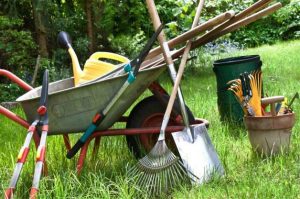 The British weather is the most unpredictable. We need to make the most of those glorious rarities that sunny days are. Our gardens can be a tranquil retreat especially in the midst of summer but natural lawn maintenance can only be attended to when the weather is clear and dry. Trying to mow a damp lawn results in chewed grass, not to mention it's physically unsafe. We all know what happens when you mix water with electric. If you want a healthy natural lawn to host your summer BBQ, then say goodbye to enjoying those precious summer days and grab the gardening gloves. After all, you'd much rather be pushing the lawn mower across overgrown grass, bumping into hidden stones and firing twigs all over the place as opposed to laying back on your luxury Marrakesh sun lounger with an ice cold drink, enjoying the summer sun, wouldn't you?
Thought not, down the garden tools and head for artificial grass; the low maintenance gardening option.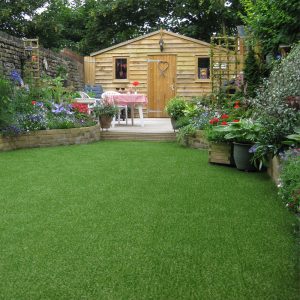 Why choose artificial grass?
Artificial grass, takes the chore out of gardening and provides a perfect lawn all year round. With little maintenance and the look of a natural grass, the only thing you need to worry about is what delicious treats you're throwing on that BBQ!
Manufactured with technically enhanced UV projection artificial grass won't fade in the sun, keeping its flawless natural green look. Cleaning is effortless too, a simple brush down is enough to remove any excess dirt or leaves. Any stubborn debris can be removed by hosing down or additional grass cleaner is available if needed.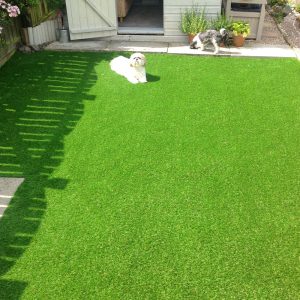 An artificial lawn is extremely robust. Withstanding the pressures of excessive traffic, housing heavy garden furniture and providing a play area for children and a place for our pets to roam. No matter what the purpose, synthetic grass is practical, aesthetically pleasing and effortless to maintain. Don't just take our word for it, head over to Grass Direct to test out your free samples today!