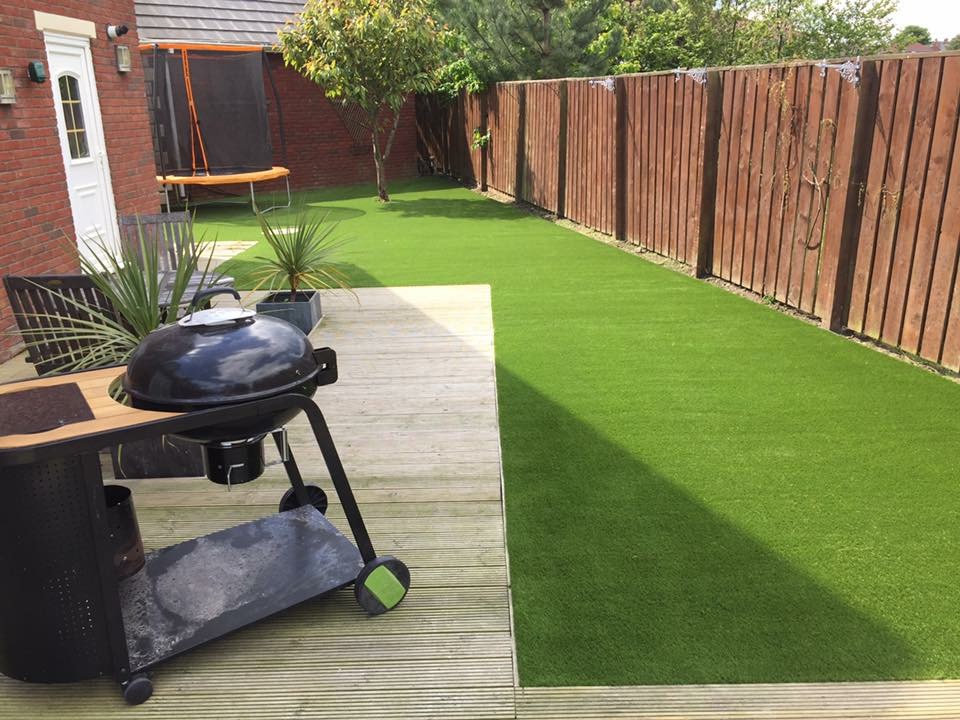 By now we're all fully aware of February's big freeze, sent across to us courtesy of Russia. The beast from the east has well and truly landed. We've shovelled our drives and one or two snowmen have appeared in the garden. It may look pretty outside but we're just starting to feel the wrath of the beast on our roads. A severe weather warning has hit the UK, with the met office issuing a red warning to all drivers. Those chilly winds will plummet to -10 with blizzard-like conditions!
Homebound it is.
Whack up your heating and get the onesies pulled out of the wardrobe as you prepare for a snow day! There may be no sign of sun right now but you've got plenty of time on your hands to start planning your summer garden. Cocktails, BBQ's and chilling in the sunshine sounds like bliss right about now. But is your garden more of an eye sore than a summer venue to host your guests? Time to start planning with the help of this year's hot garden trend - fake grass.
Feature pieces, lawn replacements, roof coverings or simply freshening up the decking. Fake grass is extremely versatile as to where it can be placed, making it the perfect addition to enhance your garden. Trending in garden design, take a peek at this beautiful family home for inspiration: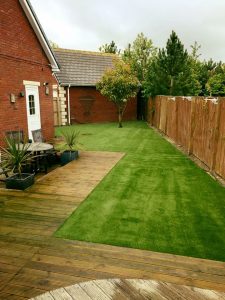 The artificial grass totally freshens up the garden to give it a whole new lease of life. Complementing the decking design and creating the perfect surface for little ones to play.
Looking the part with Fake Grass
Fake grass not only looks amazing in summer but is stays looking fabulous all year round. It won't bake in the sun or surrender to our furry friend's toilet requirements so no more awful browning and balding patches. It's easily maintained with a simple hose down being enough to freshen it up. For lingering pet odours, artificial grass cleaner is available from local supermarkets or your supplier.
Frost will not damage your grass either - regardless of these 8 inches of snow were anticipated, your lawn will remain unhindered. The integrated drainage system means as the snow thaws out, the excess water will simply filter away. You can say goodbye to those soggy lawns and muddy footprints you have to contend with from natural grass.
Fitting Fake grass
Fitting grass on a tight budget? It does not have to break the bank to look amazing. If you're confident in your DIY skills you can save money by giving it a go yourself. There's some brilliant step-by-step fake grass fitting guides to help you through the process.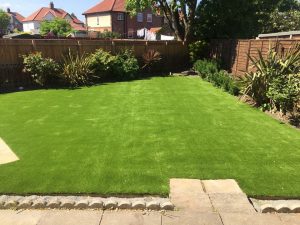 For those who aren't as DIY savvy, there's lots of local landscapers available to help you out. Getting multiple quotes will help you evaluate the price to quality ratio; ensuring you grab yourself the best bargain without sacrificing quality. Remember to check out past installs before making your final decision. Thousands of gardens have been beautifully transformed thanks to fake grass so don't be afraid to ask to see past work. Check out the attention to detail in the joins and edging, this is what separates a professional finish from a passable finish.
Taking all of this into consideration, fake grass will saving you money, time and effort on gardening whilst looking amazing all year round – what more could you want...
Order up to 6 free samples today!