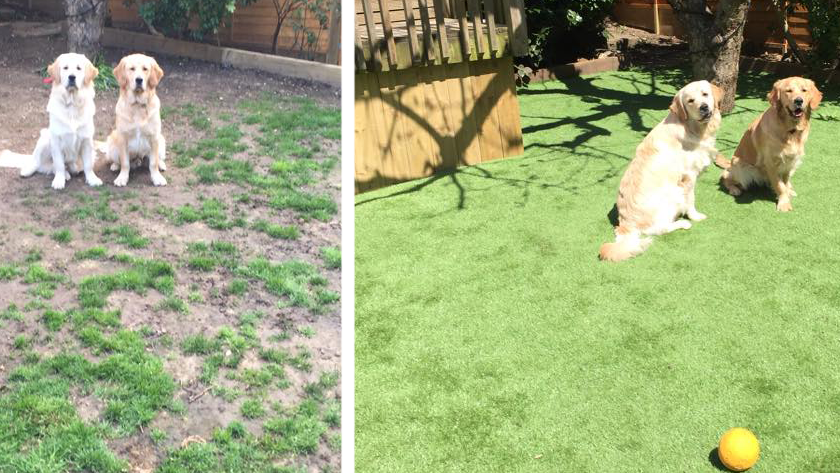 Gardening is like marmite you either love it or you hate it. A glimpse of sunshine and green-fingered gardeners don the gardening gloves and dive straight into the epiphany of chores which accompany a perfect garden. For the rest of us, there are much better ways of spending a sunny afternoon like racing to the beach for a fun family day out - The garden can wait, right?
Wrong!
Neglected gardens lead to a whole host of nightmares from overgrown grass to unsightly browning and bald patches. If left untreated you may even find yourself needing a full lawn replacement which is becoming more common in busy family homes.
If you find yourself in this position, you will need to weigh up your replacement options. Our natural vs artificial comparison has been created to help you decide.

Natural Grass 
Some people are dubious of artificial grass and prefer the look and feel of natural turf. For these, turf rolls are often used to restore run-down lawns.
What's the benefits:
Closer to nature
Releases oxygen
Pets can play in the mud
Habitat for insects.
However...
The initial appearance of natural turf may be perfect but you still have to contend with muddy footprints, weather restrictions and colouration deflects. Not to mention the need for a speedy installation, excessive cost, limited choice, high care regime and restricted usage over the first month to allow the natural turf to bond.
Natural grass turf is a good option for those who have the time to dedicate to watering, seeding and mowing. This is critical to avoiding falling back to square one of a costly process!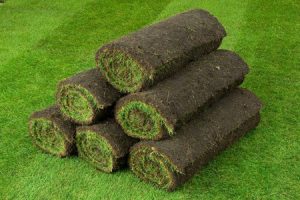 Artificial Grass 
Now lets look at the benefits of Artificial turf:
Instantly usable
Looks amazing all year round
Requires little ongoing maintenance
No watering
No pollen count
Child and pet friendly
All weather
Versatile in use - can be fitted over decking, patios and rooves as well lawns replacements
Available in an array of pile heights and colour thatches to meet your preference.
The advances in modern manufacturing have made artificial grass turf extremely difficult to tell apart from natural grass. Giving you a perfectly manicured lawn without the backache. Making perfect sense for those who struggle with mobility or non-gardeners. The rigorous upkeep of natural grass can become beyond our capabilities or simply undesirable. With an effortless hose down being enough to keep your artificial grass turf looking fabulous, it's the go-to option for easy, stress-free gardening.
However...
Initial install costs can seem quite high. Sourcing local fitters can help keep costs down or if you're confident in your gardening skills, our DIY Install Guide eliminates any additional spend.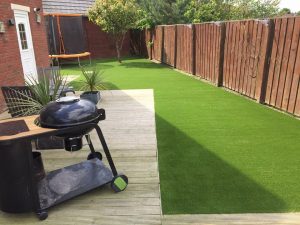 Personally, we think you should recycle your lawn mower and make room in that shed for your sun lounger and BBQ. British weather is unpredictable, we need to make the most of the sunshine this Summer - not get bogged down with garden chores!
If you need any help or assistance, please do not hesitate to contact one of our artificial grass experts on:  03308088900